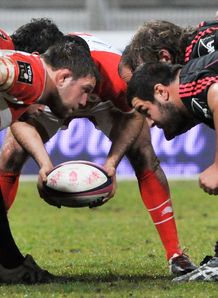 Related links
Teams
London Irish coach Glenn Delaney believes the Stade Franšais pack will offer the toughest challenge yet for his side's ailing scrum.
The Exiles' forwards have struggled in the scrummage so far this season, with Director of Rugby Brian Smith seeking the services of renowned set-piece guru Phil Keith-Roach to shore up his back-pedalling eight.
And Delaney knows the powerful Parisian outfit will test just how much Irish have improved in the tight.
"They are probably the best scrummaging team in France," Delaney told BBC Radio Berkshire.
"This is a monumental test. It will be a massive day for our forwards.
"It will be the toughest scrummaging test we have all season. They pride themselves on that and we have to be ready."
Keith-Roach was the man behind the 2003 World Cup-winning England scrum, and Delaney hails the impact he has had on the Exiles' set-piece.
"Phil is a fantastic resource and has a wealth of experience," added Delaney.
"You can lean on people from the outside to help point you in the right direction but fundamentally what we are doing is very sound and Phil is confirming that.
"All we can do is give our front row players all the resources and help they need. We are all learning and taking it on the chin."