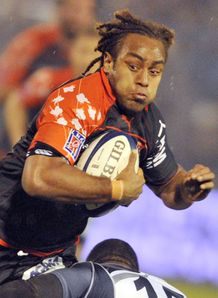 Related links
Teams
Newcastle host Padova while Lyon travel to Toulon on Sunday in the battle for supremacy in Amlin Challenge Cup Pool 2.
Fixtures:
Newcastle Falcons v Petrarca Padova
Toulon v Lyon
---
Newcastle Falcons v Petrarca Padova
Kingston Park Stadium
Newcastle find themselves just two points behind leaders Toulon with two rounds of action remaining.
When the two sides met in Round 2 the Falcons recorded a 34-3 victory and will be looking for a similar result ahead of their tie against Lyon in the final weekend.
Petrarca are still hunting for their first victory in this year's competition.
The teams:
Newcastle Falcons: 15 Tom Catterick, 14 Luke Fielden, 13 Luke Eves, 12 Jeremy Manning, 11 Ryan Shortland, 10 Joel Hodgson, 9 Chris Pilgrim, 8 Mark Wilson, 7 Redford Pennycook, 6 Richard Mayhew, 5 Tim Swinson, 4 Tai Tuifua, 3 James Hall, 2 Joe Graham, 1 Ashley Wells,
Replacements: 16 Michael Mayhew, 17 Darren Fearn, 18 Grant Shiells, 19 Allister Hogg, 20 Will Welch, 21 Jordi Pasqualin, 22 Will Chudley, 23 James Fitzpatrick,
Petrarca Padova: 15 Eoghan Hickey, 14 Steven Bortolussi, 13 Juan Pablo Sanchez, 12 Marco Neethling, 11 Alex Morsellino, 10 Tim Walsh, 9 Pietro Travagli, 8 Zane Ansell, 7 Scott Palmer, 6 Marco Barbini, 5 Filippo Giusti, 4 Agustin Cavalieri, 3 Piermaria Leso, 2 Flavio Damiano, 1 Chris Caporello.
Replacements: 16 Nicola Gatto, 17 Alessandro Furia, 18 Miguel Alonso, 19 Mantvydas Tveraga, 20 Edoardo Ghiraldini, 21 Alessandro Billot, 22 Roberto Bertetti, 23 Fabio Faggiotto,
Kick-off: 15:30 GMT
Referee:
---
Toulon v Lyon
Satde Felix Mayol, Toulon
Pool leaders Toulon know that knock-out rugby is in their own destiny as two victories in their final two matches will see them progress into the quarter-finals.
Lyon have claimed two victories in their first European season but lost at home to Toulon in Round Two 19-26.
The teams:
Toulon: 15 Luke Rooney, 14 Benjamin Lapeyre, 13 Mathieu Bastareaud, 12 Gabi Lovobalavu, 11 Alexis Palisson, 10 Jonny Wilkinson, 9 Laurent Magnaval, 8 Leonardo Senatore, 7 Joe El Abd, 6 Pierrick Gunther, 5 Kris Chesney, 4 Christophe Samson, 3 Davit Kubriashvili, 2 Mickael Ivaldi, 1 Eifion Lewis-Roberts,
Replacements: 16 Jean-Charles Orioli, 17 Laurent Emmanuelli, 18 Carl Hayman, 19 Steffon Armitage, 20 Geoffroy Messina, 21 David Smith, 22 Fabien Cibray, 23 Dean Schofield,
Lyon: 15 Regis Lespinas, 14 James Bailey, 13 Waisele Sukanaveita, 12 Nicolas Raffault, 11 Mosese Ratuvou, 10 Laurent Tranier, 9 Matteus du Bruyn, 8 Nicolas Bontinck, 7 Arnaud Dorier, 6 Eugene Nzi, 5 Arnaud Marchois, 4 Christian Short, 3 Anthony Roux, 2 Antonio Testa, 1 Arnaud Tchougong Kamga,
Replacements: 16 Sébastien Miro, 17 Sebastien Petit, 18 Guram Kavtidze, 19 Christian Njewel, 20 Juan Leguizamon, 21 Romain Veniat, 22 Thibaut Regard, 23 Eric Tomamichel,
Kick-off: 18:30 (17.30 GMT)
Referee: James Jones