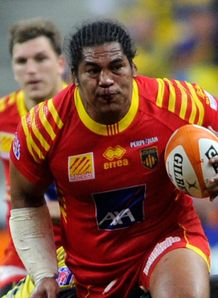 Perpignan have named a very strong side for Friday's Amlin Challenge Cup clash with Italian side Cavalieri Prato at Stade Aimé Giral.
The Catalans lie in third place in Pool 3, five points behind the Dragons to whom they lost in Round Two.
USAP have lost their last seven games in the Top 14 and are under pressure to salvage something from this season.
The teams have never played each other and Prato have only won a single game in European competition.
The teams:
USA Perpignan: 15 Joffrey Michel, 14 Armand Batlle, 13 Rudolphe Coetzee, 12 Gavin Hume, 11 Julien Candelon, 10 Gilles Bosch, 9 David Mele, 8 Henry Tuilagi, 7 Jean-Pierre Perez, 6 Grégory Le Corvec, 5 Romain Taofifenua, 4 Gerrie Britz, 3 Danie Thiart, 2 Charles Geli, 1 Kisi Pulu.
Replacements: 16 Marius Tincu, 17 Jérôme Schuster, 18 Benoit Bourrust, 19 Damien Chouly, 20 Adrien Plante, 21 Yoann Vivalda, 22 Nicolas Laharrague, 23 Kevin Boulogne.
Cavalieri Prato:15 Dion Berryman, 14 Billy Ngwaini, 13 Clemens Von Grumbkov, 12 Alberto Chiesa, 11 Rima Wakarua, 10 Riccardo Bocchino, 9 Pino Patelli, 8 Rome Nifo Tautua, 7 Alberto Saccardo, 6 Emanuele Leonardi, 5 Filippo Cazzola, 4 Giacomo Bernini, 3 Tim Ryan, 2 Lorenzo Giovanchelli, 1 Gerlando Marino.
Replacements: 16 Renzo Balboni, 17 Andrea Lupetti, 18 Nicola Belardo, 19 Luca Petillo, 20 Marco Frati, 21 Denis Majstorovic, 22 Martin Murgier, 23 Davide Stefani,
Date: Friday, 9 December
Venue: Stade Aimé Giral
Kick-off: 19.00 (18.00 GMT)
Referee: Luke Pearce