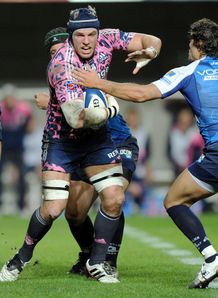 Stade Français are trying to save their season via the Amlin Challenge Cup, starting with Friday's quarter-final against Montpellier at the Stade Charlety in Paris.
Already out of the running for a place in the Top 14 play-offs and hence in spot in next season's Heineken Cup, the Parisians' only hope of making it back into Europe's top flight is by winning the Challenge Cup.
The task is not an easy one as qualifying for the semi-finals requires victory over high-flying Montpellier, against whom they lost 29-23 in the Top 14 just a fortnight ago.
But Montpol will not be travelling with the same team as their decision not to register their best players at the beginning of the season has come back to haunt them.
While Stade Français can line-up a team full of internationals, the visitors will be without François Trinh-Duc, Julien Tomas and Fulgence Ouedraogo, amongst others.
Stade Français are unbeaten in Europe this season and will be looking for a repeat of their 30-13 win over Montpellier in the Top 14 in Paris in October.
The teams:
Stade Français: 15 Hugo Southwell, 14 Ollie Phillips, 13 Mathieu Bastareaud, 12 Guillaume Bousses, 11 Djibril Camara, 10 Lionel Beauxis, 9 Julien Dupuy, 8 Sergio Parisse, 7 Pierre Rabadan, 6 James Haskell, 5 Pascal Pape, 4 Tom Palmer, 3 Rabah Slimani, 2 Remi Bonfils, 1 Rodrigo Roncero.
Replacements: 16 Damien Weber, 17 Rayno Gerber, 18 Pedro Ledesma, 19 Alexandre Flanquart, 20 Antoine Burban, 21 Mauro Bergamasco, 22 Noel Oelschig, 23 Martin Rodriguez,
Montpellier: 15 Jean-Matthieu Alcalde, 14 Dimitri Pelo, 13 Florian Nicot, 12 Grant Rees, 11 Sébastien Kuzbik, 10 Raphael Lagarde, 9 Benoit Paillaugue, 8 Marc Giraud, 7 Giorgi Chkhaidze, 6 Johan Wasserman, 5 Lionel Dargier, 4 Goncalo Uva, 3 Kevin Kervarec, 2 Fabien Rofes, 1 Na'ama Leleimalefaga.
Replacements: 16 Joan Caudullo, 17 Sebastien Chobet, 18 Goderzi Shvelidze, 19 Dannie Thiart, 20 Adrien Tomas, 21 Sylvain Mirande, 22 Adrien Pratmarty, 23 Sakiusa Matadigo,
Date: Friday, April 8
Venue: Stade Charlety, Paris
Kick-off: 20.45 (18.45 GMT)
Referee:Alan Lewis