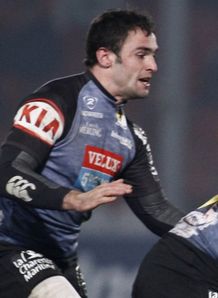 Related links
Also see
La Rochelle moved back to the top of the Amlin Challenge Cup Pool Five on Thursday with a 28-17 win over French rivals Agen.
Les Maritimes came back from 14-13 down at half time to virtually assure themselves of a place in the quarter-finals.
The result means that Gloucester must beat Rovigo on Saturday and then hope that by some miracle La Rochelle lose to the Italians next week to sneak through to the play-offs.
Stéphane Clement and Alexandre Bares came off the bench to score tries for the visitors - both in the final ten minutes - and give La Rochelle victory against the club with whom they are in a vicious battle to avoid relegation in the the Top 14.
The scorers
For Agen:
Tries: Mach, Vaka
Cons: Bales, Cazeaux
Pen: Cazeaux
For La Rochelle:
Tries: Combezou, Clement, Bares
Cons: Goosen 2
Pens: Goosen 3
Agen: 15 Florent Cazeaux, 14 Saimoni Vaka, 13 Benjamin Petre, 12 Jamie Robinson, 11 Ratu Kolinisau, 10 Junior Pelesasa, 9 Alexi Bales, 8 Cyril Chavet (capt), 7 Jerome Mondoulet, 6 Hendro Scholtz, 5 Damien Lagrange, 4 Thibault Lassale, 3 Mosese Moala, 2 Brice Mach, 1 Karim Kouider.
Replacements: 16 Jalil Narjissi, 17 Semisi Telefoni, 18 Beka Sheklashvili, 19 Andrew Springgay, 20 Lisiate Fa'aoso, 21 Sylvain Dupuy, 22 Conrad Barnard, 23 Miguel Avramovic.
La Rochelle: 15 Greg Goosen, 14 Manoel Dall'igna, 13 Thomas Combezou, 12 Sefulu Gaugau, 11 Florian Ninard, 10 Romain Lacoste, 9 Damien Neveu, 8 Thomas Soucaze, 7 Nicolas Djebaili, 6 Quentin D'Aram de Valada, 5 Piula Fa'asalele, 4 Robert Mohr (capt), 3 Tamato Leupolu, 2 Andres Bordoy, 1 Petrisor Toderasc.
Replacements: 16 Franco Pani, 17 Alexandre Bares, 18 Stéphane Clement, 19 Jacobus Grobler, 20 Peïo Som, 21 Sebastien Boboul, 22 Remi Tales, 23 Maxime Le Bourhis,
Venue: Stade Armandie
Referee: JP Doyle (England)