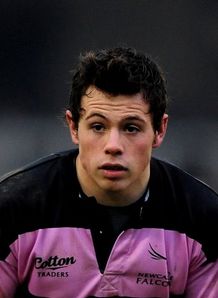 Related links
Teams
Sale Sharks have named a far from full-strength team for Friday's Amlin Challenge Cup game against Petrarca.
Charlie Hodgson has been named on the bench alongside Chris Bell and Marc Jones as Rob Miller, Jonny Kennedy and Ben Roberts start.
Head Coach Pete Anglesea said: "It is very unlikely that we will qualify now but I want to carry on the momentum the team have shown recently.
"I have rested some of the players as we have played three big games in the space of eleven days. In doing so it opens the door for several of the squad players to put their hand up and take their opportunity.
"We have some big games coming up over the coming weeks and will be losing some players to the Six Nations.
"I want to finish the group games off with two good performances before we prepare for the big game against Newport Gwent Dragons in the LV=Cup in a fortnights time."
The teams:
Sale Sharks: 15 Nick Macleod, 14 Mathew Tait, 13 Jonny Kennedy, 12 Andy Tuilagi, 11 Mark Cueto, 10 Rob Miller, 9 Will Cliff, 8 Chris Brightwell, 7 Neil McMillan, 6 James Gaskell, 5 Sean Cox, 4 Nic Rouse, 3 Henry Thomas, 2 Ben Roberts, 1 Lee Imiolek.
Replacements: 16 Marc Jones, 17 Aston Croall, 18 Simon McIntyre, 19 Wame Lewaravu, 20 Carl Fearns, 21 Chris Leck, 22 Charlie Hodgson, 23 Chris Bell.
Petrarca: 15 Juan Pablo Sanchez, 14 Fabio Faggiotto, 13 Roberto Bertetti, 12 Alessandro Chillon, 11 Nicolò Borgato, 10 Tim Walsh, 9 Alessandro Billot, 8 Dion Kingi, 7 Scott Palmer, 6 Zane Ansell, 5 Agustin Cavalieri, 4 Mantvydas Tveraga, 3 Santiago Sodini, 2 Agustin Costa Repetto , 1 Carlo Fazzari,
Replacements: 16 Chris Caporello, 17 Alessandro Furia, 18 Piermaria Leso, 19 Michele Sutto, 20 Luca Favaretto, 21 Nicola Bezzati, 22 Warren Spragg, 23 Martin Acuna.
Date: Friday, January 14
Kick-off: 19:45
Venue: Edgeley Park
Referee: Leighton Hodges (Wales)
________________________________________________________________________
Brive v El Salvador
Brive, who top Pool Two, are resurgent in the Top 14 and will expect to seal a quarter-final berth at home to El Salvador.
The teams:
Brive: 15 Julien Caminati, 14 Louis Dubois, 13 Benoit Manteaux, 12 Fabrice Estebanez, 11 Mathias Atayi, 10 Scott Spedding, 9 Augustin Figuerola, 8 Fabien Domingo, 7 Jonathan Elgoyhen, 6 Gerhard Vosloo, 5 Damien Browne, 4 Julien Le Devedec, 3 Pat Barnard, 2 Benoit Cabello, 1 Pablo Henn.
Replacements:16 Jean-Philippe Bonrepaux, 17 Victor Laval, 18 Vasil Kakovin, 19 Thibault Dubarry, 20 Shaun Perry, 21 Alix Popham, 22 Alexis Palisson, 23 Mathieu Belie,
El Salvador:15 Luis Gascon, 14 Esera Lauina, 13 Jaike Carter, 12 Manuel Raposo, 11 Pedro Rodriguez, 10 Uale Mai, 9 Pablo Feijoo,8 Mamea Samuelu, 7 Victor Sanchez, 6 Ivan Criado, 5 Carlos Souto, 4 Sergio Souto, 3 Juan Murre, 2 Dani Marron, 1 Marcial Castro.
Replacements:16 Luis Del Moral, 17 Alfonso Martínez, 18 Manuel Serrano, 19 Alvaro Nuñez Llorente, 20 Sale Ibarra, 21 Alvar Molina, 22 Kieran Williams, 23 Jamie Nava,
Date: Friday, January 14
Venue: Stadium Municipal, Brive
Kick-off: 19.30 (18.30 GMT)
Referee: Alan Falzone