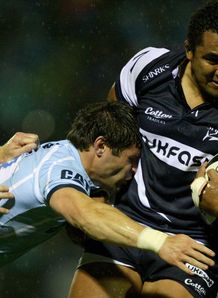 Related links
Teams
Sale Sharks will welcome back Carl Fearns, Sisa Koyamaibole and Andy Tuilagi for Sunday's crucial Amlin Challenge Cup game against Brive.
Sale Head Coach Mike Brewer had little good to say about last week's defeat in France.
"I thought the opposition were very poor and we were worse than them," he said.
"In all honesty, we could have put 30 points on them in the first half. We opened them up, we had numbers, we had overlaps. But poor execution, poor decision making and poor individual errors just killed us.
"We gifted them everything and I said to the players afterwards that they have got to have a long hard look at themselves.
"For us now our aim is to finish top of the pool so it's about winning the game next Sunday at Edgeley Park and making sure we beat Brive by more than nine points."
More to follow...
The teams:
Sale Sharks: 15 Paul Williams, 14 Chris Bell, 13 Mathew Tait, 12 Andy Tuilagi, 11 Mark Cueto, 10 Nick Macleod (c), 9 Dwyane Peel, 8 Sisa Koyamaibole 7 Neil McMillan, 6 Carl Fearns, 5 Nic Rouse, 4 Kristian Ormsby, 3 Henry Thomas, 2 Marc Jones, 1 Karena Wihongi.
Replacements: 16 Ben Roberts, 17 Andrew Sheridan, 18 Lee Imiolek, 19 Chris Jones, 20 Chris Brightwell, 21 Will Cliff, 22 Rob Miller, 23 Kyle Tonetti
Brive: 15 Julien Caminati, 14 Ronnie Cooke, 13 Jamie Noon, 12 Régis Lespinas, 11 Mathias Atayi, 10 Scott Spedding, 9 Mathieu Belie, 8 Antoine Claassen, 7 Alix Popham, 6 Simon Azoulai, 5 Damien Browne, 4 Julien Le Devedec, 3 Pablo Cardinali, 2 Benoit Cabello, 1 Davit Kinchagishvili.
16 Guillaume Ribes, 17 Pablo Henn, 18 Pascal Idieder, 19 Arnaud Mela, 20. Thibault Dubarry, 21 Gerhard Vosloo, 22 Shaun Perry, 23 Benoit Manteaux,
Date: Sunday, December 19
Venue: Edgeley Park
Kick-off: 15:00 GMT
Referee: Neil Paterson
---------------------------------------------------------------------------------------------------------------------------------
Pool Two's other game will see Petrarca looking to follow up last week's 37-10 victory with another bonus-point win this Sunday. Kick-off at Campo de Pepe Rojo is at 12:00 (local).
The teams:
El Salvador: 15 Ian Davey, 14 Eduardo Fernandez, 13 Jaike Carter, 12 Jamie Nava, 11 Luis Gascon, 10 Uale Mai, 9 Pablo Feijoo, 8 Mamea Samuelu, 7 Kieran Williams, 6 Ivan Criado, 5 Carlos Souto, 4 Victor Sanchez, 3 Javier Miranda, 2 Dani Marron, 1 Marcial Castro.
Replacements: 16 Luis Del Moral, 17 Alfonso Martínez, 18 Peke Murre, 19 Alvaro Nuñez Llorente, 20 Jorge Molina, 21 Manuel Raposo, 22 Sale Ibarra, 23 Esera Lauina.
Petrarca: 15 Steven Bortolussi, 14 Warren Spragg, 13 Alessandro Chillon, 12 Juan Pablo Sanchez, 11 Nicolò Borgato, 10 Alberto Chillon, 9 Alessandro Billot, 8 Dion Kingi, 7 Zane Ansell, 6 Nicola Bezzati, 5 Agustin Cavalieri, 4 Doug Fletcher, 3 Santiago Sodini, 2 Agustin Costa Repetto , 1 Carlo Fazzari.
Replacements:16 Nicola Gatto, 17 Ornel Gega, 18 Chris Caporello, 19 Mantvydas Tveraga, 20 Marco Barbini, 21 Roberto Bertetti, 22 Fabio Faggiotto, 23 Martin Acuna,