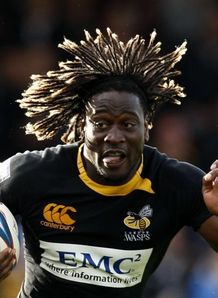 Related links
Teams
Travelling to Rome this weekend for their ACC clash with Rugby Roma, London Wasps will be led by winger Paul Sackey on his 100th appearance.
Running out at the Stadio Tre Fontane, facing unfamiliar opponents Roma, Sackey leads a fresh looking Wasps outfit who will be eager to continue last weekend's winning start over Racing Metro at Adams Park.
Wasps will welcome back Mark Van Gisbergen, who has made a full recovery from a groin injury ahead of this fixture. Full back Van Gisbergen is named alongside a new centre partnership of Ben Jacobs and Lachlan Mitchell and a new half-back pairing of Ireland A's Eoghan Hickey and Welsh International Warren Fury - both making their first Wasps starts in 2009/10.
As well as Hickey and Fury, Director of Rugby Tony Hanks gives first starts to prop Charlie Beech and hooker Joe Ward who line up alongside Ben Broster in the front row.
Marty Veale makes his first starting appearance in black and gold, joining Samoan international Dan Leo in the second row and Joe Worsley, who has recovered from a slight achilies strain, returns to the back row to join budding academy talent Will Matthews and Dan Ward-Smith.
On the bench there is plenty of strength as new signing Argentinean international Gabriel Bocca is named as replacement hooker, with Rob Webber and Tom Lindsay ruled out due to injury. England international Tim Payne joins club servant Richard Birkett, last Dave Walder and young guns Bob Baker, Hugo Ellis, James Honeyben and Dominic Waldouck.
"It is a reflection of Paul Sackey's standing in the team that he takes the captaincy this week," said Wasps coach Tony Hanks.
"Paul is hugely respected amongst the squad and a key contributor to all that we do on and off the field. He has impressed already by stamping his own style on the role and I think it is great that he can achieve something further, leading Wasps in a competition game, in a career already full of highlights.
"The fact that it is his 100th game makes it all that bit more special and as a club it is important that we recognise these special achievements."
Roma coach Carlo Pratichetti left his side pretty clear what he thought of last week's 61-3 defeat to Bayonne, making eleven changes to his side for the match.
Roma: 15 Paolo Buso, 14 Diego Varani, 13 Hayden Reid, 12 Juan Gauthier, 11 Edoardo Rotella, 10 Max Freschi, 9 Giiulio Toniolatti, 8 Jonathan Gagiano, 7 Michael Aldrige, 6 Lance Persico, 5 Valerio Bernabo, 4 Andrea Pegoretti, 3 John Rawson, 2 Tommaso D'Apice, 1 Nicolas De Gregori.
Replacements: 16 Marcelo Martino, 17 Adrien Vigne Donati, 18 Tino Paoletti, 19 Emiliano German, 20 Gabriele Cicchinelli, 21 Alberto Saccardo, 22 Carlo Vannini, 23 Giovanni Manozzi.
Wasps: 15 Mark van Gisbergen, 14 Paul Sackey, 13 Ben Jacobs, 12 Lachlan Mitchell, 11 Tom Varndell, 10 Eoghan Hickey, 9 Warren Fury, 8 Dan Ward-Smith, 7 Will Matthews, 6 Joe Worsley, 5 Dan Leo, 4 Veale Marty, 3 Ben Broster, 2 Joe Ward, 1 Charlie Beech.
Replacements: 16 Gabriel Bocca, 17 Tim Payne, 18 bob Baker, 19 Richard Birkett, 20 Hugo Ellis, 21 James Honeyben, 22 Dave Walder, 23 Dom Waldouck.
Date: Saturday, October 17
Venue: Stadio Tre Fontaine
Kick-off: 15.00 (14.00 BST)
Referee: Neil Paterson (Scotland)
Assistant referees: Iain Heard (Scotland), Graeme Marshall (Scotland)