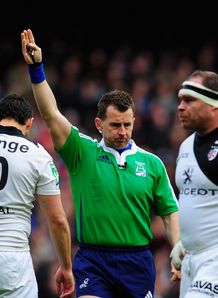 It's a big weekend in Europe that sees the climax of the Heineken and Amlin Challenge Cup competitions taking place in Twickenham.
At the Stoop, Wayne Barnes takes charge as Biarritz face Toulon in a French derby in the Amlin Challenge Cup final and Twickenham itself hosts the climax to the Heineken Cup between Leinster and Ulster where Nigel Owens is in the middle.
In the southern hemisphere there's another full round of action in the Super Rugby tournament.
Amlin Challenge Cup final
Biarritz vs Toulon at Twickenham Stoop
Referee: Wayne Barnes (England)
Assistant referees: Dave Pearson (England), JP Doyle (England)
Heineken Cup Final
Leinster vs Ulster at Twickenham
Referee: Nigel Owens (Wales)
Assistant referees: Romain Poite (France), Jérôme Garces (France)
Super Rugby, Week 13
Hurricanes vs Brumbies in Wellington
Referee: Mark Lawrence (South Africa)
Assistant referees: Glen Jackson (New Zealand), Richard Kelly (New Zealand)
Television match official: Vinny Munro (New Zealand)
Highlanders vs Bulls in Dunedin
Referee: Ian Smith (Australia)
Assistant referees: Garratt Williamson (New Zealand), Kane McBride (New Zealand)
Television match official: Matthew Muir (New Zealand)
Crusaders vs Blues in Christchurch
Referee: Bryce Lawrence (New Zealand)
Assistant referees:Glen Jackson (New Zealand), Jonathon White (New Zealand)
Television match official: Vinny Munro (New Zealand)
Reds vs Lions in Brisbane
Referee: Keith Brown (New Zealand)
Assistant referees: Angus Gardner (Australia), Damien Mitchelmore (Australia)
Television match official: Steve Lesczcynski (Australia)
Cheetahs vs Sharks in Bloemfontein
Referee: Jonathan Kaplan (South Africa)
Assistant referees: Rasta Rashivenga (South Africa), Tiaan Jonker (South Africa)
Television match official: Gerrie Coetzee (South Africa)
Stormers vs Waratahs in Cape Town
Referee: Craig Joubert (South Africa)
Assistant referees: Stuart Berry (South Africa), Christie du Preez (South Africa)
Television match official: Shaun Veldsman (South Africa)
Western Force vs Rebels in Perth
Referee: Marius Jonker (South Africa)
Assistant referees: Francisco Pastrana (Argentina), Johan Hoffman (Australia)
Television match official: George Ayoub (Australia)