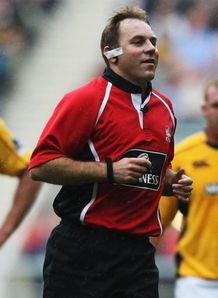 There is plenty of rugby on the go this week as the Top 14 serves up two round of action with the Magners League and Guinness Premiership are in full swing.
The big game in France is the showndown between Toulouse and Perpignan on Wednesday with Jean-Pierre Matheu taking charge.
Alan Lewis will handle the all-Irish affair between Ulster and Munster while Andrew Small takes care of Leicester Tigers visit to Saracens.
Magners League
Connacht vs Leinster
Referee: Peter Fitzgibbon
Assistant referees: David Wilkinson, Michael Black
Television match official: Bertie Smith
Ulster vs Munster
Referee: Alan Lewis
Assistant referees: Dudley Phillips, Brian MacNeice
Television match official: Alan Rogan
Dragons vs Scarlets
Referee: Nigel Owens
Assistant referees: David Bodilly, Simon Harris
Television match official: Gareth Simmonds
Ospreys vs Blues
Referee: James Jones
Assistant referees: Hugh Watkins, Jon Mason
Television match official: Derek Bevan
Guinness Premiership
Sale Sharks vs Harlequins
Referee: Chris White
Assistant referees: Robin Goodliffe, Ashley Rowden
Television match official: Andrew Turner, David Matthews
Gloucester vs Worcester Warriors
Referee: Dean Richards
Assistant referees: Andrew Pearce, Bob Mullis
Assessor: Tony Spreadbury
Television match official: Laurie Bryant
Leeds Carnegie vs Bath Rugby
Referee: Dave Pearson
Assistant referees: Alan Hughes, Martin Buck
Assessor: Brian Campsall
Television match official: David Hudson
Northampton Saints vs London Irish
Referee: Sean Davey
Assistant referees: Roy Maybank, Roger Baileff
Assessor: Nigel Yates
Television match official: Brian Abrahams
Saracens vs Leicester Tigers
Referee: Andrew Small
Assistant referees: Andrew Watson, Stuart Terheege
Assessor: Ed Morrison
Television match official: Bob Ockenden
London Wasps vs Newcastle Falcons
Referee: Tim Wigglesworth
Assistant referees: Peter Huckle, Ken Stewart
Assessor:Paul Bridgman

Television match official: Roy Marfleet, Geoff Warren
Top 14
Round 16
Clermont Auvergne vs Brive
Referee: Christophe Berdos
Assistant referees: Bruno Fiche, Régis Gabard
Assessor: Philippe De Miranda, Joël Dumé
Television match official: Daniel Irazoqui
Bayonne vs Racing Metro 92
Referee: Romain Poite
Assistant referees:Jean-Paul Vermande, Fernand Pereira
Assessor: Christian Zidel, Eric Darrière

Television match official: Gilles Cogne
Biarritz vs Bourgoin
Referee: Stephan Pomarède
Assistant referees: Christophe Graviou, Christophe Malterre
Assessor: Michel Roger, Bernard Perez

Television match official: Jean-Luc Rebollal
Castres vs Montauban
Referee: Cyril Lafon
Assistant referees: Alain Rongier, Jean-Louis Suau
Assessor: Joël Bernard, Michel Lamoulie
Television match official: Laurent Valin
Montpellier vs Stade Français
Referee: Cédric Marchat
Assistant referees: Patrick Dellac, Gilbert Darrieutort
Assessor: Richard Senssac, Patrick Thomas
Television match official: Daniel Gillet
Toulon vs Albi
Referee: Mathieu Raynal
Assistant referees: Jean-François Lavocat, Jean-Claude Bes
Assessor: Patrick Costa, Jean-Christophe Gastou
Television match official: Akim Hadj Bachir
Toulouse vs Perpignan
Referee: Jean-Pierre Matheu
Assistant referees: René Bordeneuve, Hervé Gilard
Assessor: Francis Coup, Pascal Bouchet, Patrick Robin
Television match official: Vincent Azoulay
Round 17
Clermont Auvergne vs Toulon
Referee: Romain Poite
Assistant referees: Jean-Paul Vermande, Patrick Dellac
Assessor: Jean-Claude Legendre, Patrick Thomas
Television match official: Gilles Cogne
Racing Metro 92 vs Bourgoin
Referee: Laurent Cardona
Assistant referees: Jean-Claude Bes, Gines Cerezuela
Assessor: Michel Ricciardelli, Daniel Dartigeas

Television match official: Jean-Marie Piraveau
Bayonne vs Toulouse
Referee: Patrick Pechambert
Assistant referees: Christophe Clavere, Jean Louis Suau
Assessor: Daniel Pascal, Serge Marzullo
Television match official: Laurent Sclafer
Biarritz vs Montpellier
Referee: Jean-Luc Rebollal
Assistant referees: René Bordeneuve, Christophe Graviou
Assessor: Jean-Marc Dedieu, Patrick Robin
Television match official: Yves Soulan
Brive vs Perpignan
Referee: Jérôme Garces
Assistant referees: Gilbert Darrieutort, Frédéric Gourgues
Assessor: Jean Izquierdo, Joël Dumé
Television match official: Jean-Pierre Pellaprat
Castres vs Albi
Referee: Franck Maciello
Assistant referees: Sébastien Hebert, Hervé Gilard
Assessor: Jean-Marie Combe, Marc Desclaux
Television match official: Daniel Irazoqui
Montauban vs Stade Français
Referee: Jean-Pierre Matheu
Assistant referees: Fernand Pereira, Didier Dussaut
Assessor: Michel Kazmierczak, Bernard Perez
Television match official: Gérard Borreani