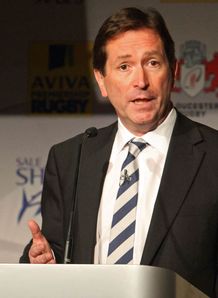 Related links
Teams
Also see
Premiership rugby clubs are reported to be exploring the possibility of playing club fixtures in the USA from next season.
The US has emerged as one of the game's fastest-growing markets, with many tipping the sport to surge in popularity over the coming years - particularly with the inclusion of sevens in the Olympic Games from 2016.
Premiership Rugby chief executive Mark McCafferty confirmed the English body were considering their options.
"We are working on plans for a game out there," McCafferty told The Times. "There are opportunities; we have to find the right entry point and the right time.
"We have got to recognise that it will build. It is slowly beginning to come through (as a sport in the US). They have players who are beginning to come through."
But Leicester chief executive Simon Cohen, though keen to be part of the potential transatlantic matches, was wary of the potential financial drawbacks involved.
"There has been some talk and there would be a desire from our part to be involved," said Cohen.
"In practice, somebody has to put a deal on the table because it is not a cheap deal - you are probably looking at £100,000 for one team to be out there.
"There are all sorts of sponsorship deals that may reduce that cost but it is not as cheap as playing on the other side of the East Midlands."