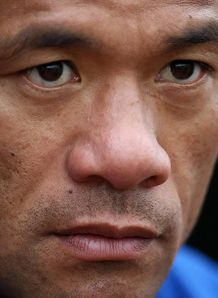 Related links
Teams
Former Samoa legend Brian Lima has avoided a jail sentence after being charged with assaulting his ex-wife last year.
Lemalu Sina Retzlaff and a friend were confronted by Lima in an incident back in December outside a nightclub in Apia, leaving the victim with two black eyes, cuts to her face and bruises.
Retzlaff went public on social media regarding the incident and Lima's reputation was tarnished after an illustrious career in which he played in five Rugby World Cups and was inducted into the IRB Hall of Fame in 2011.
Lima had been found guilty of causing grievous bodily harm, being armed with a dangerous weapon and using threatening words and faced up to seven years in prison.
Judge Ida Malosi of the Samoa Supreme Court sentenced Lima to two years supervision by the courts. A probation report will determine the restrictions placed upon Lima, which may include counselling.
According to ONE News, Retzlaff stood up in court and asked the Judge to be lenient with Lima's sentence after he had previously apologised to her.