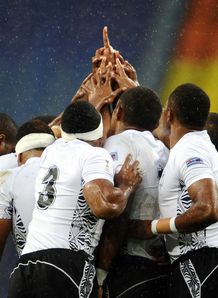 Related links
Teams
Organisers have confirmed that the Fiji sevens team will remain a key feature of the Wellington Sevens tournament at Westpac Stadium next month.
Despite recent announcements around funding, the team's participation at round five of the IRB Sevens World Series in Wellington will not be affected. Logistical costs including food, accommodation and travel is covered by the tournament, which has been the case for all competing teams over the years.
Wellington Sevens general manager Marty Donoghue said the Fijian team is a huge feature of the tournament, and always has been.
"We've had a discussion with the Fiji Rugby Union and know their players and coaches are preparing as per usual for the next two tournaments," said Donoghue.
"We're looking forward to having them back here in a couple of weeks and no doubt they will bring with them that fierce rivalry and entertaining style of rugby that they always do."