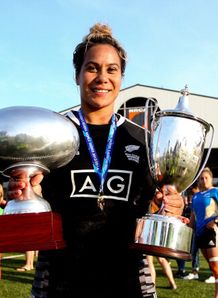 Related links
Teams
The New Zealand Women's Sevens team have clinched the IRB World Series with their tournament victory in Amsterdam on Saturday.
For the second year in a row, New Zealand won both the tournament and the overall Series titles, this time by beating Australia 29-12 in the final played in front of a packed house at the National Rugby Centre in Amsterdam.
In glorious sunshine on Friday and Saturday, the two sides served up yet another classic final to match the encounters that took place in Dubai, Sao Paulo and Guangzhou.
Earlier on day two, Australia beat Brazil and Canada on route to the final, while New Zealand overcame Russia before being tested by England in the semi-final, making certain of the victory in the final minutes.
"I think it's very important for where we're going, I'm very excited and I'm very proud of the girls," said New Zealand coach, Sean Horan.
"We have a unique culture and I think we're playing the brand of rugby we want to play. We've learned a lot in this Series and we're excited about next season."
The Bowl final was won by hosts the Netherlands after they overcame South Africa, while USA beat Russia to win the Plate.
The final day of the IRB Women's Sevens World Series 2013/14 also saw Australia's Emilee Cherry named the IRB Women's Sevens Player of the Year as well as the season's top try scorer.
"Today was a fitting end to a fantastic Series and I want to congratulate all the sides for entertaining the crowds around the world during the second year of the IRB Women's Sevens World Series," said IRB General Manager for Sevens, Avan Lee.
"The skill levels, the energy and the intensity has shot up since last year, and we've seen some extraordinary matches throughout the season."
"I have no doubt the standard will go even higher next year as the road to the Olympic Games in Rio 2016 gets even closer."