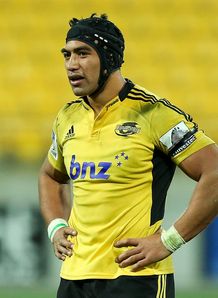 Related links
Teams
Hurricanes back-row Victor Vito is keen to represent New Zealand at the Commonwealth Games and also wants to win back his All Blacks spot.
The 27-year-old, who is out of contract at the end of the year, was recently linked with a move to Stade Franšais in French media reports but he is determined to win back his All Blacks place and wants to return with a Commonwealth Games gold medal in Glasgow with New Zealand's Sevens team later this year.
"The black jersey any time is pretty huge for me still," Vito told NZ Newswire.
"My goal is to get back in that black jersey, whether it's for the 15-a-side or I know there is a Commonwealth Games this year that I'd like to put my hand up for as well."
If he does get a call-up to the All Blacks Sevens squad for the Games, in late July, Vito could be forced to make a choice if the Hurricanes qualify for the play-offs, which will be on at the same time.