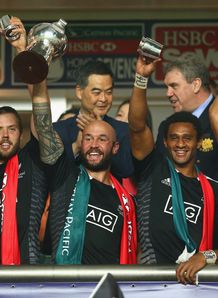 Related links
Also see
New Zealand clinched the Hong Kong Sevens title for the first time since 2011 after defeating England 26-7 on Sunday.
Tries from Ben Lam, Tim Mikkelson, DJ Forbes and Sam Dickson left England chasing the game as the heavens opened in the second half, with New Zealand managing without Lam who was yellow carded. It was a truly clinical performance from the World Series champions.
The success in Hong Kong lifts New Zealand above World Series rivals South Africa, who were left to settle for victory in the Plate.
England picked up the impressive win over Ben Ryan's Fiji side in the semi-final thanks to tries in the second half from Tom Powell and Marcus Watson. New Zealand made the final after their 19-7 triumph over Australia.
England took out previous World Series leaders South Africa in the quarter-finals, while Fiji defeated the USA 17-5.
Australia just squeezed past Canada 14-12 to book their semi-final spot, with New Zealand comfortably defeating Wales 28-5.
In the Bowl competition Scotland thrashed France 31-5 to lift the trophy with a convincing performance.
South Africa saw off Wales 19-14 in the Plate final to end a disappointing weekend for the World Series leaders on a high.
Collins Injera moved into third in the all-time leading try scorers on day three as Kenya lifted the Shield, defeating Portugal 17-10 in the final.
Mithun Hapugodage scored one of the tries of the day for Sri Lanka, but they lost to Portugal 24-19 in their Shield semi final as Duarte Moreira scored a hat-trick.
Elsewhere, Japan qualified as a core team for next year's World Series after defeating Italy 26-5 in the final of the qualifiers.
Reaction:
New Zealand captain DJ Forbes: "The heavens open, the World Cup, here, there must be something up there. When the rain came it changed our roles and fell into our hands. We were given a lesson last week by England but now we're on the podium."
New Zealand head coach Sir Gordon Tietjens: "It is a great feeling. My captain lead so well from the front, he was simply amazing. And also the other players linked in with him, we played a good final. That puts us back on top now, it's topsy-turvy now which means we need to start well in Scotland, but this will certainly help in going towards winning that title."
South Africa head coach Neil Powell: "It was important for us to win that. We knew when we lost to England in the quarter final we needed to win the Plate to get as many points on the Series log."
Scotland captain Colin Gregor on the next leg of the World Series in Edinburgh: "With the home support on our back I'm sure we'll put in a really good performance. We showed a lot of character today and beat a lot of quality teams, it's great to have won something here today."
Fixtures/Results:
Cup Final: England 7-26 New Zealand
Third Place: Fiji 21-12 Australia
Cup Semi-Finals: Fiji 7-17 England, New Zealand 19-7 Australia
Cup Quarter-Finals: Fiji 17-5 USA, England 14-7 South Africa, Australia 14-12 Canada, New Zealand 28-5 Wales
---
Plate Final: South Africa 19-14 Wales
Plate Semi-Finals: USA 19-24 South Africa, Wales 31-14 Canada
---
Bowl Final: Scotland 31-5 France
Bowl Semi-Finals: Scotland 24-12 Argentina, Samoa 0-26 France
Bowl Quarter-Finals: Kenya 12-26 Scotland, Argentina 7-5 Spain, Samoa 33-14 Sri Lanka, France 19-14 Portugal
---
Shield Final: Kenya 17-10 Portugal
Shield Semi-Finals: Kenya 12-7 Spain, Sri Lanka 19-24 Portugal
With thanks to the IRB>