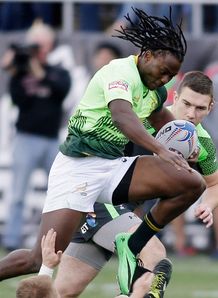 Related links
Also see
In a breathless day's action at the Sam Boyd Stadium in Las Vegas, Canada performed heroics to reach only their second-ever Cup semi-final in IRB Sevens rugby, joining defending champions South Africa, New Zealand and Samoa in the final four.
The South Africans, the most recent winners on the Sevens World Series, have conceded just seven points in their four matches so far at the Sam Boyd Stadium and beat Argentina 36-0 in their quarter-final.They next face Samoa in an enthralling match-up between the only two sides to have won the title in Las Vegas.
Canada came from 14-0 behind to beat France 17-14 and next face Series leaders New Zealand after the All Blacks Sevens proved too strong for England, winning 24-7.
Gordon Tietjens' side will be without George Tilsley for one more match, however, and Sam Dickson for eight more matches after both players received disciplinary sanctions following their match with Fiji.
Semi-finals:
South Africa v Samoa
Canada v New Zealand
Day Two results:
Quarter-finals:
Zealand 24-7 England
France 14-17 Canada
Samoa 12-10 Australia
South Africa 36-0 Argentina
Bowl quarter-finals :
Fiji 38-14 Uruguay
United States 7-12 Wales
Portugal 7-31 Scotland
Kenya 24-0 Spain

Pool A:
Wales 19-21 Canada
South Africa 19-7 Kenya
Pool B:
Australia 19-7 Scotland
New Zealand 12-6 Fiji
Pool C:
England 43-5 Uruguay
Samoa 21-0 Portugal
Pool D:
Argentina 0-14 France
United States 31-10 Spain
Reaction:
Canada captain John Moonlight: "I didn't even know we'd made one before, so that's amazing. We are very excited. A bit scrappy out there but this is where we aspire to be every time so it's nice to get there. All the guys train together, the guys here and those back home, but this is a great feeling right now."
New Zealand coach Gordon Tietjens: "It's always motivation when we haven't won a tournament, but we know we have to be tip top for it. All teams come hunting for us so it will be no different with Canada."
Neil Powell, South Africa coach: "I think the fact the pitch is a bit narrow actually suits us as our defensive structures are in place. Overall happy with the performance of the guys and we try to make more space for the backs with the likes of Seabelo and Sampie. It is great to have quality like that. We hope they will both be okay for tomorrow, as they have ankle injuries, but if not we have more than capable guys that will take their slots."
Ben Ryan, Fiji coach: "Incredibly disappointed after the New Zealand match but that is that. We have to bounce back and we have to win the Bowl and make sure we are on the money in Wellington. It's a disaster of a day in that (being in the Bowl) respect. If we have to make changes for New Zealand we will. We pick on form and this is form."
Geraint John, Canada coach, Cup quarter finalists after win against Wales: "Both teams knew, whoever won it, we were all relying on South Africa to beat Kenya. But to be 12-0 at half time, to achieve what we did in that second half shows the character and the tenacity of the players. I can't fault them. There is some good support here, a lot of people here from Canada - we've always done well here so hopefully we can make the Cup and do the supporters proud."
Simon Amor, England coach, Cup quarter finalists: "I was disappointed to lose but the guys have picked themselves up. Obviously Samoa are a good side and all our games with them are always close but the guys came back and did well against Portugal and Uruguay so we are moving in the right direction."
Zack Test, USA Sevens: "The fans want to see us come and compete hard and get some wins so it's good to get that under our belt. We have played pretty close with Wales, this year and last season. They are good but we have to come out and play with that intensity and we are confident we can do that. It is a dream come true to play in front of a home crowd, every little boy wishes they can come out and play in front of their family and friends and I am so happy to be here."
With thanks to the IRB