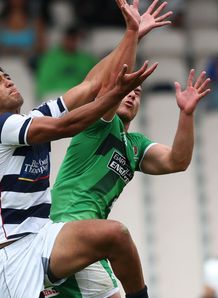 Related links
Teams
Also see
All Blacks Sevens head coach Gordon Tietjens will be without Tomasi Cama for the Las Vegas leg of the World Series, with Akira Ioane set to debut.
Players not considered because of injury were Cama, Ben Lam and Declan O'Donnell but boss Tietjens said he was happy with mix in the group.
"This is a strong side with a lot of experience and that's the advantage with this squad now, I have some very experienced players who can teach the younger players," he said.
Tietjens added on Cama: "He is certainly the best half back in the world in sevens and having him injured is a real concern but he will bounce back and at the same time we are building depth and Gillies Kaka I am sure will step up to that role. He was the best player at Rugby World Cup in Russia and we have very capable Mark Jackman as well who can thrive in that position."
The side features one new player in Ioane who was a star performer for Auckland at the National Sevens over the weekend where the team came second to Wellington. The 18-year-old finished school at Auckland Grammar only last year.
"He is someone we want to grow as a sevens player. He has all the attributes and the skill set of a fine rugby player and performed very well over the last three days. He's exciting, very fast, very skilful and it will be real challenge for him his first tournament, but I am sure he will thrive on that," he added.
The All Blacks Sevens have not won in Las Vegas and this will be the fifth year the USA tournament has been held in the gambling mecca. New Zealand has notched three second places in the past four years with the Cup shared twice by South Africa and Samoa. New Zealand last tasted success in the USA when it won the San Diego Sevens in 2008.
"We have played consistently well there so it's not that we don't play well there, it comes down to those defining moments that decide whether you win or lose. We have to use different tactics because there is not as much width on the field so there is a lot more contact and I have picked a side that is very strong and very big and hopefully they can do the work for us," concluded Tietjens.
All Blacks Sevens: Scott Curry, Ambrose Curtis, Sam Dickson, DJ Forbes (capt), Bryce Heem, Akira Ioane, Mark Jackman, Gillies Kaka, Tim Mikkelson, Lote Raikabula, Sherwin Stowers, Joe Webber.