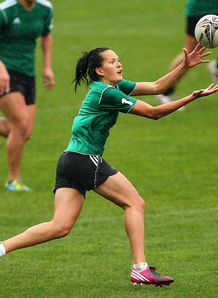 Guangzhou, China hosts the third leg of the Women's Sevens World Series on the 30th and 31st March 2013 and its set to showcase the rugby athleticism of these ladies to a different market.
As we head closer to the pointy end of the first annual World Series, this will be known as the championship leg of the series as the results of this tournament will set the scene for a thrilling finale in Amsterdam ahead of the Sevens World Cup in June.
Pool A has an unknown feel despite having two core sides in the Netherlands and current Series leaders New Zealand involved. Brazil will add an interesting element as will new comers Tunisia, who face a stern task ahead of them but on the flip side have nothing to lose.
New Zealand should top this pool quite comfortably and will see the introduction of debutants Olivia Bird from the Canterbury region and Kristina Sue from the Manawatu. Coach Sean Horan has selected a side with experience, current form, explosiveness and some thinkers who have the ability to shift the ball wide at a moment's notice.
New Zealand will need to build on their Houston performance and their toughest opponent in this pool will be from the Dutch ladies.
The Netherlands, having played against New Zealand in Houston, will have strategic plans in place to nullify both their attack and to create space for their own strike weapons on the counter attack. Kelly van Karskamp will need to spearhead her side to a top two finish in this pool as heavy favourites alongside New Zealand.
Brazil took out the Bowl Final in Houston having defeated Japan and will fancy their chances in this pool. Whilst not one of the biggest teams in size, Brazil's ability to keep the ball alive and their support play is second to none. The true battle for them comes when there is a one on one collision and securing your own ball becomes crucial.
Tunisia as relative unknowns are in fact the most feared in this pool. With little known about them as a squad and the ability to stream and take notes on their opposition through the first two legs of the tournament Tunisia could have a slight advantage. Expect some loose passes and passages of play as combinations improve throughout the tournament but also look to their pace out wide.
Pool B sees the return of some very experienced players, introduction of Ireland to the World Series circuit and the prospect of one of the stronger pools in this competition.
Australia currently sitting second on the Series standing welcome back their captain Rebecca Tavo into the squad. Tavo brings a wealth of experience her leadership and directional play will see her team gain front foot ball and earn the right to play it wide.
"The contact zone and the ruck have become a big focus in Sevens as teams look to gain an advantage, so we've been spending some time on that. Consistency is key for us" is the focus from Australian Head Coach Chris Lane.
"We have always taken someone new to every tournament as we look to develop and expose our athletes to highly competitive and testing environments. Moscow has always been our major focus and any success we have, as far as winning tournaments goes before then is a bonus."
Australia with a clear end goal in sight is a danger in this competition with depth and lethal combination of power and skills in this squad should finish on top of Pool B but they do face some serious competition.
Ireland who are probably still celebrating their first ever Grand Slam Victory in the Six Nations tournament will be brimming with confidence.
Like most nations, the Sevens and the fifteen a side programmes seem to cross paths and if that's the case then Ireland have two very dangerous strike weapons in Ali Miller the flying winger and Niamh Briggs, who's sheer power saw her break the advantage line every time she touched the ball. Now Sevens is a completely different ball game, but they use the same ball and look for the Irish to play an expansive open style game plan. They are a very big threat to this competition and confidence is a wonderful attribute to have. They will be the team everyone keeps their eyes on.
Canada have been underwhelming in the Series so far. With sixth and seventh placings in Dubai and Houston, Coach John Tait is simply looking for consistency. Talking to IRB website "The weight we're putting on this tour is that we need to go there and perform well in each game, "said Tait. 'We've had some up and down performances this year and we haven't gotten the results because of that."
Japan, who many will underestimate, are in fact the dark horses of Pool B. Speaking to head Coach Keiko Asami in the lead up to this tournament:
"We scored tries in all the matches in Houston, including two against current World Champions Australia. None of them were coincidental, we scored them as we intended.
"We need more driving force straight toward the try line in attack and we must in defence place more pressure on our opponents. Our focus needs to be on the breakdown and support play. We have to raise the level of our skills and strength to keep a ball.
In the Bowl final of the Houston event that we narrowly lost to Brazil, our players didn't show their best performance because of excessive tension. They had never played in such a big and beautiful stadium. Nor had they played in a "buzzer beater kind of situation before."
With lessons learnt in Houston, Asami retains most of the same squad but also sees the introduction of 18-year-old Yume Ohkuroda. She is the youngest in the squad and was a pivot of the team when Japan qualified from the Rugby World Cup Sevens beating Kazakhstan in the third place play off of the Asian Qualifiers in Pune, India last October. Look for her to stamp her authority on the game.
Pool C will have the Cup Final replay during pool rounds as we see England and the United States go another round. China will be looking for a strong showing in front of their home crown whilst Fiji will look to go about their business quietly and possibly throw in a couple of upsets if given the chance.
After a dominant display in Houston, England will be on notice and they will look to replicate and further improve their overall game.
"Since Houston, the focus has been on getting what didn't work as well as we would have liked in Houston, as well as exposing the players to situations they'll experience in a game environment," said head coach Barry Maddox.
"This group is consistently grounded because they now there are a lot of good teams out there who are getting better and better. Every tournament we go to, it gets closer and closer - games are won by the smallest of margins and we can take nothing for granted."
Expect England to be ruthless in all three round games and then up the anti come cross overs on Day Two.
The United States proves how crucial home advantage can be as motivation for putting in a great performance in front of your home crowd. They played with exception skill and changed their tactics from game to game in Houston. The challenge for them will be to back up their Houston performance as they are building nicely for the World Cup. Look for their revenge match against England to be one of the highlights.
China were dealt a cruel pool in Dubai but they can take solace in their victory over Canada and build on that performance. Their battle against Fiji should be a match to look for as it will be a battle of contrasting styles to say the least. With further exposure to competitive environments such as these tournament both Fiji and China have great potential to be serious threats in years to come.
By Amanda Love