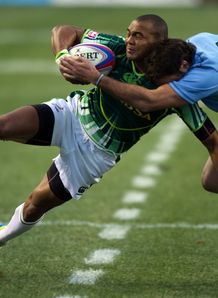 Related links
Also see
On an enthralling second day of action at Sam Boyd Stadium in Las Vegas, pool-toppers New Zealand, Fiji, Samoa and South Africa all won through to the USA Sevens Cup semi-finals on Sunday.
Hosts USA reached the quarter-finals in dramatic fashion with a stunning 22-7 pool win against Spain, but were edged out by Fiji, 21-19.
The Fijians will face HSBC Sevens World Series leaders New Zealand in the first semi-final after the kiwis beat Canada 17-0.
In the other side of the draw, defending champions Samoa got past a brave Scottish side, 12-5, to face South Africa in the second semi, the Blitzbokke producing another impressive performance to beat Wales 26-0.
Quarter-finals:
Fiji 21-19 USA
New Zealand 17-0 Canada
Samoa 12-5 Scotland
South Africa 26-0 Wales
Bowl Quarter-Finals:
Portugal 0-12 Spain
Argentina 24-0 Uruguay
Australia 21-26 England
Kenya 17-21 France
Pool A
(England, Scotland, Fiji, Portugal)
Results:
England 17-26 Fiji
Scotland 12-10 Portugal
England 5-21 Portugal
Scotland 12-14 Fiji
Fiji, who will be without both their suspended captain Setefano Cakau and Manueli Lagai for the remainder of the tournament, won all three of their matches at the USA Sevens at the Sam Boyd Stadium, narrowly holding on to a 14-12 victory against Scotland, with Russell Weir narrowly missing a last-minute penalty drop goal and beating Portugal 21-14.
England, last week's champions, lost all three of their matches for the first time since the 2008 Adelaide Sevens, against Fiji 26-17 with two tries from Samisoni Viriviri, Portugal 21-5 and Scotland 14-0. It was only Scotland's third victory against England in 26 encounters.
Scotland beat Portugal in their first match, with Mark Robertson and Michael Fedo scoring the tries and Colin Gregor's touchline conversion proving decisive.
Pool B
(Kenya, South Africa, Canada, Uruguay)
Results:
Kenya 12-19 Canada
South Africa 45-0 Uruguay
Kenya 12-7 Uruguay
South Africa 17-5 Canada
South Africa became the second side to complete a 100% record, adding a 17-5 victory against Canada to an impressive 45-0 victory against the only non-core side competing in Las Vegas, Uruguay. On day two they also defeated African neighbours Kenya 15-5.
Canada defeated Kenya, which meant both of the Hertz Sevens finalists lost their opening matches with Sean Duke crossing for his 22nd try of the Series and Nanyak Dala and Jeffery Hassler scoring Canada's other tries. Hassler added two more in their 36-0 win against Uruguay.
Mike Friday's Kenyans bounced back from their opening defeat, riding their luck to come from 7-5 down and inflict a second defeat on Uruguay, Biko Adema benefiting from smart work by Oscar Ayodi.
Pool C
(New Zealand, Argentina, France, Wales)
Results:
New Zealand 21-0 France
Argentina 7-17 Wales
New Zealand 40-5 Wales
Argentina 14-12 France
New Zealand also won all of their pool matches, adding a 17-5 win against Argentina to their two wins on day one. Belgium Tuatagaloa helped the reigning Series champions beat France 21-0 with two of their three tries before they beat Wales 40-5 with Ben Lam crossing for a hat-trick.
Reigning Rugby World Cup Sevens champions Wales beat Argentina in a rematch of that 2009 final in Dubai 17-7 in their first match of the USA Sevens, before Rhys Jones scored a penalty drop goal to give them a 17-14 win against France to book their place in the Cup quarters.
Javier Rojas secured a 14-12 victory for Argentina against France, Los Pumas' first win of the day, and Les Bleus' second defeat. Both sides can still reach the Cup quarters.
Pool D
(Samoa, Australia, Spain, USA)
Results:
Samoa 19-12 Spain
Australia 26-7 USA
Australia 14-24 Spain
Samoa 12-7 USA
Defending champions Samoa maintained a 100% record, beating hosts USA, Spain and Australia. They came from 12-0 behind to beat Spain 19-12, with captain Afa Aiono scoring the winning try under the posts to the delight of the crowd at the Sam Boyd Stadium, before Levi Asifa'amatala and Reupena Levasa scored the tries against USA. Patrick Faapale scored 16 points in their 28-7 win against Australia.
Spain bounced back to defeat Australia 24-14 to bring an end to an impressive run from Michael O'Connor's side, who had won nine of their previous 10 matches. The hosts USA lost their opening match to Australia 26-7, although they reached the quarters thanks to Nick Edwards decisive conversion.
With thanks to the IRB