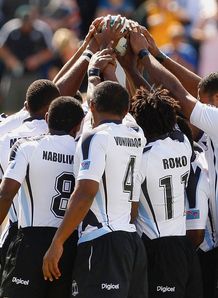 Related links
Teams
New Zealand have banned two members of the Fiji Sevens team from competing at the World Series tournament in Wellington next month because of travel sanctions it imposes on Fiji's military regime.
Mosese Saunivanua and Emosi Mulevoro are both officers in the Fiji navy and are covered by the sanctions, which prevent members of the Fiji military or their relatives traveling to New Zealand.
New Zealand has imposed sanctions on Fiji since Commodore Frank Bainimarama seized power in a 2006 coup.
The Wellington leg of the tournament on February 1-2 is the fourth round of the HSBC World Sevens Series.
The All Blacks Sevens lead the world series with 60 points after three rounds, ahead of France (46) and Fiji (44).