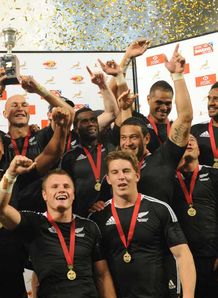 Related links
Also see
The draw for the Port Elizabeth leg of the HSBC IRB World Sevens Series is out, with defending champions New Zealand grouped with Fiji and England.
New Zealand, who lost to Samoa in the Dubai final, are the top-ranked nation in Pool B.
The Springbok Sevens will face Dubai winners Samoa, France and Australia in Pool A in a very competitive race for the two group qualification spots on offer and passage to the Cup quarters.
Kenya head Pool C and were drawn alongside Wales, Argentina and Spain. Dubai surprise package Portugal, Canada, the United States and Zimbabwe complete the final grouping in Pool D.
New Zealand currently lead the World Series on 38 points after two rounds, followed by Fiji, Kenya, Samoa (on 32), France (27) and South Africa (24).
The first few teams will arrive on Sunday at approximately 9.20pm in PE from Johannesburg while the second group, including South Africa, are expected to touch down at 10.20pm.
The confirmed pools for the Nelson Mandela Bay Sevens are:
Pool A: Samoa, France, South Africa, Australia
Pool B: New Zealand, Fiji, Scotland, England
Pool C: Kenya, Wales, Argentina, Spain
Pool D: Portugal, Canada, United States, Zimbabwe
The HSBC Sevens World Series Standings after two rounds are:
1. New Zealand 38
2. Fiji 32
2. Kenya 32
2. Samoa 32
5. France 27
6. South Africa 24
7. Argentina 21
8. Wales 18
9. Canada 17
10. Australia 11
10. Portugal 11
12. England 10
12. Spain 10