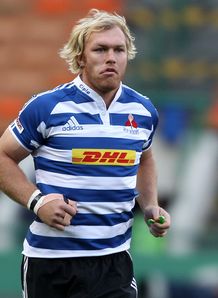 Related links
Also see
With just three rounds of matches left before the play-offs there is still plenty at stake for all the sides in the competition.
The Sharks issued a warning to their competitors after registering a comprehensive 50-26 victory over the Free State Cheetahs last week.
That win took the Durban-based outfit to the top of the table by virtue of a better points difference to Western Province, who are still the only undefeated side left in the tournament, despite battling to a 19-13 victory over Griquas in Cape Town last weekend.
Both the Sharks and WP face tricky assignments on the road this weekend. WP face the Cheetahs in Bloemfontein and the Lions host the Sharks in Durban. Because of the Rugby Championship Test between the Springboks and the Wallabies in Cape Town, both these matches will take place on Friday evening.
The weekend's only other Currie Cup match takes place in Kimberley where bottom-placed Griquas host the Blue Bulls, who are just one place above them in the standings.
With the top four teams playing each other, those two sides will be keen to return to winning ways and keep alive their faint hopes of making the semi-finals. The Bulls, in particular, have plenty to prove after suffering a 35-26 loss to the Lions in Johannesburg last weekend.
Fixtures:
Friday, September 27
Free State Cheetahs v Western Province
Golden Lions v Sharks
Saturday, September 28
Griquas v Blue Bulls
Standings:
1. Sharks 24
2. Western Province 24
3. Golden Lions 20
4. Cheetahs 16
5. Blue Bulls 11
6. Griquas 10
---
Free State Cheetahs v Western Province
Free State Stadium, Bloemfontein
Both these sides will be looking to improve after below-par performances last weekend. The Cheetahs suffered their heaviest defeat of the season, in their loss to the Sharks, and WP struggled to an unconvincing triumph over Griquas.
The biggest selection news of the week - and probably the season for the Cape Town-based outfit - is the inclusion of Springbok flanker Schalk Burger amongst the WP replacements.
Burger has been out of action since playing for the Stormers in the opening round last year's Super Rugby tournament and he makes his return to WP's Currie Cup team for the first time since their 2011 semi-final loss to the Golden Lions.
WP coach Allister Coetzee knows it's only the beginning stages of Burger's comeback and revealed that he will manage the 68-Test veteran's return carefully.
"Almost two years have passed and Schalk has gone through a lot (injury complications and illness)," said Coetzee.
"He has come through training very well and his inclusion in the squad is part of his comeback process.
"We don't expect him to be at his best and merely having him around the players brings out his positive influence.
"It's just good to have him back and he'll feel like a new player when he comes on to play.
"The way he's been running at practice makes one think that he could be an even better player than what he's been in the past."
Coetzee expects a much better performance from his charges after they came agonisingly close to suffering a humiliating loss to Griquas in Cape Town last weekend.
"The game against Griquas is one that we much rather want to forget," headded.
"This week we focused on the Cheetahs, which will be another tough ask. We will have to execute our game plan much better and will have to be more clinical."
Cheetahs boss Naka Drotske is determined to bounce back after that tough loss to the Sharks and has placed a bigger emphasis on defence this week.
"We have spoken to each and every one of the players," he said.
"The message was simple. They have to decide if they want to buy into our defensive structures and if they are going to pitch for the game mentally."
Prediction: With the Cheetahs concentrating on defence and WP already known as the best defensive unit in the tournament, expect this to be a bruising physical encounter. Province's experience will take them through, however, and they will triumph by five points but don't be surprised if they fail to get a try-scoring bonus point!
The teams:
Free State Cheetahs: 15 Hennie Daniller, 14 Riaan Smit, 13 Johann Sadie, 12 Robert Ebersohn, 11 Piet Lindeque, 10 Elgar Watts, 9 Sarel Pretorius, 8 Boom Prinsloo, 7 Oupa Mohoje, 6 Lappies Labuschagné, 5 Lood de Jager, 4 Freddie Ngoza, 3 Trevor Nyakane, 2 Hercu Liebenberg, 1 Schalk van der Merwe.
Replacements: 16 AJ le Roux, 17 Rossouw de Klerk, 18 Francois Uys, 19 Davon Raubenheimer, 20 Piet van Zyl, 21 Rayno Benjamin, 22 Willie du Plessis.
Western Province: 15 Gio Aplon, 14 Gerhard van den Heever, 13 Michael van der Spuy, 12 Damian de Allende, 11 Cheslin Kolbe, 10 Kurt Coleman, 9 Nic Groom, 8 Nizaam Carr, 7 Michael Rhodes, 6 Deon Fourie (capt), 5 De Kock Steenkamp, 4 Tazz Fuzani, 3 Pat Cilliers, 2 Scarra Ntubeni, 1 Steven Kitshoff.
Replacements: 16 Michael Willemse, 17 Brok Harris, 18 Gerbrandt Grobler, 19 Schalk Burger, 20 Josh Katzen, 21 Louis Schreuder, 22 Demetri Catrakilis.
Referee: Marius Jonker
---
Golden Lions v Sharks
Ellis Park Stadium, Johannesburg
Both these sides are on a high after registering impressive wins last weekend. The Lions held too much firepower for the Bulls, winning 35-26, and the Sharks were dominant from start to finish before scoring 50 points against the Cheetahs.
Well, something's got to give when they meet this weekend. The last time these sides faced each other, the Sharks won 33-25 but apart from being out for revenge Lions coach Johan Ackermann knows a victory could ultimately clinch a home semi-final for his side.
"We will have to continue scoring points and preferably winning," Ackermann said.
"We know this competition isn't easy and we want to stay in the top four.
"A win on Friday could give us a nudge to advance even higher on the log, but they [the Sharks] would want to hold onto their place, so it is going to be a tough and interesting game."
Sharks forwards coach Brad MacLeod-Henderson admits that his charges are determined to claim a home semi-final berth, but said they could not afford to be distracted by their position on the table.
"We want to have a home semi and if all goes well, a home final, but we've said all along, the process and the performance is what we're really looking at," he said.
"We played a fantastic game on Saturday (against the Cheetahs), there are still areas we need to improve on. We'll have to play as well, if not better, this Friday against the Lions if we want to get the right result."
Both sides have brilliant players in their starting line-ups which should make for an entertaining battle. The Lions possess dangerous backs who enjoy attacking from all areas of the field while the Sharks showed last weekend that their entire side can wreak havoc with ball in hand.
Prediction: With both sides in fine form, this should be the most exciting clash of the weekend. Although the Lions are at home, the Sharks have timed their run to perfection ahead of the play-offs and will win by six points!
The teams:
Golden Lions: 15 Marnitz Boshoff, 14 Andries Coetzee, 13 Deon Helberg, 12 Dylan Des Fountain, 11 Anthony Volmink, 10 Elton Jantjies, 9 Ross Cronjé, 8 Warren Whiteley, 7 Derick Minnie (captain), 6 Jaco Kriel, 5 Franco van der Merwe, 4 Chris van Zyl, 3 Ruan Dreyer, 2 Robbie Coetzee, 1 CJ van der Linde.
Replacements: 16 Willie Wepener, 17 Jacques van Rooyen, 18 Willie Britz, 19 Warwick Tecklenberg, 20 Guy Cronjé, 21 Grant Janke, 22 Ruhan Nel.
Sharks: 15 SP Marais, 14 Odwa Ndungane, 13 Tim Whitehead, 12 Heimar Williams, 11 Lwazi Mvovo, 10 Fred Zeilinga, 9 Charl McLeod, 8 Keegan Daniel (c), 7 Tera Mtembu, 6 Justin Downey, 5 Stephan Lewies, 4 Peet Marais, 3 Wiehahn Herbst, 2 Kyle Cooper, 1 Dale Chadwick.
Replacements: 16 Monde Hadebe, 17 Danie Mienie, 18 Edwin Hewitt, 19 Bynard Stander, 20 Cobus Reinach, 21 Butch James, 22 Jaco van Tonder.
Referee: Jason Jaftha
---
Griquas v Blue Bulls
GWK Park, Kimberley
The outcome of this clash could have huge repercussions for the loser, who will almost certainly be out of contention for a play-off berth.
It has been an eventful week for Griquas after their coach Pote Human announced that he would be leaving the Kimberley-based side to take over the coaching reins at the University of Pretoria's Varsity Cup side from 2014.
Despite leaving Griquas, Human is determined to go out on a high and although they are last in the standings he is still confident of reaching the semi-finals.
"Injuries keep on interrupting us, but we will never use it as an excuse," said Human.
"We still firmly believe that we can reach the knock-out stages if we beat the Bulls.
"The team is motivated and we are confident of a good performance against the visitors."
Bulls coach Pine Pienaar is in a similar position to Griquas. He knows a defeat will be catastrophic and for that reason he has picked a side with a specific plan in mind.
"I think it is fair to say that we will try and play in a particular way and for that, we will need a very strong contribution from our bench," Pienaar revealed.
"All 22 will have to contribute if we want to beat Griquas in Kimberley. They are a very dangerous side at home and came so close in a number of their matches.
"This really will be our toughest challenge of the season, given our log position and the number of matches left."
Prediction: Although Kimberley has once again proven to be a difficult venue for visiting teams, the Bulls appear a little hungrier for victory than their hosts and will win a close encounter by three points!
The teams:
Griquas: 15 Gouws Prinsloo, 14 Richard Lawson, 13 JP Nel, 12 Howard Mnisi, 11 Rocco Jansen, 10 Francois Brummer, 9 Marnus Hugo, 8 Leon Karemaker, 7 Burger Schoeman, 6 Marnus Schoeman, 5 Jaco Nepgen, 4 Rory Arnold, 3 Ewald van der Westhuizen, 2 Ryno Barnes (c), 1 Steph Roberts.
Replacements: 16 Matt Dobson, 17 Brendon Pitzer, 18 Patrick O'Brien, 19 RJ Liebenberg, 20 Jacques Coetzee, 21 Du Randt Gerber, 22 Jean Stemmet.
Blue Bulls: 15 Jurgen Visser, 14 Sampie Mastriet, 13 William Small-Smith, 12 Francois Venter, 11 Akona Ndungane, 10 Handré Pollard,9 Rudy Paige, 8 Jono Ross (c), 7 Jacques du Plessis, 6 Wiaan Liebenberg, 5 David Bulbring, 4 Paul Willemse, 3 Werner Kruger, 2 Bandise Maku, 1 Marcel van der Merwe.
Replacements: 16 Mbongeni Mbonambi, 17 Frik Kirsten/Dean Greyling, 18 Grant Hattingh, 19 Jacques Engelbrecht, 20 Lohan Jacobs, 21 Ulrich Beyers, 22 Clayton Blommetjies.
Referee: Quinton Immelman