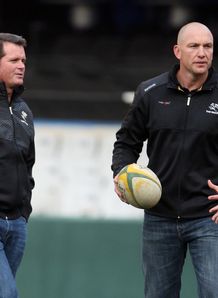 Sharks backline coach Sean Everitt is not pushing the panic button after his side's opening week loss to Griquas.
A conversion after the hooter saw the Sharks go down 30-32 to the men from Kimberly on Friday, the first match in what is a new era for the Durban outfit with John Smit calling the shots as CEO and Brendan Venter brought in as director of rugby.
However, despite the disappointing result Everitt is confident that matters will improve.
"It's by no means the end of the competition for us, it's only the start, and we will build and get better and if we take positives out of this loss, then we will get better," he told the Sharks' official website.
"We'd rather it happens now than later on. We'll be there at the end of the competition and I believe we'll be a better team from this experience."
Skipper Keegan Daniel was forced out of the match due to a knee injury and the loose forward will not face the Lions on Friday. There are also injury concerns surrounding centre Tim Whitehead and Sizo Maseko winger.
"Keegan is probably going to be out this weekend, his knee is not quite right but he should hopefully be ready for next week's game," explained forwards coach Brad Macleod-Henderson.
"Tim Whitehead has an ankle and a rib injury, we'll have to wait until Wednesday until we know more, while Sizo Maseko also has a bit of a hamstring niggle that he picked up on Friday night against Griquas. Those two are the only ones who played last weekend we're a bit worried about at this stage."
Should Whitehead and Maseko miss out, Heimar Williams and new signing SP Marais could get a run.
"We'll look at playing Heimar Williams at centre and SP Marais on the wing," Macleod-Henderson said of his contingency plans.
"SP arrived late last week and joined us for one session, and he's raring to go, we're looking forward to seeing him in action. Heimar's a quality player, he played for the Sharks Under 21s last year and captained them, he's an intelligent rugby player and if he gets an opportunity, it will be good to see what he can do."