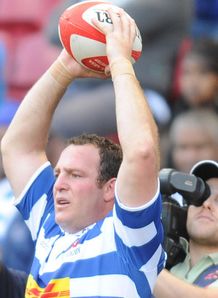 Related links
Also see
WP's Springbok duo Andries Bekker and Tiaan Liebenberg will miss Saturday's Currie Cup semi-final with the Lions in Johannesburg due to injury.
Bekker injured his right toe in the first half of their win over the Cheetahs at Newlands last Saturday and will see a specialist this week.
Liebenberg will also miss the match after picking up a knock to his back against the Bloemfontein outfit and will also see a specialist to determine the severity of the injury.
Western Province coach Allister Coetzee confirmed that Scarra Ntubeni will start in Liebenberg's place while De Kock Steenkamp will replace Bekker in the starting XV.
Meanwhile, Coetzee also revealed that veteran scrum-half Bolla Conradie had joined them at training as emergency back-up to incumbents Nic Groom and Louis Schreuder.
"Our U21 team is also in the semi-finals, so I don't won't to disrupt them at this stage of the season,' he told keo.co.za.
"If one of Louis or Nic goes down injured, I can bring in Bolla. He also has a lot of experience."