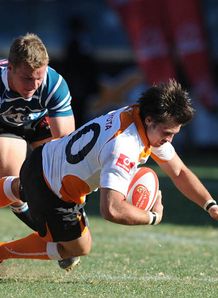 Related links
Also see
It's the final round of league fixtures in this season's Currie Cup and three sides are vying for the last semi-final spot.
Only a single point separates Western Province, the Blue Bulls and Griquas as they head into the final stretch of the season.
On Friday, the Blue Bulls face the Leopards in Pretoria while WP welcome back their World Cup Springboks for their clash against the Pumas in Cape Town on Saturday.
However, the match of the round takes place in Bloemfontein where the Cheetahs face Griquas in the only fixture where both sides have something to play for.
The final game of the weekend takes place in Durban where the Lions, who have an unassailable lead at the top of the table, meet the defending champions, the Sharks.
This is a crucial clash for the home side, who must win and gain a bonus point in the process to ensure that they finish in second spot in the standings, and in doing so secure a home semi-final.
Fixtures:
Friday, 14 October
Blue Bulls v Leopards
Saturday, 8 October
Cheetahs v Griquas, Western Province v Pumas, Sharks v Golden Lions
Standings:
1. Golden Lions 50
2. Sharks 43
3. Cheetahs 42
4. Western Province 36
5. Blue Bulls 35
6. Griquas 35
7. Pumas 15
8. Leopards 5
---
Previews:
Blue Bulls v Leopards
Loftus Versfeld Stadium, Pretoria
The Blue Bulls are in danger of missing out on the semi-finals for the first time in ten seasons and have to win this clash to put pressure on Griquas and Western Province.
The Pretoria-based side must be kicking themselves after losing 48-44 to Griquas in Kimberley last week. If they had won that game then their fate would not be in the hands of other teams.
Blue Bulls coach Pine Pienaar knows that they can't expect the Pumas and Cheetahs to do them any favours and he insists his side will only be concentrating on what they have to do in their own fixture.
"This coming weekend against Leopards we have to focus on ourselves. We are not in control with what happens with the Western Province and Pumas game. It was the same principle we had against Griquas," said Pienaar.
"We can only blame ourselves for the past weekend against Griquas. We did not do well, and conceded too many turnovers. That is the position we put ourselves in and again we have to focus on this weekend, our last game at home."
The bottom-placed Leopards will be relegated with the Pumas and are resigned to their fate. Coach Leon Boshoff has kept faith with the same starting XV that lost 41-14 to the Sharks in Rustenburg at the weekend.
Prediction:The Blue Bulls will prove too strong for the hapless Leopards and cruise to an easy victory. Blue Bulls by 25.
The teams:
Blue Bulls: 15 Jurgen Visser/Zane Kirchner, 14 Akona Ndungane, 13 Wynand Olivier, 12 Francois Venter, 11 Bjorn Basson, 10 Louis Fouché, 9 Jano Vermaak, 8 CJ Stander, 7 Jacques Potgieter, 6 Deon Stegmann, 5 Juandré Kruger, 4 Flip van der Merwe, 3 Werner Kruger, 2 Gary Botha (captain), 1 Dean Greyling.
Replacements: 16 Willie Wepener, 17 Frik Kirsten, 18 Gerrit-Jan van Velze, 19 Arno Botha, 20 Dustin Jinka, 21 Francois Brummer, 22 Jurgen Visser/Gerhard van den Heever.
Leopards: 15 Hofmann Maritz, 14 Danie Dames, 13 Charl Weideman, 12 Joubert Engelbrecht (c), 11 Vainon Willis, 10 Wesley Dunlop, 9 Johann Laker, 8 Robert Kruger, 7 Luvuyiso Lusaseni, 6 Philip de Wet, 5 Brendon Snyman, 4 Brad Mockford, 3 Dewald Coetzee, 2 Gavin Williamson, 1 Jean-Jacques Rossouw.
Replacements: 16 Marius Fourie, 17 Buhle Mxunyelwa, 18 Bêrend Botha, 19 Spanner Pretorius, 20 George Tossel, 21 Clayton Durand, 22 Jovan Bowles.
Kick-off:19:10 (17:10 GMT)
Referee: Stuart Berry
---
Cheetahs v Griquas
Free State Stadium, Bloemfontein
This will be the most entertaining clash of the round as two sides who like to play expansive rugby do battle in the only match of the weekend where both sides have something on the line. So expect a humdinger as both give their all in their quest for victory.
The Cheetahs will not underestimate their neighbours, who beat them 23-20 when the sides met in Kimberley on August 27.
Cheetahs assistant coach Hawies Fourie expects a tough encounter and knows that Griquas are a side that have boxed above their weight throughout the season.
"Even though Griquas only have a very slim chance of making the semi-finals, they are still a very dangerous opponent, because it could see them throw the ball around even more. They never give up, like we saw last week when they fought back to beat the Blue Bulls," said Fourie.
"We also had a taste of their never-say-die attitude when we played them in Kimberley earlier in the season (and Griquas won 23-20).
"All we know is that we have to win and score a bonus point to stay in the hunt for a home semi-final. We will play against The Sharks, with the venue to be confirmed after their game against the Golden Lions," he added.
Prediction:Although the Cheetahs lost to Griquas in the corresponding fixture earlier in the season, don't expect them to slip up again. Cheetahs by eight!
The teams:
Griquas: 15 Rudi Vogt, 14 Dusty Noble, 13 Wilmaure Louw, 12 Matthew Rosslee, 11 Rocco Jansen, 10 Riaan Viljoen, 9 Sarel Pretorius, 8 Leon Karemaker, 7 Justin Downey, 6 Jonathan Mokuena (c), 5 George Earle, 4 Hendrik Roodt, 3 Lourens Adriaanse, 2 Ryno Barnes, 1 Ivann Espag.
Replacements: 16 Simon Westraadt, 17 Steph Roberts, 18 Jaco Nepgen, 19 Burger Schoeman, 20 Marnus Hugo, 21 Earl Rose, 22 Fabian Juries.
Cheetahs: tbc
Kick-off:15:00 (13:00 GMT)
Referee: Marius Jonker
---
Western Province v Pumas
Newlands Stadium, Cape Town
Western Province have been boosted by the return of their Springboks and should register an easy win against the Pumas who will ply their trade in the Currie Cup First Division next year.
WP coach Allister Coetzee knows how valuable the contribution of Jean de Villiers, Juan de Jongh, Gio Aplon, Bryan Habana, Schalk Burger and Jaque Fourie will be in this match and he will be a relieved man to have these players back in the fold as things have not always gone his way this season.
"Injuries have been a problem the whole year, but we have responded well to it. Our semi-final destiny is in our own hands, so now we just need to go out there and get the result that we need," said Coetzee.
"The Boks bring an enormous amount to the team dynamic and our play. Griquas have given us another bite at the cherry and it's an opportunity we don't want to let slip, but it won't be easy against the Pumas - they took the Cheetahs very close last week. They are very physical and clearly won't be pushovers."
Winning this match is important for the Cape-based side, not only because a bonus-point win will secure them a place in the semi-finals, but it will also provide them with momentum heading in to the play-offs.
Should WP secure their semi-final spot they will face the Lions - who beat them 42-25 last Saturday - in Johannesburg next weekend.
Prediction: Although WP went off the rails last week, their Springboks are back to bail them out. WP by 15!
The teams:
Western Province: 15 Gio Aplon, 14 JJ Engelbrecht, 13 Juan De Jongh, 12 Jean De Villiers (c), 11 Bryan Habana, 10 Demetri Catrakilis, 9 Nic Groom, 8 Nick Koster, 7 Siya Kolisi, 6 Pieter Louw, 5 Adriaan Fondse, 4 Hilton Lobberts, 3 Brok Harris, 2 Deon Fourie, 1 JC Kritzinger.
Replacements: 16 Tiaan Liebenberg, 17 Frans Malherbe, 18 Tertius Daniller, 19 Schalk Burger, 20 Louis Schreuder, 21 Jaque Fourie, 22 Conrad Jantjes.
Pumas: 15 MJ Mentz, 14 Deon Scholtz, 13 JW Jonker, 12 Dewald Pretorius, 11 Johan Jackson, 10 Carl Bezuidenhout, 9 Shaun Venter, 8 Christo le Roux, 7 Jaco Bouwer, 6 Corné Steenkamp (c), 5 Eduan van der Walt, 4 Willem Serfontein, 3 Ashley Buys, 2 Pellow van der Westhuizen, 1 Dawie Steyn.
Replacements: 16 Torsten van Jaarsveld, 17 Brett Nel, 18 JP Mostert, 19 RW Kember, 20 Hendrik van der Nest, 21 Coenie van Wyk, 22 Siviwe Magaba.
Kick-off:17:05 (15:05 GMT)
Referee: Lesego Legoete
---
Sharks v Golden Lions
Kings Park Stadium, Durban
The final match of the weekend sees the two teams at the top of the standings face off and although the Lions have named an under-strength team they will still be competitive.
Their coach, John Mitchell, believes it's the right time to give some of his stalwarts a break as the play-offs will be a bruising affair.
"It also gives other players the chance under match conditions, something which could be important in the play-offs if any of the regular players are injured. This is in no way an indication that we underestimate the Sharks," explained Mitchell.
Although the Sharks have done well to stay in touch with the pacesetters at the top of the table, coach John Plumtree has not been happy with the defending champions' form this season.
Plumtree is, however, excited about the prospect of fielding some of his returning Springboks, particularly front rowers John Smit, Tendai Mtawarira and Jannie and Bismarck du Plessis.
"Ultimately, we need to get on with our preparation this week. We've trained really well," he said.
"We've struggled upfront all tournament, and no disrespect to the guys we've had, but the opposition had bigger men. This week, things can change for us in that department, and if not this week, then next," he added.
Prediction: The Sharks are desperate for victory and with the Lions opting to rest several first choice players it should be an easy win for the home side. Sharks by eight.
The teams:
Sharks: 15 Patrick Lambie, 14 Odwa Ndungane, 13 Stefan Terblanche, 12 Marius Joubert, 11 Lwazi Mvovo, 10 Frederic Michalak, 9 Conrad Hoffmann, 8 Ryan Kankowski, 7 Marcell Coetzee, 6 Keegan Daniel (c), 5 Ross Skeate, 4 Jean Deysel, 3 Wiehahn Herbst, 2 Craig Burden, 1 Eugene van Staden.
Replacements: 16 Bismarck du Plessis, 17 Jannie du Plessis, 18 Willem Alberts, 19 Jacques Botes, 20 Ross Cronje, 21 Jacques-Louis Potgieter, 22 JP Pietersen.
Golden Lions: 15 Jaco Taute, 14 Deon van Rensburg, 13 Dylan Des Fountain, 12 Doppies la Grange, 11 James Kamana, 10 Burton Francis, 9 Michael Bondesio, 8 Warren Whiteley, 7 Joshua Strauss (c), 6 Jaco Kriel, 5 Michael Rhodes, 4 Wikus van Heerden/David Bulbring, 3 Jacobie Adriaanse, 2 Martin Bezuidenhout, 1 JC Janse van Rensburg.
Replacements: 16 Bandise Maku, 17 Patric Cilliers, 18 Franco van der Merwe, 19 Derick Minnie, 20 Elton Jantjies, 21 Alwyn Hollenbach/Butch James, 22 Michael Killian.
Kick-off:19:10 (17:10 GMT)
Referee: Jason Jaftha