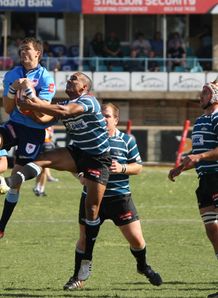 Griquas registered a fine 48-44 win over the Blue Bulls in their Currie Cup clash in Kimberley on Saturday.
Both sides showed a willingness to run the ball from all areas of the field and were rewarded with six tries apiece.
The match was evenly contested and the lead changed hands on several occasions. However, poor defensive work by both sides also played its part in the huge scoreline.
The Blue Bulls started brightly and their fly-half Louis Fouché scored the first points of the match as early as the third minute when he landed a drop-goal.
Griquas full-back Rudi Vogt struck back shortly afterwards with a penalty to draw his side level and for the next twenty five minutes both sides put everything into their attacking efforts and ran in six tries during the half.
The best effort came in the 10th minute when the visitors took the lead through Springbok wing Bjorn Basson, who rounded off a fine team effort which started inside their own half, when Juandré Kruger broke through the Griquas defence.
The lead changed hands several times as Basson and Akona Ndungane scored further tries for the visitors and the hosts struck back with touchdowns by Vogt, Rocco Jansen and Dusty Noble.
This gave them a 27-22 lead at half-time but the Blue Bulls struck back shortly after the break when Jano Vermaak got in for a deserved try.
The Blue Bulls suffered a setback in the 44th minute when their captain Gary Botha was given a yellow card for a professional foul at a ruck.
However, Griquas failed to capitalise on their numerical advantage and failed to score any points during Botha's stint on the sidelines.
When Botha returned, the Bulls regained the lead through a penalty by Fouché and a try by Jacques Potgieter but Griquas sealed their win with three tries in the last quarter of the match.
Inside centre Matthew Rosslee scored a brace and Jansen also dotted down for a second time to give the home side a 48-39 lead.
The Bulls struck back in injury time when Potgieter barged his way over the tryline but by then it was too late to deny the hosts their victory.
The scorers:
For Griquas:
Tries: Rosslee 2, Jansen 2,Noble, Vogt
Cons: Vogt 6
Pens: Vogt 2
For Blue Bulls:
Tries: Basson 2, Potgieter 2, Ndungane, Vermaak
Cons: Fouché 4
Pen: Fouché
Drop-goal: Fouché
Yellow card: G Botha (44th minute)
Griquas: 15 Rudi Vogt, 14 Dusty Noble, 13 Wilmaure Louw, 12 Matthew Rosslee, 11 Rocco Jansen, 10 Riaan Viljoen, 9 Sarel Pretorius, 8 Leon Karemaker, 7 Justin Downey, 6 Jonathan Mokuena (c), 5 George Earle, 4 Hendrik Roodt, 3 Lourens Adriaanse, 2 Ryno Barnes, 1 Ivann Espag.
Replacements: 16 Simon Westraadt, 17 Steph Roberts, 18 Jaco Nepgen, 19 Burger Schoeman, 20 Marnus Hugo, 21 Earl Rose, 22 Monty Dumond/Fabian Juries.
Blue Bulls: 15 Gerhard van Heever, 14 Akona Ndungane, 13 Wynand Olivier, 12 Francois Venter, 11 Bjorn Basson, 10 Louis Fouché, 9 Jano Vermaak, 8 CJ Stander, 7 Jacques Potgieter, 6 Deon Stegmann, 5 Juandré Kruger, 4 Flip van der Merwe, 3 Werner Kruger, 2 Gary Botha (c), 1 Dean Greyling.
Replacements: 16 Willie Wepener, 17 Frik Kirsten, 18 Gerrit-Jan van Velze, 19 Arno Botha, 20 Dustin Jinka, 21 Francois Brummer, 22 Warwick Tecklenburg.
Referee: Lourens van der Merwe