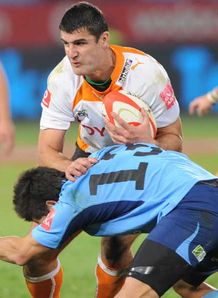 Related links
Also see
Although World Cup is fever is running high, things are hotting up in the Currie Cup where the Lions are still in first spot on the table.
The team from Johannesburg host Griquas in the weekend's opening fixture on Friday but the big match of the round takes place in Bloemfontein on Saturday where the Free State Cheetahs face the Blue Bulls.
This is an important clash for the Blue Bulls, who are struggling to keep up with the frontrunners in the standings.
The Pretoria-based side are in sixth position on the table with 18 points from eight matches and a win this weekend is imperative if they want to qualify for the semi-finals.
Earlier, this year the Bulls came back from a 17-6 deficit at half-time to seal a memorable 33-30 win at Loftus Versfeld in Pretoria.
However, they face a charged up Cheetahs team who thrashed the Leopards 64-17 in Potchefstroom last week.
In the weekend's other matches, second-placed Western Province face the Leopards at Newlands in Cape Town and the Sharks host the Pumas at the Kings Park Stadium in Durban.
Fixtures:
Friday, 9 September
Golden Lions v Griquas
Saturday, 10 September
Sharks v Pumas, Western Province v Leopards, Cheetahs v Blue Bulls
Standings:
1. Golden Lions 32
2. Western Province 27
3. Sharks 26
4. Cheetahs 23
5. Griquas 23
6. Blue Bulls 18
7. Pumas 5
8. Leopards 5
---
Previews:
Golden Lions v Griquas
Coca-Cola Park Stadium, Johannesburg
The Lions could strike a psychological blow to the chasing pack by winning this match, which takes place almost 24 hours before their nearest rivals return to action.
The Johannesburg-based side deserve their place at the top of the table and their penchant for playing an entertaining brand of rugby has seen the supporters flocking back to their matches.
Although there's still several rounds to be played in this year's tournament, the Lions management must be wondering if this will be the year that they reclaim the trophy which they last won in 1999.
Lions assistant coach Johan Ackermann, a member of the victorious 1999 Lions squad believes there are a lot of similarities between that side this year's, but said it's too early to make predictions.
"We're definitely not looking that far ahead yet," said Ackermann.
"Home ground advantage in a semi-final can be very handy, but we'll only start looking at possible permutations later in the season. For now we've got a difficult game ahead against a Griquas side that can topple any team on any given day.
"I've played there as well and know that they always play with great character. In Abré Minnie and Pote Human they have two very good coaches, so we're getting ready for a big onslaught from Griquas on Friday evening," he added.
Prediction:Griquas played well before losing 41-35 to Western Province in Kimberley last week but they have struggled to replicate their home form when they are on the road.Lions by 12!
The teams:
Golden Lions: 15 Jaco Taute, 14 Deon van Rensburg, 13 Doppies la Grange, 12 Alwyn Hollenbach, 11 Michael Killian, 10 Elton Jantjies, 9 Michael Bondesio, 8 Joshua Strauss (c), 7 Derrick Minnie, 6 Cobus Grobbelaar, 5 Franco van der Merwe, 4 Wikus van Heerden, 3 Patric Cilliers, 2 Bandise Maku, 1 JC Janse van Rensburg.
Replacements: 16 Martin Bezuidenhout, 17 Jacobie Adriaanse, 18 Johan Snyman, 19 Michael Rhodes, 20 Warren Whitely, 21 Burton Francis, 22 James Kamana.
Griquas: 15 Rudi Vogt, 14 Rocco Jansen, 13 Wilmaure Louw, 12 Hanno Coetzee, 11 Dusty Noble, 10 Earl Rose, 9 Sarel Pretorius, 8 Jonathan Mokuena (c), 7 Davon Raubenheimer, 6 Justin Downey, 5 Martin Muller, 4 Hendrik Roodt, 3 Lourens Adriaanse, 2 Ryno Barnes, 1 Ivann Espag.
Replacements: 16 Simon Westraadt, 17 Steph Roberts, 18 Frikkie Spies, 19 Leon Karemaker, 20 Marnus Schoeman, 21 Matthew Rosslee, 22 Monty Dumond.
Kick-off:19:10 (17:10 GMT)
Referee: Mark Lawrence
---
Sharks v Pumas
Kings Park Stadium, Durban
The Sharks not underestimate their opponents after they nearly lost their clash at the Mbombela Stadium in Nelspruit earlier this year.
A try by loosehead prop Dale Chadwick in injury time secured the Sharks a 23-22 win, after they looked dead and buried for most of that match.
The Durban-based side registered a fine 39-27 win over the Blue Bulls in Durban last week but coach John Plumtree reckons there is still room for improvement.
"We're not as structured and disciplined on attack as we'd like to be," he said.
"Just when we got something going last week, the Bulls would give away a penalty and while we looked quite dangerous from turn-over ball and some of the tries we scored were really good, we don't feel like we're there yet," added Plumtree.
After that narrow escape in Nelspruit, he expects his charges to give an improved performance on Saturday.
"Hopefully they've grown as a group and will show maturity and respect for the opposition," said Plumtree.
"If you can win all your home games in this competition then you give yourself the chance to push for a home semi and possible a home final as well. We're taking it one game at a time really because we've felt like we haven't really got our game going," he added.
Prediction:The hosts should have improved considerably since the last time they faced the Pumas and should win this match quite easily. Sharks by 20!
The teams:
Sharks: 15 Louis Ludik, 14 Sibusiso Sithole, 13 Stefan Terblanche, 12 Meyer Bosman, 11 Lwazi Mvovo, 10 Frederic Michalak, 9 Conrad Hoffmann, 8 Keegan Daniel (c), 7 Marcell Coetzee, 6 Jean Deysel, 5 Ross Skeate, 4 Alistair Hargreaves, 3 Wiehahn Herbst, 2 Craig Burden, 1 Dale Chadwick.
Replacements: 16 Kyle Cooper, 17 Eugene van Staden, 18 Anton Bresler, 19 Jacques Botes, 20 Ross Cronje, 21 Jacques-Louis Potgieter, 22 Adrian Jacobs.
Pumas: Tbc
Kick-off:15:00 (13:00 GMT)
Referee: Jaco Peyper
---
Western Province v Leopards
Newlands Stadium, Cape Town
Western Province's young side showed plenty of character when they came from behind twice to beat the Griquas in Kimberley last week.
They should build on that performance, by seeing off the challenge of the struggling visitors in front of the partisan Newlands faithful.
Leopards coach Leon Boshoff has reshuffled his team in an effort to rest some of his stalwarts, but also to give some of his fringe players a chance to get some game time.
WP assistant coach Matthew Proudfoot, who moved to Cape Town after playing and coaching in Potchefstroom, expects a tough outing.
"We are expecting a side that will be desperate for a win. They have made a few changes so they will be looking for improvement," said Proudfoot.
"I've coached many of their players so I know that they will throw everything they have at us. We are expecting it to be very tough physically as well as at the set piece where they will probably look to rattle us a bit," he added.
Despite their lowly position, the Leopards have shown in previous matches that they can frustrate their more fancied opponents and WP can expect a tough physical onslaught, especially up front.
Prediction: WP should secure maximum points to stay among the frontrunners on the points table. Their decision to play expansively paid off against Griquas, so expect more of the same this weekend. WP by 25!
The teams:
Western Province: 15 Conrad Jantjes, 14 Danie Poolman, 13 Johann Sadie, 12 Marcel Brache, 11 JJ Engelbrecht, 10 Isma-eel Dollie, 9 Dewaldt Duvenage, 8 Nick Koster, 7 Tertius Daniller, 6 Nick Fenton-Wells, 5 Quinn Roux, 4 Hilton Lobberts, 3 Frans Malherbe, 2 Tiaan Liebenberg (c), 1 Wicus Blaauw.
Replacements:: 16 Deon Fourie, 17 Brok Harris, 18 Nizaam Carr, 19 Siya Kolisi, 20 Nic Groom, 21 Berton Klaasen, 22 Steven Hunt.
Leopards: 15 George Tossel, 14 Jovan Bowles, 13 Charl Weideman, 12 Hennie Skorbinski, 11 Vainon Willis, 10 Clayton du Randt (c), 9 Westley Moolman, 8 Spanner Pretorius, 7 MB Lusaseni, 6 Robert Kruger, 5 Brad Mockford, 4 Roan van Heerden, 3 Stephan Bezuidenhout, 2 Gavin Williamson, 1 Snoepie Coetzee.
Replacements: 16 Jacques Moller, 17 BG Uys, 18 Morne Hanekom, 19 Brendan Snyman , 20 Johann Laker, 21 Wesley Dunlop, 22 Joubert Engelbrecht.
Kick-off:16:00 (14:00 GMT)
Referee: Sindile Mayende
---
Free State Cheetahs v Blue Bulls
Free State Stadium, Bloemfontein
The big clash of the weekend should also be the closest match of the round. The Blue Bulls have struggled to regain their form of previous years and are desperate for a victory.
It's been almost three years since Bulls last beat the Cheetahs in an Currie Cup match at the Free State Stadium and with nine Springboks in their starting XV, they should at least run the hosts close.
But that task is easier said than done and with stalwarts like captain Adriaan Strauss, Ashley Johnson and Coenie Oosthuizen in their ranks expect a huge effort from the Cheetahs.
Blue Bulls coach Pine Pienaar expects his team to return to Pretoria with a win under their belt.
"There is no doubt that we have painted ourselves in a corner with regards to our play-off hopes," Pienaar said.
"We need to win and keep on winning, but for that we will have to improve on our decision-making, discipline and execution. We have the quality of players to turn it around, but is running out of time."
Prediction: There will be no love lost between these teams and expect the battle amongst the forwards to determine the result. It's going to be close but the hosts will sneak in. Cheetahs by five!
The teams:
Bulls:15 Zane Kirchner, 14 Akona Ndungane, 13 Wynand Olivier, 12 Francois Venter, 11 Bjorn Basson, 10 Louis Fouché, 9 Jano Vermaak, 8 CJ Stander, 7 Dewald Potgieter, 6 Warwick Tecklenburg, 5 Juandré Kruger, 4 Flip van der Merwe, 3 Werner Kruger, 2 Gary Botha (captain), 1 Dean Greyling.
Replacements: 16 Willie Wepener, 17 Rossouw de Klerk, 18 Gerrit-Jan van Velze, 19 Arno Botha, 20 Dustin Jinka, 21 Francois Brummer, 22 Jurgen Visser.
Cheetahs: 15 Hennie Daniller, 14 Riaan Smit, 13 Robert Ebersohn, 12 Philip Snyman, 11 Cameron Jacobs, 10 Johan Goosen, 9 Piet van Zyl, 8 Ashley Johnson, 7 Philip van der Walt, 6 Pieter Labuschagne, 5 Izak van der Westhuizen, 4 Francois Uys, 3 Coenie Oosthuizen, 2 Adriaan Strauss (captain), 1 Marcel van der Merwe.
Replacements: 16 Hercu Liebenberg, 17 Trevor Nyakane, 18 Wilhelm Steenkamp, 19 Boom Prinsloo, 20 Tewis de Bruyn, 21 Sias Ebersohn, 22 Philip Burger
Kick-off:17:05 (15:05 GMT)
Referee: Marius Jonker