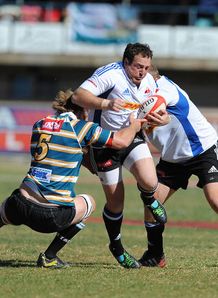 Western Province registered a fine 41-32 win over Griquas to consolidate their position among the frontrunners in the Currie Cup competition.
In an entertaining match, played at a frenetic pace, the visitors came back after trailing 15-0 to lead 21-15 at the break.
Both sides showed a willingness to run the ball and there were 12 tries scored in the match.
The hosts' full-back Rudi Vogt opened the scoring in the sixth minute when he barged over from close quarters and flanker Davon Raubenheimer finished off a good move in the 17th minute after Ryno Barnes and Rian Viljoen, who played at fly-half, did well in the build-up.
WP went into the lead for the first time when Dewald Duvenhage scored under the posts, on the stroke of half-time.
Earlier, there were tries from captain Tiaan Liebenberg and Nick Koster which brought WP back into the match.
The teams continued with their expansive game-plans in the second half but poor defence from both sides also played a part in this high-scoring match.
WP's star performer was their outside centre Johann Sadie, who impressed with his playmaking abilities and his ability to create space for his wings. He had a hand in several of the tries and was rewarded for his fine performance when he scored the matchwinning try in the 71st minute.
Up front, Liebenberg gave a sterling display in the tight-loose and he received good support from Hilton Lobberts and Brok Harris.
Raubenheimer was Griquas' standout player while Sarel Pretorius also looked dangerous on attack.
The win means WP are still within touching distance of the Golden Lions on the points table.
The Lions are in pole position with 32 points and WP are in second spot with 27 points. Both teams have played eight matches.
The scorers:
For Griquas:
Tries: Vogt 2, Raubenheimer 2, Schoeman
Con: Vogt 2
Pens: Vogt, Rose
For Western Province:
Tries: Engelbrecht 2, Liebenberg, Jantjes, Koster, Sadie, Duvenhage
Cons: Catrakilis 3
Griquas: 15 Rudi Vogt, 14 Wilmaure Louw, 13 Jean Stemmet, 12 Hanno Coetzee, 11 Dusty Noble, 10 Riaan Viljeon, 9 Sarel Pretorius, 8 Jonathan Mokuena, 7 Davon Raubenheimer, 6 Justin Downey, 5 Martin Muller, 4 Hendrik Roodt, 3 Lourens Adriaanse, 2 Ryno Barnes, 1 Ivann Espag.
Replacements: 16 Simon Westraadt, 17 Steph Roberts, 18 Frikkie Spies, 20 Marnus Schoeman, 21. Matthew Rosslee, 22 Earl Rose.
Western Province: 15 Conrad Jantjes, 14 Danie Poolman, 13 Johann Sadie, 12 Marcel Brache, 11 JJ Engelbrecht, 10 Demetri Catrakilis, 9 Dewaldt Duvenage, 8 Nick Koster, 7 Tertius Daniller, 6 Nick Fenton-Wells, 5 De Kock Steenkamp, 4 Hilton Lobberts, 3 Brok Harris, 2 Tiaan Liebenberg (c), 1 Steven Kitshoff.
Replacements: 16 Siyabonga Ntubeni, 17 Frans Malherbe, 18 Quinton Roux, 19 Nizaam Carr, 20 Louis Schreuder, 21 Berton Klaasen, 22 Steven Hunt.
Referee: Marius Jonker