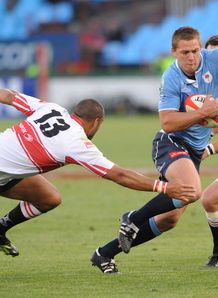 Related links
Also see
This week sees the return of several Springboks to the Currie Cup, which will boost a few sides struggling to fire in the tournament.
The big match of the weekend takes place in Pretoria on Saturday, where the table-topping Golden Lions face the Blue Bulls, who have made a slow start to the competition.
These derby clashes are usually brutal physical battles and this weekend's encounter should be no different.
However, it is seldom that the Lions will go into an encounter with their neighbours as favourites, and realise that this could be the best chance in a few years to come away from Loftus Versfeld as winners.
The Johannesburg-based outfit and the Sharks are the only two unbeaten sides in the competition, and Lions coach John Mitcell will expect his charges to continue building momentum in their quest to make it into the play-offs for the first time since 2008.
In last year's matches between these two teams the Blue Bulls won 32-18 at Coca-Cola Park in Johannesburg, before edging the Golden Lions 24-21 in the return clash at Loftus Versfeld.
Another fixture which will generate lots of interest is the clash between the Free State Cheetahs and Western Province in Bloemfontein.
The weekend's action kicks off with two matches on Friday. The Leopards host the Pumas in Potchefstroom, and the Griquas face the defending champion Sharks in Kimberley.
Fixtures:
Friday, 4 August
Leopards v Pumas
Griquas v Sharks
Saturday, 5 August
Free State Cheetahs v Western Province
Blue Bulls v Lions
Standings:
1. Golden Lions 14
2. Sharks 14
3. Western Province 12
4. Cheetahs 7
5. Griquas 7
6. Pumas 4
7. Blue Bulls 4
8. Leopards 1
---
Previews:
Leopards v Pumas
Olen Park, Potchefstroom
Both these sides were on the wrong side of high scoring matches at the weekend. The Leopards gathered their first point of the season after scoring four tries in their 53-36 defeat to the Lions and the Pumas went down 40-33 to Griquas.
Although both sides are yet to register a victory in 2011, the Pumas have impressed more than the Leopards thus far this season.
Despite being winless, the Witbank-based side have picked up bonus points in all their previous matches this season.
The Pumas have a huge set of forwards, who have managed to hold their own against more renowned packs in the competiiton. If they can provide a solid platform for their back-line to play off, they should have this match in the bag.
The Pumas are a well-drilled unit, and their coach Jimmy Stonehouse would surely have reminded his charges not to underestimate their opponents.
The Leopards gave a good showing in their defeat to the Lions and had the favourites worried when they managed to claw their way back from a 29-10 deficit to draw level at 36-all.
Prediction:Both these teams will go all out on attack in their quest fot that elusive victory. However, the Pumas have proven in previous matches this season that they hold no fear for any side. Pumas by eight!
The teams:
Pumas:15 MJ Mentz, 14 Deon Scholtz, 13 JW Jonker, 12 Tiaan Marx, 11 Shandré Frolick, 10 Coenie van Wyk, 9 Shaun Venter, 8 Christo le Roux, 7 Jaco Bouwer, 6 Corné Steenkamp (c), 5 Marius Coetzer, 4 Rudi Mathee, 3 Ashley Buys, 2 Marthinus van der Westhuizen, 1 Dawie Steyn.
Replacements:16 Torsten van Jaarsveld, 17 De-Jay Terblanche, 18 Eduan van der Walt, 19 Reginald Kember, 20 Hendrik van der Nest, 21 Dewald Pretorius, 22 Carl Bezuidenhout.
Leopards:15 George Tossel, 14 Danie Dames, 13 Charl Weideman, 12 Joubert Engelbrecht, 11 Wynand Willis, 10 Wesley Dunlop, 9 Whestley Moolman, 8 Morné Hanekom, 7 Luvuyiso Lusaseni, 6 Philip de Wet, 5 Brendon Snyman, 4 Roelof van Heerden, 3 Stephan Bezuidenhout, 2 Gavin Williamson, 1 Bennie Uys.
Replacements:16 Bęrend Botha, 17 Marius Fourie, 18 Christo van Niekerk, 19 Juan Pretorius, 20 Theo van Wyk, 21 Walter Venter, 22 Clayton Durandt.
Kick-off:19:00 (17:00 GMT)
Referee:Lourens van der Merwe
---
Griquas v Sharks
GWK Stadium, Kimberley
The Sharks' gave a clinical performance in their 43-34 win against the Cheetahs on Saturday, and will be chasing maximum league points.
The Durbanites looked unstoppable during the first half of that match, and should maintain their 100 per cent winning record if they can give a similar performance against Griquas.
Coach John Plumtree has shown faith in the side that beat the Cheetahs 43-34 at the weekend, despite being able to recall several returning Springboks.
Amongst their forwards, loosehead prop Dale Chadwick has caught the eye with some fine performances. Apart from holding his own in the scrums, Chadwick's general play has also stood out and he will be looking to continue where left off against the Cheetahs.
Ross Cronje (scrum-half) is another player who impressed against the Bloemfontein-based side. Cronje provides slick service to Frederic Michalak and is a playmaker in the Fourie du Preez mould. He had a hand in several of the Sharks' tries at the weekend, and his defensive work around the fringes of the rucks stood out in that match.
Griquas are an unpredictable side and are especially dangerous on their home turf, so the Sharks will underestimate them at their peril.
The much-maligned Earl Rose (fly-half) is the man who they expect to unlock the Sharks' defence while Riaan Viljoen, who has been moved from full-back to wing, will also prove a handful to the opposition.
Prediction:Despite not turning to their Springboks, the Sharks still have experienced players in key positions and shouldn't lose this match.... shouldn't being the key word. Sharks by 12!
The teams:
Griquas:15 Rudi Vogt, 14 Riaan Viljoen, 13 Jean Stemmet, 12 Barry Geel, 11 Dusty Noble, 10 Earl Rose, 9 Marnus Hugo, 8 Burger Schoeman, 7 Davon Raubenheimer, 6 Jonathan Mokuena (captain), 5 Martin Muller, 4 Hendrik Roodt, 3 Lourens Adriaanse, 2 Ryno Barnes, 1 Jean Botha.
Replacements:16 Matthew Dobson, 17 Ivann Espag, 18 Frikkie Spies, 19 Marnus Schoeman, 20 Matthew Rosslee, 21 Monty Dumond, 22 Wilmaure Louw.
Sharks:15 Louis Ludik, 14 Mark Richards, 13 Stefan Terblanche, 12 Meyer Bosman, 11 Sibusiso Sithole, 10 Frederic Michalak, 9 Ross Cronje, 8 Keegan Daniel (c), 7 Marcell Coetzee, 6 Jacques Botes, 5 Jan Andre Marais, 4 Anton Bresler, 3 Wiehahn Herbst, 2 Craig Burden, 1 Dale Chadwick.
Replacements:16 Kyle Cooper, 17 Eugene van Staden, 18 Peet Marais, 19 Ryan Kankowski, 20 Charl McLeod, 21 Patrick Lambie, 22 Marius Joubert.
Kick-off:19:10 (17:10 GMT)
Referee:Lesego Legoete
---
Free State Cheetahs v Western Province
Free State Stadium, Bloemfontein
WP are on a high after a convincing win over the Blue Bulls last week, and will be keen to keep the momentum going with a positive result against their hosts.
However, they can expect a difficult task as the Cheetahs, who are still smarting from their defeat to the Sharks at the weekend, are always competitive in their own backyard.
Despite going down 43-34 in Durban on Saturday, the Cheetahs gave as good as they got against the defending champions, and will look to build on their second-half performance of that match.
Their playing ranks were bolstered with the return of number eight Ashley Johnson and front rowers Adriaan Strauss and Coenie Oosthuizen from Springbok duty, and if they manage to dominate the battle up front, expect them to be victorious.
WP coach Allister Coetzee deserves credit for persevering with a young side, and their youthful exuberance and fear of failure has made them a dangerous side in the competition.
Among their backs, young fly-half Demetri Catrakilis showed in the win against the Bulls that if he receives the ball on the front-foot he can take control of and even dominate proceedings.
Another player who has played consistently well for the Cape Town-based side this season, is Siya Kolisi. The SA U20 flanker won the man-of-the-match award against the Blue Bulls last week, after impressing on defence and attack.
Prediction:This is going to be a close encounter but Free State's returning Springboks should give them the edge. Cheetahs by three!
The teams:
Cheetahs: 15 Hennie Daniller, 14 Riaan Smit, 13 Robert Ebersohn, 12 Andries Strauss, 11 Ryno Benjamin, 10 Sias Ebersohn, 9 Tewis de Bruyn, 8 Ashley Johnson, 7 Lappies Labuschagne, 6 Johan Wessels, 5 Waltie Vermeulen, 4 Francois Uys, 3 WP Nel, 2 Adriaan Strauss (c), 1 Coenie Oosthuizen.
Replacements: 16 Hercu Liebenberg, 17 Marcel van der Merwe, 18 Izak van der Westhuizen, 19 Heinrich Brussow, 20 Piet van Zyl, 21 Corne Uys, 22 Philip Burger.
Western Province: 15 Conrad Jantjes, 14 Danie Poolman, 13 Johann Sadie, 12 Tim Whitehead, 11 JJ Engelbrecht, 10 Demetri Catrakilis, 9 Dewaldt Duvenage, 8 Nick Koster, 7 Siya Kolisi, 6 Rohan Kitshoff, 5 De Kock Steenkamp, 4 Hilton Lobberts, 3 Brok Harris, 2 Tiaan Liebenberg (c), 1 Wicus Blaauw.
Replacements: 16 Deon Fourie, 17 Frans Malherbe, 18 Adriaan Fondse, 19 Pieter Louw, 20 Nic Groom, 21 Berton Klaasen, 22 Marcel Brache.
Kick-off:15:00 (13:00 GMT)
Referee:Sindile Mayende
---
Blue Bulls v Golden Lions
Loftus Versfeld Stadium, Pretoria
The Golden Lions have their tails up after an impressive start to their campaign, while the Blue Bulls have made a nervy start to the competition.
Golden Lions coach John Mitchell has been boosted by the return of Elton Jantjies to the fly-half berth after the youngster returned after a stint with the Springboks.
The Lions' expansive style of play has been the main reason for their success. Their dangerous back-line, in particular, have given them the edge over their opponents in previous encounters but all their wins have come against the teams that are traditionally weaker in the competition.
The Blue Bulls were thumped 35-7 against Western Province in Cape Town last week, but they have also bolstered their ranks by including five returning Boks to their line-up.
An area which the Pretoria-based side struggled in against WP, was in the tight-five and experienced campaigners like Flip van der Merwe and Chiliboy Ralepelle will have to lead from the front if they want to be successful in this clash.
The Blue Bulls will have extra motivation to beat the Golden Lions. Flanker Derick Kuün is playing in his 100th match for the union, and there will be no better way to celebrate his feat than to be on the winning side at in front of an appreciative home crowd on Saturday.
Prediction:Although the Lions have made a good start this season, the Blue Bulls always seem to save their best performances for Loftus Versfeld. Blue Bulls by seven!
The teams:
Blue Bulls:15 Zane Kirchner, 14 Akona Ndungane, 13 Stefan Watermeyer, 12 Francois Venter, 11 Stephan Dippenaar, 10 Francois Brummer, 9 Dustin Jinka, 8 CJ Stander, 7 Dewald Potgieter (c), 6 Derick Kuün, 5 Juandré Kruger, 4 Flip van der Merwe, 3 Werner Kruger, 2 Chiliboy Ralepelle, 1 Dean Greyling.
Replacements:16 Gary Botha, 17 Rossouw de Klerk, 18 Fudge Mabeta, 19 Deon Stegmann, 20 Lohan Jacobs, 21 Marntiz Boshoff, 22 Jurgen Visser.
Golden Lions:15 Michael Killian, 14 Deon van Rensburg, 13 Waylon Murray, 12 Alwyn Hollenbach, 11 Lionel Mapoe, 10 Elton Jantjies, 9 Michael Bondesio, 8 Joshua Strauss (captain), 7 Derick Minnie, 6 Cobus Grobbelaar, 5 Franco van der Merwe, 4 Wikus van Heerden, 3 Jacobie Adriaanse, 2 Bandise Maku, 1 JC Janse van Rensburg.
Replacements::16 Martin Bezuidenhout, 17 Patric Cilliers, 18 Michael Rhodes, 19 Warren Whiteley, 20 Rudy Paige, 21 Burton Francis, 22 Jaco Taute.
Kick-off:19:05 (17:05 GMT)
Referee:Jaco Peyper