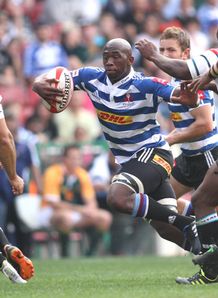 Western Province opened up their Currie Cup campaign with a disappointing 26-all draw against Griquas at Newlands in Cape Town.
As the scoreline suggests, this was an evenly contested match and the teams were also level at the break.
Griquas opened the scoring in the third minute when Monty Dumond goaled a penalty following the WP forwards being penalised for not retreating from within the 10 metre radius after a clearing kick.
WP struck back in the eighth minute when their fly-half Gary van Aswegen replied with a penalty of his own. But Dumond gave his side the lead again when he succeeded with another three-pointer in the 15th minute.
The visitors raced into a 10-point lead thanks to a moment of brilliance from their left wing Rocco Jansen. Receiving the ball on the halfway line he went on a sprint down the touchline before putting in a deft kick before beating WP's right wing Danie Poolman in a foot race to the corner.
Dumond slotted the conversion from the touchline.
Van Aswegen narrowed the gap with a penalty in the 22nd minute before Siya Kolisi crossed over for a try four minutes later. The hard-working flanker ran on to a pass from his scrum-half Louis Schreuder on the 22 metre line before scoring under the posts. Van Aswegen kicked the conversion to draw the sides level.
Griquas struck back with a drop-goal from Dumond in the 34th minute which regained the lead for his side, but on the stroke of half-time Van Aswegen goaled a penalty from a difficult angle to level matters again.
The second half came alive in the 47th minute when Jansen raced in for his second try, thanks largely to the efforts of Richard Lawson and Davon Raubenheimer.
Lawson pounced on a loose ball at a ruck on Griquas' tryline and ran 40 metres, before being stopped at the halfway line. He offloaded to Raubenheimer who slipped a neat pass to Jansen who ran in for a well deserved try.
Province struck back on the hour mark, when Johan Sadie benefitted from a fine break by Van Aswegen midway between Griquas' quarter line and the halfway mark.
The young fly-half sold the Griquas defence a neat dummy before throwing out a long pass which was knocked down by Lawson. The ball fell into the path of Sadie who had an easy run-in under the posts.
Van Aswegen succeeded with the easy conversion and ten minutes later he gave his side the lead with a penalty after Griquas were penalised for offside play.
However, the hosts infringed at the resulting kick-off and Dumond goaled the penalty to draw the sides level again.
WP had a chance to win the match in the closing minutes when their replacement flanker Rohan Kitshoff dived on to a loose ball behind Griquas' tryline, but the television match official ruled that he had knocked the ball on.
Griquas flanker Davon Raubenheimer was the best player on display. He shone on defence and attack and won valuable lineout possesion for his side. He received good support from his captain Jonathan Mokuena and Jansen kept the hosts' defence busy with some fine attacking runs.
For WP, Kolisi and Van Aswegen played well while veteran full-back Conrad Jantjes also impressed with his positional play.
The scorers:
For Western Province:
Tries: Kolisi, Sadie
Con: Van Aswegen 2
Pen: Van Aswegen 4
For Griquas:
Tries: Jansen 2
Con: Dumond 2
Pen: Dumond 4
Western Province: 15 Conrad Jantjes, 14 Danie Poolman, 13 Johann Sadie, 12 Tim Whitehead, 11 JJ Engelbrecht, 10 Gary van Aswegen, 9 Louis Schreuder, 8 Nick Koster, 7 Siya Kolisi, 6 Wimpie van der Walt, 5 De Kock Steenkamp, 4 Hilton Lobberts, 3 Brok Harris, 2 Deon Fourie (capt), 1 Wicus Blaauw.
Replacements: 16 Tiaan Liebenberg, 17 Frans Malherbe, 18 Adriaan Fondse, 19 Rohan Kitshoff, 20 Nick Groom, 21 Demetri Catrikilis, 22 Marcel Brache.
Griquas: 15 Riaan Viljoen, 14 Richard Lawson, 13 Wilmaure Louw, 12 Barry Geel, 11 Rocco Jansen, 10 Monty Dumont, 9 Shannon Rick, 8 Jonathan Mokuena (c), 7 Davon Raubenheimer, 6 Justin Downey, 5 Martin Muller, 4 Hendrik Roodt, 3 Lourens Adriaanse, 2 Ryno Barnes, 1 Steph Roberts.
Replacements: 16 Matthew Dobson, 17 Jean Botha, 18 Frikkie Spies, 19 Jaco Nepgen, 20 Matthew Rosslee, 21 Earl Rose, 22 Fabien Juries.
Referee: Jonathan Kaplan