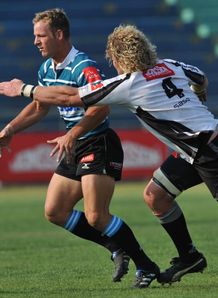 Griquas kept alive their faint hopes of making the Currie Cup play-offs on Saturday by claiming an impressive 61-31 bonus-point victory in Witbank.
Bjorn Basson tied the record for the most tries in one season as he scored two tries that saw him join Carel du Plessis and Colin Lloyd on 19.
He will look to make the record his own next week against the Blue Bulls at home.
Griquas took full advantage of a lucklustre Pumas side, scoring nine tries to prove they are still a fair way better than the rest of the traditionally smaller unions.
A power outage caused a 20 minute delay to the start of the match, and the Pumas may have wished it had never started because the visitors had bagged a bonus point with four tries after a little more than 15 minutes.
At half-time, Griquas, who started the match with only a mathematical chance of qualifying for the semi-finals, had built a 40-12 lead by running the Pumas off their feet from everywhere on the field.
The Pumas failed to catch the first kick-off of the game, and a few phases later Griquas' fly-half, Naas Olivier, crashed over in the corner. His half-back partner, Sarel Pretorius, sneaked around a ruck three minutes later to score again.
And after nine minutes the flying Basson was also on the scoreboard after an easy breakaway try.
Griquas held an early 19-0 lead but the Pumas fought back and got on the scoreboard when flanker Corné Steenkamp touched down as the ball carrier at the back end of a maul.
Moments later, however, Griquas had their bonus point secured when centre Barry Geel ran a clever line to dot down beneath the sticks, and although Steenkamp drove over the line for a second try, the men from Kimberley ended the half as strong as they had started it.
Pretorius was at his sniping best, and two great breakaways by the scum-half led to tries from full-back Riaan Viljoen and hooker Ryno Barnes.
The Pumas swapped their white jerseys for grey ones after half-time and did somewhat better in the latter strip. They kept Griquas scoreless for the first 10 minutes of the second spell.
A well deserved try from replacement flank Wesley Wilkins, who had been on since the 22nd minute, got the ball rolling again for Griquas.
But then came Basson's big moment. The Pumas spilt the ball at a ruck and Basson picked it up and ran all the way from his own 22-metre line to out-sprint the cover defence for his record equalling try.
The small crowd rose to applaud the speedster, who will be leaving Griquas for the Bulls in 2011.
There was some cheer also for the home team, who snatched a bonus point for bagging four tries as they scored three times late in the game.
And while Basson didn't manage to crack the 20-try mark, fellow wing Rocco Jansen rounded out a resounding win. Fly-half Olivier also converted eight of his team's nine tries.
The scorers:
For the Pumas:
Tries: Steenkamp, Watts, Van der Nest, Venter
Cons: Watts 2, Croy
For the Griquas:
Tries: Geel, Basson 2, Olivier, Viljoen, Jansen, Barnes, Pretorius, Wilkins
Cons: Olivier 7, Vogt
Pumas: 15 Johan Jackson, 14 Conrad Marais, 13 Shaun Venter, 12 Juan Visser, 11 Nicky Kritzinger, 10 Ricardo Croy, 9 Jacques Coetzee, 8 Christo le Roux, 7 Alwyn Bester, 6 Corné Steenkamp (c), 5 Marius Coetzer, 4 Johan Velthuizen, 3 Ashley Buys, 2 Hannes Franklin, 1 Ronnie Uys.
Replacements: 16 Hans van Dyk, 17 Dawie Steyn, 18 Willem Serfontein, 19 Jaco Bouwer, 20 Hendrik van der Nest, 21 Elgar Watts, 22 Ashwin Scott.
Griquas: 15 Riaan Viljoen, 14 Rocco Reginald Jansen, 13 Jean Hermanus Stemmet, 12 Barry Geel, 11 Bjorn Basson, 10 Naas Olivier (c), 9 Sarel Pretorius, 8 Leon Karemaker, 7 Danie Burger Schoeman, 6 Justin Downey, 5 Cecil-John Kemp, 4 Edwin Westley Hewitt, 3 Jacobus Petrus Adriaanse, 2 Ryno Barnes, 1 Steph Roberts.
Replacements: 16 Simon Westraadt, 17 Jean Botha, 18 Frederik Albertus Spies, 19 Wesley Wilkins, 20 Marnus Hugo, 21 Wilmaure Louw, 22 Rudi Vogt.
Referee: Jonathan Kaplan