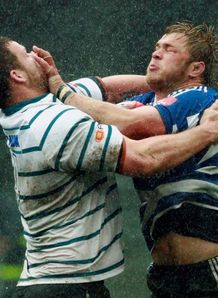 Related links
Also see
Currie Cup leaders Western Province face the toughest fixture of their season so far when they travel North to Kimberley on Saturday.
The only unbeaten side after four games, Province head the standings by two points but cynics would argue that three of those victories came against the tournament's three weakest sides.
Now they must head to a venue where they have not won since 2007...
The weekend's other big game is in Durban where the Lions must go for a swim in the 'Shark Tank'.
Round Five kicks off, however, in Pretoria on Friday when the Blue Bulls will expect a bonus-point win at home to the Leopards. The Cheetahs also hit the road on Saturday, heading to Witbank for date with the Pumas.
On Wednesday Western Province coach Allister Coetzee and Sharks utility back Patrick Lambie were named as the Coach and Player of the Month. Lambie, who will play fly-half this weekend, is the hottest property in SA rugby at the moment. He was also the second leading points-scorer at the Junior World Champs in Argentina earlier this year - expect big things from him in the future.
Fixtures:
Friday, August 6
Blue Bulls v Leopards
Saturday, August 7
Griquas v Western Province
Pumas v Free State Cheetahs
Sharks v Lions
Standings:
Western Province 18
Sharks 16
Griquas 15
Blue Bulls 11
Free State Cheetahs 9
Lions 6
Pumas 5
Leopards 2
________________________________________________________________________
Previews:
Friday, August 6
Blue Bulls v Leopards
An 'easy' home game is just what the doctor ordered for the defending champions right now. The Bulls will be able to give a few players valuable game-time while a healthy win will see the Frans Ludeke's side back amongst the leaders.
The Leopards gave Griquas a hard game last week - but they were at home and visiting Loftus is a different kettle of fish.
Expect the old Bulls recipe of banging it up before taking control after the break as they did against the Lions last weekend. What is important is that the Blue Bulls should be more effective when they take the ball wide.
It will be interesting to see the effect of the inclusion of Jaco Pretorius. Not always prominent, he is often the man who does the damage with his running of good angles.
Springbok hooker Chiliboy Ralepelle makes his first Currie Cup start this year as skipper Gary Botha is given a rest. Prop Bees Roux, who started his provincial career at the Leopards, will also start for the first time since moving from Griquas last year in place of Werner Kruger.
Amongst the backs, the return to fitness of Pretorius will see the former Springbok and Sevens star start in his first game since the Super 14 Final in May, with Stephan Dippenaar moving down to the bench.
Former Boland wing Hayden Groepes, who joined the Blue Bulls on a short term contract earlier this year, starts his first game in blue in place of stalwart John Mametsa.
Derick Kuün will captain the side, with newcomers Frik Kirsten and Dustin Jinka on the bench.
"This was a good time for us to use our squad system and to give some of the regulars a rest,"said Ludeke
"But for those one or two rested, this is the strongest squad I could pick. We are expecting a huge, physical battle from the Leopards. The new guys in the team will make sure we front up as they can't wait to have a run."
For the Leopards, hooker Pellow van der Westhuizen takes over from Gavin Williamson in the only change to the starting XV. At number eight Riaan Swanepoel and RW Kember are bracketed after Kember's return from his one-week suspension.
Prediction: No mystery here, the Blue Bulls have scored 103 points against the Leopards in their last two games played in Pretoria. The home crowd will accept nothing less than a bonus-point win for the Blue Bulls.
The teams:
Blue Bulls:15 Jaco van der Westhuyzen, 14 Gerhard van den Heever, 13 Jaco Pretorius, 12 Stefan Watermeyer, 11 Hayden Groepes, 10 Jacques-Louis Potgieter, 9 Francois Hougaard, 8 Gerrit-Jan van Velze, 7 Dewald Potgieter, 6 Derick Kuün (c), 5 Juandré Kruger, 4 Flip van der Merwe, 3 Bees Roux, 2 Chiliboy Ralepelle, 1 Jaco Engels.
Replacements: 16 Bandise Maku, 17 Frik Kirsten, 18 Mthunzi Mabeta, 19 CJ Stander, 20 Dustin Jinka, 21 Francois Brummer, 22 Stephan Dippenaar.
Leopards:15 Danie Dames, 14 Deon Scholtz, 13 Jovan Bowles, 12 Walter Venter, 11 Dumisane Matyeshana, 10 Niell Jacobs, 9 Michael Bondesio, 8 Riaan Swanepoel/RW Kember, 7 Palm Koch (c), 6 Danie Crous, 5 Draad Linde, 4 Anthonie Gronum, 3 Os van der Walt, 2 Pellow van der Westhuizen, 1 Divan Kotze.
Replacements: 16 Gavin Williamson, 17 Aranos Coetzee, 18 Brad Mockford, 19 Swanepoel/Kember, 20 Jean Tiedt, 21 Clayton Durand, 22 Jan van Zyl
Venue: Loftus Versfeld, Pretoria
Kick-off:19:10 (17:10 GMT)
Referee: Stuart Berry
________________________________________________________________________
Saturday, August 7
Griquas v Western Province
After wins against the bottom three teams and a below-par Cheetahs side (in the opening round), Western Province will have their credentials as title contenders tested by a team who are unbeaten at home this year.
WP haven't enjoyed much success in Kimberley in recent years, having lost on their previous two visits to the Northern Cape capital.
The traveling Province side is arguably stronger than last year, but they'll find the Griquas have become a more cohesive unit and have plenty of confidence after a great 2009 and relatively good start to the 2010 campaign.
There will also be a few interesting individual tussles on the park. Wingers Gio Aplon and Bjorn Basson are both looking to become more regular features in the national set-up while the booming boots of Willem de Waal and Riaan Viljoen are sure to get a good work-out.
The hosts were a little off their game against the Leopards last week and the niggles that have led to the changes in the Griquas' pack could be disruptive to their cause.
This season, Western Province have concentrated on forward dominance and the boot of De Waal to play a territorial game from where they strike. He is up against a former WP fly-half, Naas Olivier, who is tactically just as astute.
De Waal is the danger man and he will also want to make this a special occasion when he runs out for his 100th Currie Cup match.
Griquas coach Dawie Theron has retained the back-line that started against the Leopards last weekend, but made a number of changes to his pack.
In the front row, Jean Botha comes in for Jacobie Adriaanse while Albertus Botha starts on the loosehead in place of Steph Roberts. Flank Johan van Deventer comes in for Wesley Wilkins, with Davon Raubenheimer moving from number eight to the side of the scrum in place of Rohan Kitshoff. Burger Schoeman gets a start at the back of the scrum.
Unbeaten Western Province have named their strongest XV. The Province squad have been relatively injury-free this season and coach Allister Coetzee has leaned heavily on selection continuity to keep their championship drive on track.
As expected, flanker Francois Louw and scrum-half Dewaldt Duvenhage, were named in the run-on XV at the expense of Rynardt Elstadt and Conrad Hofmann.
Coetzee, said his team would not underestimate Griquas.
"We have to focus solely on our game plan but we are mindful that it is going to tough."
A new face on the Province team sheet is the Matie tighthead Buhle Mxunuywa, who was a star performer in the Varsity Cup and was capped for Border in the First Division last year. He starts on the bench.
"[Mxunyelwa] is the next best tighthead in our group and we need cover for Brok [Harris]," Coetzee said.
"We will see how he goes and learn more about him."
Province skipper Anton van Zyl, said his team was determined not to fail again in the City of Diamonds.
Former SA U20 player Nick Köster makes a much-anticipated return from injury and will cover the loose forwards on the bench as he switches back to his preferred back row role after playing on the wing last year.
"Nick is part of our plan to bring youngsters in and we want to see where he fits into the bigger picture," explained Coetzee.
Prediction: Tough one to call. We want to say Griquas, but the WP pack is looking too hot to handle. Western Province by a whisker.
The teams:
Griquas:15 Riaan Viljoen, 14 Richard Lawson, 13 Wilmaure Louw, 12 Barry Geel, 11 Bjorn Basson, 10 Naas Olivier (c), 9 Sarel Pretorius, 8 Burger Schoeman, 7 Davon Raubenheimer, 6 Johan van Deventer, 5 Cecil Kemp, 4 Frikkie Spies, 3 Jean Botha, 2 Ryno Barnes, 1 Albertus Buckle
Replacements: 16 Simon Westraadt, 17 Jacobie Adriaanse, 18 Gerhard Human, 19 Michael Passaportis/Leon Karemaker, 20 Marnus Hugo, 21 Matthew Rosslee, 22 Rocco Jansen.
Western Province:15 Conrad Jantjes, 14 Gio Aplon, 13 Juan de Jongh, 12 Paul Bosch, 11 Frikkie Welsh, 10 Willem de Waal, 9 Dewaldt Duvenage, 8 Duane Vermeulen, 7 Francois Louw, 6 Pieter Louw, 5 Anton van Zyl (c), 4 Adriaan Fondse, 3 Brok Harris, 2 Tiaan Liebenberg, 1 JD Moller.
Replacements:16 Deon Fourie, 17 Wicus Blaauw, 18 Buhle Mxunyelwa, 19 De Kock Steenkamp, 20 Nick Köster, 21 Conrad Hoffmann, 22 Lionel Cronjé.
Venue: GWK Park, Kimberley
Kick-off:15:00 (13:00 GMT)
Referee:Sindile Mayende
________________________________________________________________________
Pumas v Free State Cheetahs
The Cheetahs will be hoping for a full house of points against a side that they have never lost to. The Pumas are never an easy side at home but Free State simply have to take early control against a rather average, but committed never-say-die side.
A big win for the visitors will help heal the wounds to their confidence following last week's loss to the Sharks in Bloemfontein.
The Free Staters will be without captain Juan Smith, who is being rested but will be available next weekend after tests showed he does not have concussion after taking a knock to the head in Round Four.
Centre Corne Uys, who has broken ribs, makes way for Sharks-bound Meyer Bosman in the starting line-up.
There are a number of changes to the Pumas team, including a change in skipper and fly-half. After a solid performance against Western Province, Torsten van Jaarsveld replaces Hannes Franklin at hooker as part of the Pumas rotation policy.
Flank Corné Steenkamp takes over the captaincy.
There are two more changes to the pack as Andries Kruger gets a chance in the second row and Dawie Steyn taking over at loosehead from the injured Ronnie Uys.
Fly-half Elgar Watts moves to full-back with Ricardo Croy in the pivot position. Out wide, utility back Shaun Venter slots in on the left wing.
Prediction: Shouldn't be a problem for the visitors. The Cheetahs to win by at fifteen points.
The teams:
Pumas: 15 Elgar Watts, 14 Ashwin Scott, 13 Tiaan Marx, 12 Siviwe Magaba, 11 Shaun Venter, 10 Ricardo Croy, 9 Jacques Coetzee, 8 Christo le Roux, 7 Alwyn Bester, 6 Corné Steenkamp (c), 5 Marius Coetzer, 4 Andries Kruger, 3 Ashley Buys, 2 Torsten van Jaarsveld, 1 Dawie Steyn.
Replacements: 16 Hannes Franklin, 17 Dee-Jay Terblanche, 18 Willem Serfontein, 19 Jaco Bouwer, 20 Tian Meyer, 21 Carl Bezuidenhout, 22 Roelof Steyn.
Cheetahs: Hennie Daniller; Phillip Snyman, Robert Ebersohn, Meyer Bosman, Jongi Nokwe, Louis Strydom, Tewis de Bruyn; Ashley Johnson, Francois Uys, Hendro Scholtz, Barend Pieterse, Izak van der Westhuizen, WP Nel, Adriaan Strauss, Coenie Oosthuizen.
Replacements: Skipper Badenhorst, CJ van der Linde, Waltie Vermeulen, Kabamba Floors, Tertius Carse, Sias Ebersohn, JW Jonker
Venue: Puma Stadium, Witbank
Kick-off:15:00 (13:00 GMT)
Referee: Mark Lawrence
________________________________________________________________________
Sharks v Lions
Much has been said about the improvement made by the Lions this season, but the results have yet to follow.
In Durban - where the Sharks have lost just twice in two years - the team from Jo'burg face a daunting task against a side bolstered by the return of several Springboks.
Second in the standings and boasting impressive wins over both of last year's Currie Cup finalists, Saturday's hosts could finish the weekend at the top of the stack if results elsewhere go their way.
The Lions were impressive at times and looked a good unit against the Blue Bulls last weekend. They will however have to exploit their possession - and while their defence has improved since the Super 14, their habit of giving the opposition too many shots at goal will have to be curbed.
With the Sharks once again short of fly-halves due to the injuries to Ruan Pienaar and Steve Meyer, coach John Plumtree has handed the team's attacking reigns to 19-year-old Player of the Month Patrick Lambie.
"Its an opportunity for Pat to see what he can do at fly-half and one we're very excited about, as is he," said the coach.
Lambie's tussle with Elton Jantjies, another promising youngster who was outstanding last week for the Lions, should be great to watch.
There is more good news for the hosts as the Du Plessis' brothers return to the fold as Jannie starts at tigthead with Bismarck on the bench.
'Beast' Mtawarira is also back in the front row as the Sharks bring out their big guns. Former Montpellier prop Eugene van Staden retains his place among the substitutes.
"I'm not expecting to have them for next week, so it is a good opportunity to use them for this game and an opportunity for them to play well ahead of Springbok selection," added Plumtree.
"We're expecting a lot from the Lions pack, we're anticipating a big challenge."
Elsewhere in the pack, Alistair Hargreaves returns from injury in the second row while fit-again Willem Alberts earns his first start of the Currie Cup and takes over from flank Jacques Botes, who is given a rest.
"People are looking at what I do with five loosies. Jean Deysel is back from injury, Willem Alberts has had two runs off the bench and he's also ready to go while Keegan Daniel is in the form of his life," explained Plumtree.
"He's been outstanding, such a threat with and without the ball. Good on him, he's really enjoying his rugby. I have some choices to make and with different players, the challenge is how you formulate that to make the right blend."
Amongst the backs, Andries Strauss fills the inside centre berth vacated by Lambie.
Lions coach John Mitchell has retained the entire matchday 22 that gave the Blue Bulls a run for their money last weekend.
The only possible change could be on the bench where young loose forward Jaco Kriel is bracketed with Renaldo Bothma.
Prediction: A very strong Sharks line-up will be extremely tough to beat at home. The Sharks to win by ten points.
The teams:
The Sharks:15 Louis Ludik, 14 JP Pietersen, 13 Stefan Terblanche (c), 12 Andries Strauss, 11 Lwazi Mvovo, 10 Patrick Lambie, 9 Charl McLeod, 8 Ryan Kankowski, 7 Willem Alberts, 6 Keegan Daniel, 5 Alistair Hargreaves, 4 Steven Sykes, 3 Jannie du Plessis, 2 Craig Burden, 1 Tendai Mtawarira.
Replacements:16 Bismarck du Plessis, 17 Eugene van Staden, 18 Ross Skeate, 19 Jean Deysel,, 20 Jacques Botes 21 Rory Kockott, 22 Riaan Swanepoel,
The Lions: 15 Jaco Taute, 14 Deon van Rensburg, 13 Waylon Murray, 12 Doppies la Grange, 11 Michael Killian, 10 Elton Jantjies, 9 Jano Vermaak, 8 Warren Whiteley, 7 Trevor Hall, 6 Derek Minnie, 5 Franco van der Merwe, 4 George Earle, 3 Kevin Buys, 2 Martin Bezuidenhout, 1 JC Janse van Rensburg.
Replacements: 16 Edgar Marutlulle, 17 Ross Geldenhuys, 18 David Bulbring, 19 Jaco Kriel/Renaldo Bothma, 20 Chris Jonck, 21 Carlos Spencer, 22 Marius Delport.
Venue: The ABSA Stadium, Durban
Kick-off:17:05 (15:05 GMT)
Referee: Jason Jaftha