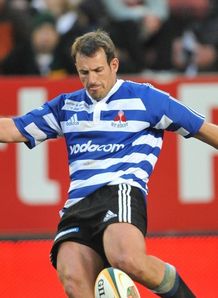 Western Province fly-half Willem de Waal struck six penalties and a conversion to help his team to a convincing 25-11 Currie Cup win over the Free State Cheetahs in their opening match of the season.
Only two tries, one apiece, were scored in the match that at times produced average rugby in Bloemfontein on Saturday.
With 76 per cent of the territory in the first half and making the most of the play, the Cheetahs should have been ahead at the break. Instead they were behind.
It was a combination of good play especially by the Province tight five, poor first phases by the home side forwards and some sound defence by the visitors - in particular their centres Paul Bosch and Tim Whitehead - that gave WP a solid 16-8 lead at half-time.
A number of penalty transgressions by the Cheetahs players and poor finishing contributed to their woes, and in the second half De Waal slotted two more early on to take the score to 22-8.
In the second half the standard of rugby degenerated to quite average at times and resulted in not a single try being scored.
Again the Cheetahs were their own worst enemies when they allowed WP to turn over possession after a sustained attack from the home side on the Province try-line with about ten minutes remaining and a seven-pointer very important.
Earlier in the second half, a penalty by Free State fly-half Louis Strydom, brought his team to a more acceptable 22-11 deficit, but withstanding that sustained pressure in the last quarter was enough to see Province home.
Coach Allister Coetzee will be relatively happy with the performance and a promise of better things to come was indeed there. For the Cheetahs there is a lot of work to be done.
They threatened but deceived, and the good work of especially full-back Hennie Daniller in the first half and an impressive 40 minutes from fit-again Springbok flank Juan Smith in the second half deserved a better return.
Bad discipline, finishing and better first phases will have to improve for them to turn things around.
The scorers:
For Free State Cheetahs:
Try: De Bruyn
Pens: Strydom 2
For Western Province:
Try: Fondse
Con: De Waal
Pens: De Waal 6
Free State Cheetahs: 15 Hennie Daniller, 14 Philip Snyman, 13 Robert Ebersohn, 12 Meyer Bosman, 11 Jongi Nokwe, 10 Louis Strydom, 9 Tewis de Bruyn, 8 Ashley Johnson, 7 Francois Uys, 6 Hendro Scholtz (c), 5 Waltie Vermeulen, 4 Izak van der Westhuizen, 3 WP Nel, 2 Skipper Badenhorst, 1 Coenie Oosthuizen.
Replacements: 16 PW van Vuuren, 17 Kobus Calldo, 18 Juan Smith, 19 Kabamba Floors, 20 Tertius Carse, 21 Sias Ebersohn, 22 Corné Uys.
Western Province: 15 Conrad Jantjes, 14 Fabian Juries, 13 Tim Whitehead, 12 Paul Bosch, 11 Frikkie Welsh, 10 Willem de Waal, 9 Dewaldt Duvenage, 8 Duane Vermeulen, 7 Rynardt Elstadt, 6 Pieter Louw, 5 Anton van Zyl (c), 4 Adriaan Fondse, 3 Brok Harris, 2 Tiaan Liebenberg, 1 Wicus Blaauw.
Replacements: 16 Deon Fourie, 17 JD Moller, 18 JC Kritzinger, 19 Martin Muller, 20 Pieter Myburgh, 21 Conrad Hoffmann, 22 Lionel Cronjé.
Referee: Marius Jonker