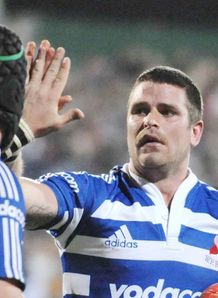 Western Province made light work of running in the requisite four-try victory over Boland in the Currie Cup at Newlands on Saturday, winning 50-7.
There's not much you can constructively say about a game this one-sided, except to point out once again that the imbalance in powers in South Africa's top domestic cmpetition is not healthy at all in the long run and must be addressed soon.
Luke Watson got the ball rolling after seven minutes at the bottom of a maul driven over the Boland line as Boland spent much of the first quarter giving away penalties by rushing up in defence and WP spent their time kicking to the corners.
Tiaan Liebenberg's try was a little more exciting, featuring some fine handling between he and Joe Pietersen, while Andries Bekker's effort on the half-hour was a more direct and bruising sort of effort.
Pietersen had also added a penalty as Boland's defence tightened up its act and prevented WP getting too much forward ball, just to keep the scoreboard ticking over.
It took the home side until the 53rd minute to notch the bonus point try, with Ricky Januarie burrowing over round the blind side, but then the game opened up a bit more.
Tonderai Chavhanga showed the side the pace they will be missing next year with a scorcher, before Boland grabbed a solitary crumb of consolation wth a Deon Scholtz intercept.
Watson scored two more near the end, celebrating as though he had won the tournament. Big deal. It's not Boland's fault they offered little beyond lots of tackling, it's the fault of the self-serving unions who continue to ring-fence themselves from any form of salary cap or regulation. It has to change - this was too dull for a top-level game.
The scorers:
For Western Province:
Tries: Watson 3, Liebenberg, Bekker, Januarie, Chavhanga
Cons: Pietersen 6
Pen: Pietersen
For Boland:
Try: Scholtz
Con: Watts
Western Province: 15 Joe Pietersen, 14 Tonderai Chavhanga, 13 Frikkie Welsh, 12 Paul Bosch, 11 Sireli Naqelevuki, 10 Matt Toomua, 9 Ricky Januarie, 8 Luke Watson (c), 7 Pieter Louw, 6 Francois Louw, 5 Andries Bekker, 4 De Kock Steenkamp, 3 JC Kritzinger, 2 Tiaan Liebenberg, 1 JD Moller.
Replacements: 16 Deon Fourie, 17 Brok Harris, 18 Anton van Zyl, 19 Duane Vermeulen, 20 Bolla Conradie, 21 Conrad Hoffmann, 22 Juan de Jongh
Boland: 15 Hayden Groepes, 14 Deon Scholtz, 13 Cornal Hendricks, 12 Dewey Swartbooi, 11Wendal Wehr, 10 Elgar Watts, 9 Marnus Hugo, 8 Junior Bester, 7 Hilton Lobberts, 6 Angelo Brinkhuys, 5 Rito Hlungwane (c), 4 Nico Esterhuyse, 3 Jacobie Adriaanse, 2 Harry Vermaas, 1 Janro van Niekerk
Replacements: 16 Clemen Lewis, 17 Michael de Neuilly-Rice, 18 Grant le Roux, 19 David Hendricks, 20 Danie van der Merwe, 21 Mark Harris, 22 Justin Peach
Referee: Sindile Mayende