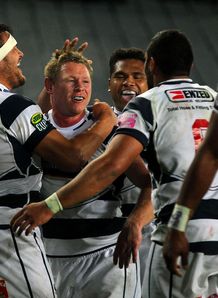 Related links
Teams
Departing hooker Tom McCartney has been named as captain for the Auckland ITM Cup team in his eighth and final campaign.
The 28-year-old is joining Connacht at the end of the year.
"It's an exciting opportunity to be able to lead this team," said McCartney.
"Some of the players that I have looked up to most in my career have done the job in the past so it is an honour to be given the role."
McCartney has played 77 matches for Auckland to date and brought up 64 caps for the Blues. He hails from east Auckland club Pakuranga and was schooled at Howick College.
Auckland ITM Cup coach Paul Feeney said McCartney is a respected member of the team.
"Tom is the type of player that always gives 100%. You know when he takes the field he'll give enthusiasm, physicality, passion and commitment.
"He leads on and off the field and is motivated for a big season," said Feeney.
McCartney first made the Auckland team in 2007, a year in which the team won both the Ranfurly Shield and the Championship.
He said the aim is definitely to finish his time with Auckland the way it started.
"2007 was all a bit of a dream to come into such a strong team. Since then we have quite managed to get the job done but hopefully we can change that.
"We need to build a culture within the team where we hold high standards on and off the field and make sure there is internal competition for jerseys."
"There is no better way to kick off the season in my view, we get to take on the defending champions in round one," stated McCartney.
The team travel to Christchurch to play Canterbury on Saturday.