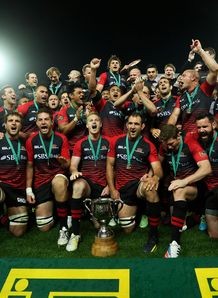 Related links
Also see
The cross-over matches between ITM Cup Premiership and Championship teams in the 2014 season of the competition have been confirmed.
Next year retains the nine-week Round Robin, with semis and finals making up the eleven-week competition. The rounds also include some midweek fixtures to be played on Wednesdays.
Provincial Union representatives met recently to make their picks for opposition in cross-over matches between Premiership and Championship teams.
The selections will see the following fixtures played during the season, however when they will be played will not be confirmed until the draw is released in February 2014.
ITM Cup kicks off on Thursday 14 August in 2014.
Confirmed crossover matches for 2014 ITM Cup
1) The Automatic crossover matches already determined by the 2013 finishing order (host province listed first) are:
North Harbour v Canterbury
Northland v Wellington
Manawatu v Auckland
Southland v Counties Manukau
Otago v Waikato
Hawke's Bay v Taranaki
Bay of Plenty v Tasman
The three other crossover games (per team) have been picked by the provinces as follows:
2) 1st round of picks: Championship teams picked a Premiership team, in reverse seeding order (eg, 14th to 8th), for a home Championship match:
North Harbour v Waikato
Northland v Taranaki
Manawatu v Counties Manukau
Southland v Tasman
Otago v Canterbury
Hawke's Bay v Wellington
Bay of Plenty v Auckland
3) 2nd round of picks: Premiership teams picked a Championship team, in seeding order (eg 1st to 7th), for a home Premiership match:
Canterbury v Southland
Wellington v North Harbour
Auckland v Northland
Counties Manukau v Otago
Waikato v Manawatu
Taranaki v Bay of Plenty
Tasman v Hawke's Bay
4) Final round of picks: Championship teams picked a Premiership team, in seeding order (eg. 8th to 14th), for an away Championship match (note the second team hosts the match):
Waikato v Bay of Plenty
Counties Manukau v Hawke's Bay
Tasman v Otago
Taranaki v Southland
Wellington v Manawatu
Canterbury v Northland
Auckland v North Harbour