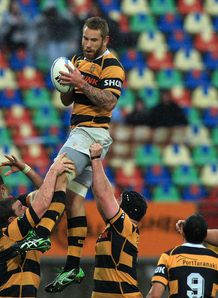 Taranaki lock Jarrad Hoeata and Southland number eight Elliot Dixon will front judicial hearings on separate charges of foul play over the ITM Cup weekend.
Hoeata has been cited under rugby law 10.4 (e) for a dangerous tackle and 10.4 (a) for striking a player after an alleged swinging arm tackle on a Canterbury player 12 minutes into the first-half of Taranaki's opening match in Christchurch on Friday.
Southland Stag Dixon has been cited under law 10.4 (e) for an alleged dangerous tackle on a Tasman player just three minutes from full-time in their match at Invercargill's Rugby Park on Saturday.
Dixon and Hoeata will attend a judicial hearing by video-conference on Tuesday at 12:00pm and 1:15pm local time respectively.
Judicial Officer Roger Drummond will hear both cases.