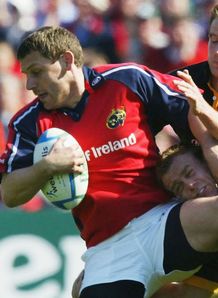 Former Manawatu, Taranaki and Munster centre Jason Holland has been appointed as Canterbury assistant coach for the 2013 ITM Cup.
Holland's appointment follows the recent promotion of former All Black Scott Robertson from Assistant Coach to Head Coach for the Canterbury team.
Holland spent the last 13 years playing for and coaching Irish club Munster. He earned 102 caps for the Irish club and went onto to become backs, attack and skills coach for the European rugby powerhouse over the last five years.
Canterbury Rugby Football Union CEO Hamish Riach said Holland's appointment would be an asset to the Canterbury coaching team.
"Jason has an impressive track record coaching Munster. He has helped take the side to successive play-offs and finals," he said.
"He has gone on to have a very successful coaching career.
"We are thrilled that his positive influence and experience will help shape the 2013 Canterbury side in his new role as assistant coach."
Canterbury head coach Scott Robertson said he is looking forward to working with Holland over the coming season.
"Jason brings a great balance of experience playing here in New Zealand and also bringing his international experience as a player and coach from Europe," he said.
"Jason is an exceptionally talented coach and we are lucky to have him on board."
Holland will join Robertson in March to start preparing the five-times champions for the upcoming ITM Cup season, which kicks off on August 17.
"I am delighted to be joining such a proud, ambitious and high performing union," said Holland.
"The style of rugby, and values the players and management seem to have excites me and I am looking forward to contributing to the continued success in the ITM Cup and beyond."