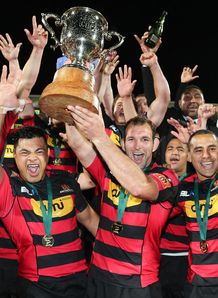 Canterbury captain George Whitelock was a proud skipper after his team became the first side to win the ITM Cup five times in succession.
Whitelock is the only player to have featured in all five championship-winning finals.
Playing on their home ground at AMI Stadium in Christchurch, Canterbury weathered a torrid opening attack by Auckland and trailed 6-13 before piling on 25 unanswered points.
Auckland came back with a try on full-time but by then the game was firmly in Canterbury's grip.
"We had to dig deep but I am really, really proud of the team," said Whitelock.
"The line-out was outstanding. We did a lot of work during the week and we came up with a plan that worked."
"There's depth in Canterbury and there is a good crop coming through," Whitelock added.
Auckland captain Daniel Braid, who played his 100th game for the union, said his side had started off really well but had lacked big game composure.
"The set piece cost us. It was a bobbled ball from a lineout just before half-time that was costly. We didn't quite nail our lineout," he said.