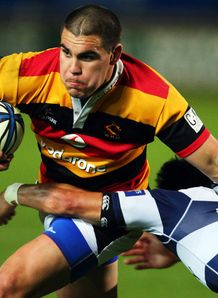 Picking a winner between Auckland and Waikato will be tough ahead of the second ITM Cup semi-final of the weekend at Eden Park.
One thing that is certain though, is that one of these two sides will face Canterbury in the Final next weekend after an incredible shoot-out in Christchurch saw the defending champs beat Wellington 57-41.
The high-scoring knock-out clash certainly raised the bar ahead of Saturday's meeting in the North Island, but with Auckland boasting the best defensive record in the tournament this year (their line was breached just 16 times during the 13 weeks of the round-robin competition), it's safe to say we won't be seeing a repeat of Friday's entertaining points spree.
It's no surprise then that Auckland see their defensive resilience as a key weapon towards securing their first national provincial final since 2007.
"Defence has been a strong part of our game," said Auckland coach Mark Anscombe.
"Again if we get the work done up front, deprive them of possession at crucial times and look after the ball when we have it, we can frustrate them and frustrate them into not getting the go-forward, open-space ball they desire."
Waikato let in 27 tries this season, eleven more than their hosts, but the two sides are dead even when it came to scoring tries - both touching down for 37 five-pointers each.
Tries aside, little seperates Auckland and Waikato in total points produced so far in 2010 with the former leading by 352 points to the Mooloos' 351. Auckland finding their scoring mojo in the last month and running up four consecutive 30-pointers on its way to second place on the table.
With Waikato missing points machine Stephen Donald to the All Blacks, the Aucklanders will be wary of another player waiting in the wings that is no stranger to forking out double figures.
For Anscombe, closing down Waikato early is all the more important given the inclusion of All Blacks winger Sitiveni Sivivatu in the opposition starting line-up.
"We can't afford to given him space and time with the ball," Anscombe said.
"Even though it's only his second game back, he's a dangerous man and he showed signs of that last week."
The Mooloo Men go into the match on the back of a dominant 26-6 victory over Canterbury last weekend, stretching their winning streak to five in the process.
That result and their recent form would have put them in a confident frame of mind as they head into their showdown with their near neighbours.
The visitors hold the phycological advantage too. In the round robin phase, Waikato beat Auckland 21-18 in early August, with winger Dwayne Sweeney scoring the winning try just before full-time.
However, Waikato have only twice defeated Auckland in two consecutive games on Eden Park. The most recent occurrence was in 1992 when Waikato defeated Auckland in the semi-final of the NPC - then 1993 to relieve Auckland of the Ranfurly Shield. The earlier double was in 1954-55.
That said - history counts for little in a sudden death scenario.
The teams:
Auckland: 15 Brent Ward, 14 Chay Raui/Dave Thomas, 13 Ben Atiga, 12 Benson Stanley (c), 11 Atieli Pakalani, 10 Gareth Anscombe, 9 Toby Morland, 8 Peter Saili, 7 Sean Polwart, 6 Onosa'i Auva'a, 5 Liaki Moli, 4 Kurtis Haiu, 3 Charlie Faumuina, 2 Tom McCartney, 1 Tevita Mailau.
Replacements: 16 Ash Dixon, 17 Angus Ta'avao, 18 Steven Luatua, 19 Chris Lowrey, 20 Auvasa Faleali'i, 21 Matt Berquist, 22 Winston Stanley.
Waikato: 15 Sosene Anesi, 14 Sitiveni Sivivatu/Henry Speight, 13 Save Tokula, 12 Jackson Willison, 11 Dwayne Sweeney, 10 Trent Renata, 9 Tawera Kerr-Barlow, 8 Alex Bradley, 7 Jack Lam, 6 Dominiko Waqaniburotu, 5 Romana Graham, 4 Toby Lynn, 3 Nathan White (c), 2 Aled de Malmanche, 1 Toby Smith.
Replacements: 16, Hikairo Forbes, 17 Ben May, 18 Kent Fife, 19 Zak Hohneck, 20 Malcolm Barnes, 21 Christian Lealiifano, 22 Henry Speight/ Tim Mikkelson.
Date: Saturday, October 30
Venue: Eden Park, Auckland
Kick-off: 19:05 (06:05 GMT)
Referee: Chris Pollock
Assistant referees: Kane McBride, Richard Kelly
TMO: Glenn Newman