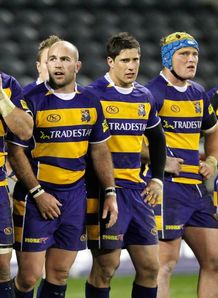 After 12 weeks of Southland, Taranaki and Bay of Plenty toying with top four spots it's the usual suspects who seem likely to play out the ITM Cup semi-finals.
With one week remaining in the competition's round robin, it's big guns Canterbury, Auckland, Waikato and Wellington who currently sit in the top four.
Will we see the same quartet in the play-offs? We'll find out after Round 13!
Northland v Bay Of Plenty
Losing won't be an option for Bay of Plenty when they take on Northland in Whangarei on Thursday, where the Steamers will strive to keep their semi-final aspirations alive.
While the visitors currently sit in fifth equal place on the table going into the last week of round robin action, a bonus-point victory against Northland would put the pressure on the other top four contenders.
While there are a multitude of scenarios that may unfold before the semi-finalists are confirmed after the last match on Sunday - Bay of Plenty will be entirely focused on taking five points at Toll Stadium.
This shouldn't be too much of a problem for the Bay as four-try bonus points have been collected in each of their last four matches.
The Steamers will also be relieved that a loss against the Taniwha won't effect their top-seven finish at the conclusion of Round 13, so they have one less thing to worry about.
Northland on the other hand are playing for nothing more than pride in front of their home supporters. After a good start to the season, the Northlanders took a turn for the worst and have now lost their last four matches.
Bay of Plenty edged Northland 19-14 in Rotorua the last time these two teams met, and also prevailed by five points (15-10) in the Steamers' last visit to this venue.
The teams:
Northland: 15 Jared Payne (c), 14 Simon Munro, 13 Rene Ranger, 12 Aaron Bancroft, 11 Lachie Munro, 10 David Holwell, 9 Rhyan Caine, 8 Cameron Eyre, 7 Joel McKenty, 6 Dean Budd, 5 Mark Burman, 4 Pat O'Connor, 3 Bronson Murray, 2 Mikaele Tuu'u, 1 Matt Wallis.
Replacements: 16 Tim Dow, 17 Ross Wright, 18 Roy Griffin, 19 Dan Pryor, 20 Luke Hamilton, 21 Adam Clarke, 22 Iwi Hauraki.
Bay of Plenty: 15 Toby Arnold,14 Ben Smith,13 Brett Mather,12 Phil Burleigh, 11 Jason Hona, 10 Mike Delany, 9 Taniela Moa, 8 Colin Bourke (c), 7 Tanerau Latimer, 6 Luke Braid, 5 Luke Andrews, 4 John Moore, 3 Josh Hohneck, 2 John Pareanga, 1 Joe Savage.
Replacements: 16 Daniel Perrin, 17 Tristan Moran, 18 Aiden Kuka, 19 Solomon King, 20 Chad Tuoro, 21 Grant McQuoid, 22 Smith/Corey Aporo.
Referee: Garratt Williamson
Friday, October 22
Waikato v Canterbury
Waikato will be aiming for a win against Canterbury on Friday that will not only secure them a place in the top four, but also a home semi-final in Hamilton if they can manage a bonus-point victory.
A loss could spell danger for the Mooloo Men, who have a chance of missing out completely with five other teams hot on their heels.
It could have been a far worse scenario had Waikato not snuck past Manawatu in the dying seconds last week. Had the Mooloos lost in Palmerstone North, they would have had to rely on a bonus-point win as well as other results to get them through this weekend.
Canterbury's the only side guaranteed a spot in the semi-finals and can secure top spot with victory over Waikato.
The Cantabs ensured the Ranfurly Shield stays in Christchurch for the summer thanks to a convincing win over Counties Manukau. The men in red and black looked in ominous touch as they defended patiently and attacked potently on their way to a fourth consecutive win.
However, as impressive as they were last week, Canterbury coach Rob Penney is preparing his team for a tough battle in the top of the table match.
"Waikato are always tough at home and they will feed off their crowd," he said.
"We'll hope to carry on our good form of the last couple of weeks as there is plenty on this match for both sides."
The teams:
Waikato: 15 Sosene Anesi, 14 Henry Speight, 13 Save Tokula, 12 Jackson Willison, 11 Dwayne Sweeney, 10 Trent Renata, 9 Malcolm Barnes, 8 Alex Bradley, 7 Jack Lam, 6 Dominiko Waqaniburotu, 5 Romana Graham, 4 Toby Lynn, 3 Nathan White (c), 2 Aled de Malmanche, 1 Toby Smith.
Replacements: 16 Hikairo Forbes , 17 Ben May, 18 Matt Vant Leven, 19 Zak Hohneck, 20 Tawera Kerr-Barlow/David Bason, 21 Christian Lealiifano, 22 Sitiveni Sivivatu.
Canterbury: 15 Sean Maitland, 14 Tu Umaga-Marshall, 13 Robbie Fruean, 12 Ryan Crotty, 11 Telusa Veainu, 10 Colin Slade, 9 Willi Heinz, 8 Nasi Manu, 7 Matt Todd, 6 Ash Parker, 5 Isaac Ross, 4 Rob Verbakel, 3 Peter Borlase, 2 Steve Fualau, 1 Wyatt Crockett (c).
Replacements: 16 Paul Ngauamo, 17 Andrew Olorenshaw, 18 Tom Broughton, 19 Brendon O'Connor, 20 Takerei Norton, 21 Stephen Brett, 22 Sam Monaghan.
Referee: Mike Fraser
Saturday, October 23
North Harbour v Taranaki
Taranaki's chances of making the semi-finals will rely on a victory against North Harbour in Albany on Saturday, and other results going their way.
The Amber and Blacks slipped from second to sixth on the ITM Cup points table after another horror night in the New Zealand capital against Wellington last week.
They now need Canterbury to beat Waikato or Southland to knock over Wellington to stand a chance of breaking a decade-long play-off drought.
There is also the small matter of Taranaki picking up five points against North Harbour in Albany, something that has never happened before.
Taranaki assistant coach Leo Crowley said there was no confusion in the squad of what needs to happen as they approach their trip north.
"We have to get five points up there and what will happen, will happen," he said.
"There is every chance that we are still going to make the top four if we do our job right."
The teams:
North Harbour: 15 Jack McPhee, 14 Ken Pisi, 13 Nafi Tuitavake, 12 Niko Ratumaitavuki, 11 Josh York, 10 Michael Harris, 9 Chris Smylie (c), 8 Mathew Luamanu, 7 Malakai Ravulo, 6 Tom Chamberlain, 5 Filo Paulo, 4 James King, 3 Taione Vea, 2 James Parsons, 1 James Afoa.
Replacements: 16 Manu Leiataua, 17 Nic Mayhew, 18 Michael Farmer, 19 Richard Mayhew, 20 Grayson Hart, 21 Ben Botica, 22 Jack Tarrant.
Taranaki: 15 Scott Ireland, 14 Codey Rei, 13 George Pisi, 12 Jayden Hayward, 11 David Smith, 10 Beauden Barrett, 9 Tyson Keats, 8 Ben Souness, 7 Johnny Willis, 6 Jarrad Hoeata, 5 Craig Clarke (captain), 4 James Broadhurst, 3 Michael Bent, 2 Mahonri Schwalger, 1 Shane Cleaver.
Replacements: 16 Timo Tutavaha, 17 Carl Camichael, 18 Samuela Vunisa, 19 Chris Walker, 20 Brett Goodin, 21 Willie Ripia, 22 Isaia Tuifua.
Referee: Chris Pollock
Otago v Manawatu
Otago and Manawatu will be fighting it out to see who avoids the dreaded wooden spoon after their dour efforts during the past 13 weeks.
Otago has struggled throughout the 2010 season and is in the disastrous position, for such a proud rugby province, of finishing last after suffering defeat after defeat.
On the coaching front, former Queensland mentor Phil Mooney's life expectancy in Otago also appears vulnerable with a year remaining on his contract.
In an ominous sign Otago Rugby Football Union chairman Wayne Graham this week declined to back Mooney ahead of the commencement of a wide-ranging season review.
This season hasn't been the strongest for Manawatu either - the Turbos have bagged the same number of wins as Otago (two), but are only ahead by securing three more bonus points than their fellow basement dwellers.
However, the men in green will be determined to finish on a high at Carisbrook Stadium this Saturday. They were desperately unlucky to lose to Waikato a week ago, and a fierce match looks on the cards as both teams set out to make their last game a memorable one.
The teams:
Otago: 15 Ben Smith, 14 Joe Hill, 13 Paula Kinikinilau, 12 Josh Tatapu, 11 Fetu'u Vainikolo, 10 Chris Noakes, 9 Sean Romans, 8 Paul Grant, 7 Alando Soakai (c), 6 Brad Cameron, 5 Hayden Triggs, 4 Hoani Matenga, 3 Sam Hibbard, 2 Peter Mirrielees, 1 Halani Aulika.
Replacements: 16 Sam Anderson-Heather, 17 Scott Manson, 18 Josh Townsend, 19 Charlie O'Connell, 20 Johnny Legg, 21 Glenn Dickson, 22 Chris Small.
Manawatu: tbc
Referee: Shane McDermott
Southland v Wellington
Wellington will be playing for a semi-final spot when they take on Southland at Homestead Stadium in Invercargill on Saturday.
The equation is simple for the Lions: win with a bonus point and they will reach the play-offs. A draw, high scoring loss by fewer than seven points or defeat would see them relying on other results to fall their way.
To book a home semi-final, Wellington will not only have to beat the Stags with a bonus point, but also hope that Canterbury accounts for Waikato in Hamilton on Friday, Tasman upsets Auckland at Eden Park on Sunday and possibly for Northland to shut out Bay of Plenty in the final round opener in Whangarei on Thursday.
While Tasman doing the :Lions a favour seems highly unlikely - two out of the three scenarios mentioned above are very possible.
Written off a month ago, last year's beaten finalists appear to be timing their run nicely - and a trip to Invercargill does not seem as daunting as, say, a month ago. Wellington jumped to fourth after thrashing Taranaki last weekend and could finish as high as second if Waikato and Auckland both lose.
Southland's three-match losing streak - which included conceding the Ranfurly Shield to Canterbury - has neutered the Stags to such an extent that a win on Saturday does not necessarily prolong a memorable season.
They are also depleted by the loss through injury of Piri Weepu plus the selection of five backs in the All Blacks squad.
However, history is on Wellington's side who have won each of their last eight meetings, Southland's last victory coming in 2002 when they won 22-20 at home at Invercargill.
The two teams met twice last year in Wellington, once in round-robin play and once in the semi-final five weeks later. The Lions won the first of these matches 32-13 and then prevailed in the playoff game 34-21.
The teams:
Southland: 15 Glen Horton, 14 Mark Wells, 13 Matt Saunders, 12 James Wilson, 11 Tony Koonwaiyou, 10 Robbie Robinson, 9 Sonny Rangitoheriri, 8 Kane Thompson, 7 Tim Boys, 6 John Hardie, 5 Joe Tuineau, 4 Josh Bekhuis, 3 Chris King, 2 Jason Rutledge, 1 Jamie Mackintosh (c).
Replacements: 16 Brayden Mitchell, 17 Nic Barrett, 18 Alex Ryan, 19 Hua Tamariki, 20 Scott Cowan, 21 Seminar Manu, 22 Dion Bates.
Wellington: Apoua Stewart, Julian Savea, Tajhon Mailata, Charlie Ngatai, Alapati Leiua, Lima Sopoaga, TJ Perenara, Victor Vito, Scott Fuglistaller, Faifili Levave, Api Naikatini, Jeremy Thrush (c), Neemia Tialata, Dane Coles, John Schwalger.
Replacements: Ged Robinson, Reg Goodes, Brad Shields, Dean Brunsdon, Fa'atonu Fili/Ruki Tipuna, Shaun Treeby, Buxton Popoalii.
Referee: Bryce Lawrence
Auckland v Tasman
Auckland will be favourites to advance to the semi-finals on Sunday, given their last round assignment is against out of contention Tasman at Eden Park.
In third position on the table heading into the final weekend of the round robin, Auckland find themselves just one win away from their first semi-finals appearance since 2007, with Sunday's match against the Makos effectively a quarter-final.
But sudden death rugby is something Auckland head coach Mark Anscombe has become accustomed to over the last few weeks.
"For the last three weeks of the competition we've had to win every game or our season was over and this is like a quarter-final really isn't it?" Anscombe said.
"If you don't win your quarter-final your season is over and it's as simple as that, we've got to beat Tasman to progress any further in this competition," he said.
"If we win and do it well, we could have every chance of getting a home semi and that's our goal, we want to be in control of our own destiny."
Auckland have been shorn of much their star power, with six All Blacks, including captain Daniel Braid, missing from the side for Sunday's clash. But Anscombe knows his team has performed well without them earlier this year, and has implored them to do the same against Tasman.
"They're (Auckland's All Blacks) an important group of players and when you've got quality like that one week and gone the next it's tough," he said.
"But we've done pretty well this year without them, you've got to think back that we achieved about 27 points in the competition without the All Blacks so we know we can do it, it's just about having the confidence to play the rugby we know we're capable of."
While Tasman are languishing in 11th position with just four wins to their name, two of those victories have come in the last fortnight against Bay of Plenty and Northland, and after losing to them in Napier last year, Anscombe is not about to take the Makos lightly.
"They've won their last two games and they'll want to finish the season on a high. They can't make the top seven but finishing the season with three wins is something that they'll be striving to do.
"They beat us down there last year, it wasn't a good performance by us so we owe them one and we've got to step up and show what it means to us to make the playoffs."
The teams:
Auckland: Brent Ward, Dave Thomas, Ben Atiga, Benson Stanley, Atieli Pakalani, Gareth Anscombe, Toby Morland, Peter Saili, Sean Polwart, Chris Lowrey, Andrew Van der Heijden, Kurtis Haiu, Charlie Faumuina, Tom McCartney, Tevita Mailau.
Replacements: Ash Dixon, Angus Ta'avao, Liaki Moli, Onosa'i Auva'a, Auvasa Faleali'i, Matt Berquist, Winston Stanley.
Tasman: tbc