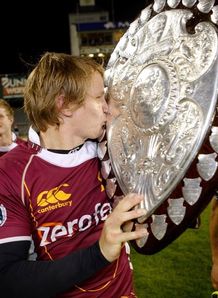 With just three rounds to go, the race for a semi-final spot is still wide open while the fear of missing out on a top seven finish looms large. It's Round 11 of the ITM Cup!
With only two points separating Taranaki in third and Bay of Plenty (sixth), they will be conscious of the need to claim maximum points from their games against also-rans to at least maintain their top seven aspirations.
Taranaki host Manawatu on Saturday, while the Steamers venture to Tasman to close out the round on Sunday. And then there's a Ranfurly Shield challenge to keep an eye out for too...
Saturday, October 9
Taranaki v Manawatu
Taranaki are just three more games away from ending a ten-year play-offs drought, with Manawatu the first hurdle standing in their way.
The Amber and Blacks have 32 points following their seventh win of the tournament last week, courtesy of a comprehensive victory against Southland - their first over the Stags in New Plymouth since 2001.
Just two more wins from tough matches against the Turbos, Wellington and North Harbour will see Colin Cooper's side in the semis.
The last thing Taranaki need now is to slip up against a side third from the bottom and will need maximum points to make their road to the knock-out stages a smooth one.
Manawatu dragged themselves off the foot of the table and up to 12th with a scrappy 20-8 win against struggling Tasman. It was Manawatu's first win from five attempts against the Makos.
However, Turbos coach Dave Rennie will need his team to play 50 per cent better than they did against Tasman, if they are to pull off an upset against their hosts at Yarrow Stadium on Saturday.
The teams:
Taranaki: 15 Scott Ireland, 14 Andre Taylor, 13 George Pisi, 12 Jayden Hayward, 11 David Smith, 10 Willie Ripia, 9 Tyson Keats, 8 Samuela Vunisa, 7 Chris Walker, 6 Jarrad Hoeata, 5 Craig Clarke (C), 4 James Broadhurst, 3 Michael Bent, 2 Mahonri Schwalger, 1 Carl Carmichael.
Replacements: 16 Timo Tutavaha, 17 Shane Cleaver, 18 Blade Thomson, 19 Johnny Willis, 20 Brett Goodin, 21 Beauden Barrett, 22 Isaia Tuifua.
Manawatu:15 Craig Clare, 14 Shannon Paku, 13 Hadleigh Parkes, 12 Francis Bryant, 11 Asaeli Tikoirotuma, 10 Aaron Cruden, 9 Aaron Smith, 8 Hamish Gosling, 7 Callum Gibbins, 6 James Oliver, 5 Fraser Stone, 4 Michael Fitzgerald, 3 Ma'afu Fia, 2 Rob Foreman, 1 Grant Polson.
Replacements: 16 Sean O'Connor, 17 Donal McNamara, 18 Reece Robinson, 19 Doug Tietjens /Bertus Mulder, 20 Karl Bryson, 21 Isaac Thompson, 22 Johnny Leota/ Casey Stone.
Counties Manukau v Auckland
It's simple: Auckland, who will start will four All Blacks, have to beat Counties Manukau in Pukekhoe or their top-four semi-final goal is over.
Auckland are fifth after a thrilling 34-34 draw with Hawke's Bay last week, while the seventh-placed Steelers (just one point behind the Aucks) recorded their first win over North Harbour for 12 years.
Not only do fifth-placed Auckland's top four semi-final hopes hang in the balance, with three rounds to play they are also no certainty of making the top seven for next year's Premier League.
Adding to the visitors' must-win fixture is the fact that Counties are undefeated at home this season and nothing would give them greater pleasure than to add Auckland to their list of teams beaten at Growers Stadium.
Of course, a place in the top four is also very possible for Counties-Manukau , a team that finished stone last in 2009, and would dearly love to make it three wins on the trot against the city-slickers.
Can the Steelers' fairytale run continue?
The teams:
Counties-Manukau: 15 Tim Nanai Williams, 14 Ahsee Tuala, 13 Siale Piutau, 12 Tana Umaga, 11 David Raikuna, 10 Dean Cummins, 9 Samisoni Fisilau, 8 Viliami Fihaki, 7 Mark Selwyn, 6 Ronald Raaymakers, 5 Jamie Chipman, 4 Taiasina Tuifua, 3 Jono Owen, 2 Grant Henson, 1 Simon Lemalu.
Replacements: 16 Ilaisa Maasi, 17 Graham Dewes, 18 Sikeli Nabou, 19 Pepa Koloamatangi, 20 August Pulu, 21 Rey Lee-Lo, 22 Seremaia Tagicakibau.
Auckland: 15 Chay Raui, 14 Dave Thomas, 13 Winston Stanley, 12 Benson Stanley, 11 Joe Rokocoko, 10 Gareth Anscombe, 9 Brenton Helleur, 8 Peter Saili, 7 Jerome Kaino, 6 Daniel Braid, 5 Andrew van der Heijden, 4 Kurtis Haiu, 3 Charlie Faumuina, 2 Ash Dixon, 1 Tom McCartney.
Replacements: 16 Tevita Mailau, 17 Angus Ta'avao, 18 Liaki Moli, 19 Sean Polwart, 20 Toby Morland, 21 Matt Berquist, 22 Isaia Toeava.
Referee: Keith Brown
Southland v Canterbury
Saturday's action ends off with a mouth-watering top-of-the-table match between Southland and Canterbury in Invercargill, which doubles as a Ranfurly Shield challenge.
Canterbury's backs were on song in a 35-20 win against Otago in Dunedin yesterday, with fly-half Colin Slade, full-back Sean Maitland and centre Sonny Bill Williams particularly impressive as they made countless linebreaks in the bonus-point win.
That will put Canterbury in good stead ahead as the visitors strive to take the Log o' Wood home, particularly after surrendering it to Southland last season.
The Stags lost 23-6 in Taranaki last weekend, but Canterbury coach Rob Penney expected to face a different side on their home paddock.
"Shield matches are very special and the boys are looking forward to what will be a very hard battle in Invercargill," he said.
Southland have defended doggedly this season, but have now gone 229 minutes without scoring a try. That will be a major concern for the Ranfurly Shield holders ahead of this weekend's big clash.
Southland: 15 Glen Horton, 14 Mark Wells, 13 Matt Saunders, 12 James Wilson, 11 Tony Koonwaiyou, 10 Robbie Robinson, 9 Jimmy Cowan, 8 Kane Thompson, 7 Tim Boys, 6 John Hardie, 5 Joe Tuineau, 4 Josh Bekhuis, 3 Chris King, 2 Jason Rutledge, 1 Jamie Mackintosh (c).
Replacements: 16 David Hall, 17 Nic Barrett, 18 Alex Ryan, 19 Hua Tamariki, 20 Scott Cowan, 21 Seminar Manu, 22 Pehi Te Whare.
Canterbury: 15 Sean Maitland, 14 Tu Umaga-Marshall, 13 Robbie Fruean, 12 Sonny Bill Williams, 11 Telusa Veainu, 10 Colin Slade, 9 Andy Ellis (c), 8 Nasi Manu, 7 Matt Todd, 6 Sam Whitelock, 5 Isaac Ross, 4 Luke Romano, 3 Peter Borlase, 2 Steve Fualau, 1 Wyatt Crockett.
Replacements: 16 Paul Ngauamo, 17 Andrew Olorenshaw, 18 Ash Parker, 19 Brendon O'Connor, 20 Willi Heinz, 21 Stephen Brett, 22 Ryan Crotty.
Referee: Chris Pollock