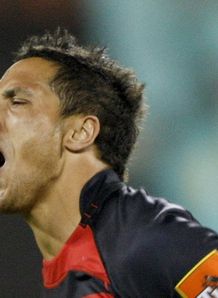 Related links
Also see
After four rounds, New Zealand's domestic championship once again offered up an unlikely looking table where Super Rugby franchise bases are outnumbered in the top four.
Southland sit atop the standings while second-placed Counties Manukau and fourth-placed Taranaki sandwich Auckland, while tournament favourites Wellington and Canterbury lurk in fifth and sixth respectively.
Tasman vs Southland
Southland, the only unbeaten team after four rounds, face a potentially tricky away ITM Cup match against Tasman in Blenheim on Friday.
The Makos shock win against Canterbury last week means the home side await the tournament leaders with plenty of confidence.
Besides creating another dramatic piece of domestic rugby history, the win eclipsed last year's 12-8 win over Auckland at the same venue as the biggest of Tasman's brief existence.
Tasman's second win lifts them to eighth and well in the mix given the tightly stacked nature of the standings.
Coming off last weekend's bruising clash, Tasman coach Kieran Keane is expecting more of the same from the Stags. The southerners hold the Ranfurly Shield, lead the ITM Cup standings and are proving a very hard nut to crack.
Unleashed of the pressure of having to defend the Ranfurly Shield, Southland consigned Hawke's Bay to a fourth successive match without victory courtesy of 23-20 win in Napier last week. Robbie Robinson's boot proved the difference in the only success registered by a visiting team for the round.
Southland coaches Simon Culhane and David Henderson are taking the 'if it ain't broke, don't fix it' route by naming an unchanged line-up for Friday's trip to Lansdowne Park. Their hosts, however, have made two changes to their starting XV with Afeleki Pelenise and Ben Coman set to provide fresh legs to the Makos.
Coman returns from injury and packs down at lock alongside captain Chris Jack. Glen Gregory shifts to his more regular position of blindside flanker and Anthony Elisala moves out of the 22.
Pelenise has also recovered from injury and starts on the wing in place of Blair Cook, with Jack Umaga missing the cut and Cook on the bench.
All Blacks prop Ben Franks was not available for selection this week but will come into the side for next week's game against Counties-Manukau at Pukekohe.
Prediction: Last time these two teams met, Southland hammered Tasman 41-0. Whilst we don't expect another thumping, we do think it will be another win for the Stags. Southland to win by six.
The teams:
Tasman: 15 Robbie Malneek, 14 Afeleki Pelenise, 13 Kade Poki, 12 Tom Marshall, 11 James Kamana, 10 James Marshall, 9 Steve Alfeld, 8 Joe Wheeler, 7 Jonathan Poff, 6 Glen Gregory, 5 Chris Jack (c), 4 Ben Coman, 3 Fai Mika, 2 Francis Smith, 1 Sam Prattley.
Replacements: 16 Vernon Fredericks, 17 Hamish Cochrane, 18 Poutasi Luafutu, 19 Shane Christie, 20 Kaide Whiting, 21 Sione Holani, 22 Blair Cook.
Southland: 15 Glen Horton, 14 Tony Koonwaiyou, 13 Kendrick Lynn, 12 Matt Saunders, 11 Mark Wells, 10 Robbie Robinson, 9 Scott Cowan, 8 Elliot Dixon, 7 Tim Boys, 6 John Hardie, 5 Joe Tuineau, 4 Josh Bekhuis, 3 Chris King, 2 Jason Rutledge, 1 Jamie Mackintosh (c).
Replacements:16 Brayden Mitchell, 17 Nic Barrett, 18 Kane Thompson, 19 Dion Bates, 20 Nick Annear, 21 Seminar Manu, 22 Pehi Te Whare.
Date: Friday, August 27
Venue: Lansdowne Park, Blenheim
Kick-off: 19:30
Referee: Nathan Pearce (Australia)
Waikato vs Counties Manukau
Ninth-placed Waikato will be out try to get closer to second-placed Counties-Manukau when these two teams clash Waikato Stadium in Hamilton on Saturday.
The Mooloos lost their second game on the trot last week, courtesy of a 26-14 defeat to Wellington and will know they can't afford to drop another match against a confident Steelers outfit.
The big focus for Chris Gibbes team this week would be on eliminating individual errors and improving decision making at crucial times.
"We're creating a lot of opportunities," Gibbes told the Waikato Times.
"We've applied pressure, the plan's worked and we haven't been able to get the execution right at the end."
They'll need to against Tana Umaga and his band of merry men who were a class above the hapless Manawatu in winning 35-14 in Pukekohe last weekend - adding to their victories over Otago and Wellington.
It's been quite a start for Counties with the side's only defeat coming in a gutsy four-point Ranfurly Shield defeat. It's been a miraculous turnaround for the Steelers who won just four matches over the last three years, which included a winless 2007.
In 2009, they had 12 cumulative points. This year, they already have 15 after defying the odds to conquer three teams.
"We've got some growing to do, we've come a long way but [we] want to be a contender - rather than a pretender," coach Milton Haig told Sportal.
"What we're trying to do is make sure we consistently deliver every week, that's the hard thing. After a number of years of mediocrity, it's a matter of being tough mentally."
Prediction: Waikato have proven too strong for Counties in the past, but that could all change on Saturday. Steelers to win by four points.
The teams:
Waikato: 15 Sosene Anesi, 14 Tim Mikkelson, 13 Save Tokula, 12 Christian Leali'ifano,11 Dwayne Sweeney, 10 Trent Renata, 9 Tawera Kerr-Barlow, 8 Steven Setephano, 7 Jack Lam, 6 Liam Messam, 5 Toby Lynn, 4 Dominiko Waqaniburotu, 3 Nathan White (c), 2 Aled de Malmanche, 1 Toby Smith.
Replacements: 16 Vern Kamo, 17 Hikairo Forbes, 18 Romana Graham/Chris Middleton, 19 Matt Vant Leven, 20 Brendon Leonard, 21 Sam Christie, 22 Frank Halai.
Counties-Manukau: 15 Tim Nanai-Williams, 14 Ahsee Tuala, 13 Siale Piutau, 12 Reynold Lee-Lo, 11 Sherwin Stowers, 10 Baden Kerr, 9 August Pulu, 8 Viliami Fihaki, 7 Mark Selwyn, 6 Fritz Lee, 5 Jamie Chipman (c), 4 Ronald Raaymakers, 3 Jono Owen, 2 Grant Henson, 1 Simon Lemalu.
Replacements: 16 Mark Price, 17 Graham Dewes, 18 Waka Setitaia, 19 Sikeli Nabou, 20 Samisoni Fisilau, 21 Dean Cummins/James Semple, 22 Seremaia Tagicakibau.
Date: Saturday, August 28
Venue: Waikato Stadium, Hamilton
Kick-off: 14:35
Referee: Ben Skeen
Wellington vs Northland
Wellington take on Northland with both sides looking to move up from mid-table positions when they clash in the capital.
The Lions showed glimpses of their attacking prowess but had too many flat patches to be satisfied with their 26-14 defeat of Waikato last week, while Northland found the going tough against Auckland and lost 26-13.
Wellington head into this clash with three wins from four after the opening month of the 2010 ITM Cup.
Last Saturday's victory over Waikato pushed them to 14 competition points, just three points adrift of frontrunners Southland (on 17). Northland have two wins from their opening three matches, including a 77-8 drubbing of Manawatu in Round Three, and sees them in seventh place heading into Round Five.
Led by evergreen former Lions pivot David Holwell, who played his 100th game for his home province in this corresponding clash last year, the Taniwha play a positive style with a hard working pack and fleet-footed outside backs.
Last year when the two teams met, Wellington ran up a 41-7 win with the sun on their backs in Whangarei. Last year's encounter was also their first since 2005 when Ma'a Nonu scored a hat trick in a 43-27 win, also in Whangarei, but the two unions who represent the top and the bottom of the North Island have a rich history dating back over 70 years.
Overall, Wellington and Northland (formerly North Auckland) have played 30 times since their first meeting in 1939 in Whangarei won by Northland 11-3. Their head-to-head records stands at 20 wins for Wellington, eight for Northland and two draws.
Prediction: At home, Wellington will be hard to beat. Lions to win by ten.
The teams:
Wellington: 15 Apoua Stewart, 14 Julian Savea, 13 Shaun Treeby, 12 Charlie Ngatai, 11 Hosea Gear, 10 Fa'atonu Fili, 9 Alby Mathewson, 8 Rodney So'oialo (captain), 7 Scott Fuglistaller, 6 Victor Vito, 5 Mark Reddish, 4 Jeremy Thrush, 3 Neemia Tialata, 2 Dane Coles, 1 John Schwalger.
Replacements: 16 Ged Robinson, 17 Jacob Ellison, 18 Faifili Levave, 19 Dean Brunsdon, 20 Ruki Tipuna, 21 Lima Sopoaga, 22 Alapati Leiua.
Northland: 15 Lachie Munro, 14 Rene Ranger, 13 Jared Payne (c),12 Aaron Bancroft, 11 Bryce Heem, 10 David Holwell, 9 Rhyan Caine, 8 Cameron Eyre, 7 Dan Pryor, 6 Dean Budd, 5 Mark Burman, 4 Pat O'Connor, 3 Bronson Murray, 2 Mikaele Tuu'u, 1 Matt Wallis.
Replacements: 16 Tim Dow, 17 Ross Wright, 18 Paea Fa'anunu, 19 Roy Griffin, 20 Luke Hamilton, 21 Aiden Dewes, 22 Iwi Hauraki.
Date: Saturday, August 28
Venue: Westpac Stadium, Wellington
Kick-off: 17:30
Referee: Richard Kelly
Canterbury vs Auckland
Contests against Auckland are normally enough to fire up Canterbury, but the defending champions have extra reason to be focused ahead of Saturday's clash in Christchurch.
The hosts will be licking their wounds after being felled 27-25 by little brother Tasman last week in what Canterbury assistant coach Tabai Matson called "an embarrassment".
It was the first time in five matches Canterbury had lost to their Crusaders Super Rugby franchise partners, and won't lack motivation in getting back to winning ways against Auckland.
"A loss is not a failure unless you don't learn from it and we've had good learning this week," said Matson.
A Canterbury backlash spells bad news for the Aucklanders who have found the men in red and black to be a bogey team in recent years.having not defeated them since 2007.
History aside, Auckland will be the first team in the top half on the points table that Canterbury has opposed this season. Auckland coach Mark Anscombe said he was expecting a tough challenge against the two-time defending champions but had plenty of confidence his side could deliver on Saturday.
"History indicates that every time Auckland plays Canterbury it's going to be a big game," he said.
"And we know that if we want to prosper in this competition and if we're going to be serious about winning it, we've got to be confident in our own game and the way we play, and go down to Christchurch believing we can win - which we certainly do."
All Blacks Benson Stanley and John Afoa will make a timely return to the Auckland side to face their southern rivals at AMI Stadium. The duo have had limited game time for the All Blacks over the last few months, but Anscombe said their return to the Auckland fold would provide a significant boost to the team.
The return of Auckland's All Blacks duo are among five changes made to the starting line-up that beat Northland last weekend.
Hooker Tom McCartney and halfback Toby Morland both resume their starting positions after a week on the bench, while winger Charles Piutau makes his first start for Auckland as Atieli Pakalani is omitted from the 22 altogether.
Meanwhile, Canterbury head coach Rob Penney has made six changes to his team by bringing back All Blacks scrum-half Andy Ellis and number eight Nasi Manu - recovered from a knee injury - into the starting side for the first time at the expense of Takerei Norton and Ash Parker respectively.
The other changes are at hooker with Corey Flynn released from All Blacks duty and replacing Steve Fualau; at tighthead prop with Peter Borlase coming in for Andrew Olorenshaw; at centre where Stephen Brett gives way for Ryan Crotty; and on the wing where Tu Umaga-Marshall returns from a hamstring injury in place of Sam Monaghan.
Prediction: The match of the weekend has the potential to be decided in the last minute - it will be close! Canterbury to win by three points.
The teams:
Auckland: 15 Brent Ward, 14 Charles Piutau, 13 Benson Stanley, 12 Jamie Helleur, 11 Dave Thomas, 10 Matt Berquist, 9 Toby Morland; 8 Peter Saili, 7 Daniel Braid (c), 6 Onosa'i Auva'a, 5 Andrew van der Heijden, 4 Kurtis Haiu, 3 Charlie Faumuina, 2 Tom McCartney, 1 John Afoa.
Replacements: 16 Ash Dixon, 17 Tevita Mailau, 18 Liaki Moli, 19 Chris Lowrey, 20 Brenton Helleur, 21 Ash Moeke, 22 Ben Atiga.
Canterbury: 15 Sean Maitland, 14 Tu Umaga-Marshall, 13 Robbie Fruean, 12 Ryan Crotty, 11 Telusa Veainu, 10 Colin Slade, 9 Andy Ellis; 8 Nasi Manu, 7 George Whitelock (c), 6 Matt Todd, 5 Isaac Ross, 4 Luke Romano, 3 Peter Borlase, 2 Corey Flynn, 1 Wyatt Crockett.
Replacements: 16 Steve Fualau, 17 Andrew Olorenshaw, 18 Rob Verbakel, 19 Ash Parker, 20 Takarei Norton, 21 Stephen Brett, 22 Sam Monaghan.
Date: Saturday, August 28
Venue: AMI Stadium, Christchurch
Kick-off: 19:30
Refereee: Garratt Williamson