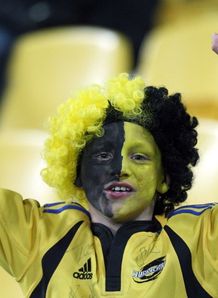 Related links
Also see
Who would have thought that after three rounds of ITM Cup action that the top four would read Southland, Canterbury, Northland and Taranaki.
After a colourful round featuring upsets and some low-scoring arm wrestles, the tournament ladder is a rather congested one with five teams on 10 points behind early leaders Southland.
Only points differential seperates third place from seventh, but that could all change with another intriguing weekend of New Zealand provincial rugby to come.
Taranaki vs Bay Of Plenty
Taranaki will be hoping their improvement curve continues under coach Colin Cooper when they host Bay of Plenty at Yarrow Stadium on Friday.
The Amber and Blacks upset previously-unbeaten Waikato 33-23 in Hamilton last weekend to clamber ahead of Auckland and Counties Manukau to fourth on points differential and demote the losers to eighth.
It seems they are finally living up to the pre-season hype after they lost their opener to Northland before hammering Tasman in Round Two.
Three bonus points have kept Bay of Plenty within touch of the competition leaders, despite losing two out of their three outings. Their ability to grab bonus points could pay dividends at the business end of the season.
For the third time in four weeks the Steamers are on the road again, and revenge will be firmly on their agenda after Taranaki came from behind last year to post a 30-24 victory.
In team news, flank Jarrad Hoeata is ruled out with a hamstring and has been replaced in the starting side by Scott Waldrom. The former All Blacks flanker makes his first start for Taranaki this season after recovering from a thumb injury.
In other changes, experienced scrum-half Brett Goodin, who will make his 50th appearance for the province, gets the nod over Hurricanes number nine Tyson Keats.
Keats, who has been struggling with an ankle injury over recent weeks, is still on the bench.
"He has got some niggles and it gives him an opportunity to have a bit of a break to help him, and Goody [Goodin] is not far away from him. There's good competition there."
The only other injury concern for Cooper is wing Andre Taylor, who also limped out of Taranaki's win over Waikato with a hamstring strain. Taylor has been bracketed with Isaia Tuifua. The only other change is on the bench where lock Leon Power is called in.
Meanwhile, Bay of Plenty Head Coach Sean Horan has named an unchanged 22 from the side that played Auckland.
The teams:
Taranaki: 15 Kurt Baker, 14 Andre Taylor/Isaia Tuifua, 13 George Pisi, 12 Jayden Hayward, 11 David Smith, 10 Willie Ripia, 9 Brett Goodin, 8 Ben Souness, 7 Chris Walker, 6 Scott Waldrom, 5 Craig Clarke (c), 4 James Broadhurst, 3 Michael Bent, 2 Laurence Corlett, 1 Shane Cleaver.
Replacements: 16 Timo Tutavaha, 17 Carl Carmichael, 18 Leon Power, 19 Samuela Vunisa, 20 Tyson Keats, 21 Beauden Barrett, 22 Tuifua/Cody Rei.
Bay of Plenty: 15 Toby Arnold, 14 Lelia Masaga, 13 Brent Mather, 12 Grant McQuoid, 11 Lance McDonald, 10 Phil Burleigh, 9 Taniela Moa, 8 Colin Bourke (c), 7 Tanerau Latimer, 6 Luke Braid, 5 Culum Retallick, 4 Luke Andrews, 3 James McGougan, 2 John Pareanga, 1 Josh Hohneck. Replacements: 16 Simon Chisholm, 17 Joe Savage, 18 Aiden Kuka, 19 Sam Cane, 20 Chad Tuoro, 21 Dan Waenga, 22 Ben Smith.
Date: Friday, August 20
Venue: Yarrow Stadium, New Plymouth
Kick-off: 19:35
Tasman vs Canterbury
Canterbury will be looking to carry on the form shown in its previous match - the 44-22 victory over North Harbour at AMI Stadium last week - against franchise partners Tasman.
The Red and Blacks came through a tight encounter with a victory over Tasman in a pre-season match in Blenheim but will be expecting another tough match at Trafalgar Park on Saturday.
Tasman have yet to beat Canterbury in their four provincial matches, but the Makos came close last year when they achieved their best result, losing by only four points in Christchurch.
The defending champions' visitors are fresh off a confidence-boosting 21-7 upset over Hawke's Bay in Blenheim last week, and will fancy their chances of upsetting their franchise partners on home soil.
In team news, there are three changes to the Canterbury side to play in Nelson, but with none of them being the highly anticipated debut of Sonny Bill Williams.
Andrew Olorenshaw replaces Peter Borlase at tighthead prop, Steve Fualau returns for Corey Flynn at hooker and Luke Romano comes in for Sam Whitelock to partner Isaac Ross at lock.
Borlase, who has started in Canterbury's three matches this season, is on the reserves bench. Flynn and Whitelock are with the All Blacks in South Africa.
Canterbury coach Rob Penney has also decided to continue to use former All Blacks half-back Andy Ellis off the bench with 31-year-old Takarei Norton retaining the number nine jersey.
Assistant coach Tabai Matson said that Norton had ticked all the right boxes in his debut against North Harbour and has been rewarded for his accomplished display.
"We saw he had the ability to get the ball quickly into the first receiver's hands," said Matson.
"He had a stunning game and made the right decisions. Andy is in the position we he could have started but we're managing his load as there's still 12 weeks of footy to go."
The teams:
Canterbury: 15 Sean Maitland, 14 Sam Monaghan, 13 Robbie Fruean, 12 Stephen Brett, 11 Telusa Veainu, 10 Colin Slade, 9 Takarei Norton; 8 Ash Parker, 7 George Whitelock (c), 6 Matt Todd, 5 Isaac Ross, 4 Luke Romano, 3 Andrew Olorenshaw, 2 Steve Fualau, 1 Wyatt Crockett.
Replacements: 16 Paul Ngauamo, 17 Peter Borlase, 18 Rob Verbakel, 19 Nasi Manu, 20 Andy Ellis, 21 Robbie Flynn, 22 Patrick Osborne.
Tasman: 15 Robbie Malneek, 14 Blair Cook, 13 Kade Poki, 12 Tom Marshall, 11 James Kamana, 10 James Marshall, 9 Steve Alfeld,8 Joseph Wheeler, 7 Jonathan Poff, 6 Poutasi Luafutu,5 Chris Jack (c), 4 Glen Gregory, 3 Fai Mika, 2 Francis Smith, 1 Sam Prattley.
Replacements: 16 Vernon Fredericks, 17 Hamish Cochrane, 18 Anthony Elisala, 19 Shane Christie, 20 Kaide Whiting, 21 Sione Holani, 22 Jack Umaga.
Date: Saturday, 21 August
Venue: Trafalgar Park, Nelson
Kick-off: 14:35
Counties Manukau vs Manawatu
After Manawatu's humiliating 77-8 loss to Northland last week, the Turbos are back and looking for success against Counties-Manukau on Saturday.
In a match that came close to eclipsing a host of team and personal records set when Canterbury swamped Counties Manukau 82-22 in 1999, the Northlanders ran in ten tries against a Manawatu side who capitulated in embarrassing fashion.
Coach Dave Rennie knows he has a big job ahead of him with retaining local support for the Turbos and boosting the team's confidence level.
"There was a lot of honesty in the room, we know we can't sweep things under the carpet and we've talked a lot about respect," said Rennie.
"Respect is earned weekly and if we can win back some respect then we are most of the way towards winning the game."
This week the team has been focusing on accuracy and intensity with a big focus on the quality of the defensive structure. Rennie has put the team through gruelling training sessions, partly in an effort to make up for last weekend.
The Steelers are in third place in the ITM Cup standings with 10 points, while Manawatu are currently sitting towards the lower half of the table. Counties had a loss against Southland in the third round so both teams will be looking for a redeeming win this week in Pukekohe.
Counties Manukau's brave Shield tilt in Invercargill ended in another heart-breaking failure for a province still to hold the Log o' Wood in its 55 years of existence.
Last year saw the Turbos and Steelers play a closely contested match which finished 31-36. The teams both have skilled players but Manawatu will be facing All Black legend Tana Umaga, as he returns to the field for the Steelers this week.
The teams:
Counties-Manukau: 15 Tim Nanai-Williams, 14 Ahsee Tuala, 13 Siale Piutau, 12 Tana Umaga, 11 Sherwin Stowers, 10 Baden Kerr, 9 Samisoni Fisilau, 8 Fritz Lee, 7 Pepa Kolomatangi, 6 Mark Selwyn, 5 Jamie Chipman (c), 4 Taiasina Tuifua, 3 Jono Owen, 2 Grant Henson, 1 Simon Lemalu.
Replacements: 16 Mark Price, 17 Graham Dewes, 18 Ronald Raaymakers, 19 Viliami Fihaki, 20 August Pulu, 21 Reynold Lee-Lo, 22 David Raikuna.
Manawatu: 15 Craig Clare, 14 Casey Stone, 13 Shannon Paku, 12 Hadleigh Parkes, 11 Lote Raikabula, 10 Tomasi Cama, 9 Karl Bryson, 8 Hamish Gosling, 7 Doug Tietjens, 6 Nick Crosswell (c), 5 Reece Robinson, 4 Michael Fitzgerald, 3 Ma'afu Fia, 2 Rob Foreman,1 Grant Polson.
Replacements: 16 Sean O'Connor, 17 Karl Haitana, 18 Fraser Stone, 19 Mitchell Crosswell, 20 Aaron Smith, 21 Isaac Thompson, 22 Asaeli Tikoirotuma.
Date: Saturday, 21 August
Venue:Growers Stadium, Pukekohe
Kick-off: 17:35
Wellington vs Waikato
This is a big one: Wellington versus Waikato in the New Zealand capital.
It will also be the first match in charge for new Lions Head Coach Andre Bell, and he'll want nothing more than to kick-off his tenure with a win at Westpac Stadium.
The Lions are back at home after beating Otago 35-22 in Dunedin last Saturday and will be eager for their third win of the 2010 season to break free from a congested points table after three rounds.
Wellington are one of five teams on 10 points behind early leaders Southland and two points clear of eighth-placed Waikato, who were defeated by Taranaki 23-33 at home in Hamilton.
The Mooloo contenders will be desperate for victory over the Lions to keep in touch with the competition frontrunners and will be hoping to repeat their 23-18 win over Wellington last year when they met at Waikato Stadium.
Two years ago, in their last clash at Cake Tin, the Lions won 45-33 at home after racing to a match winning 26-0 lead after 18 minutes before Waikato hit back with two tries before half-time and a further three in the second half in a twelve-try thriller.
In team news, clearly Bell was happy with last week's victory over Otago, having made just one positional switch to his starting line-up and one change to the bench for Saturday's clash.
Shaun Treeby and Charlie Ngatai have switched places in midfield, while Lima Sopoaga comes on to the bench as a backs reserve to replace Hayden Cripps.
Waikato coach Chris Gibbes has made just the two changes to his starting XV, bringing hooker Aled de Malmanche back for Vern Kamo and promoting dynamic lock Dominiko Waqaniburotu ahead of Romana Graham.
De Malmanche has recovered from a back injury that ruled him out of last weekend's defeat to Taranaki.
"Wellington has demonstrated this season that they are a force to be reckoned with and we have a tough fight ahead of us," said Waikato coach Chris Gibbes.
"But the team is looking forward to the challenge.''
The Waikato backline is unchanged for the third straight week, with Australian import Christian Lealiifano continuing to impress at centre and the dangerous back three of Dwayne Sweeney, Henry Speight and Sosene Anesi kept intact.
The teams:
Wellington: 15 Apoua Stewart, 14 Julian Salvea, 13 Shaun Treeby, 12 Charlie Ngatai, 11 Hosea Gear, 10 Fa'atonu Fili, 9 Alby Mathewson; 8 Faifili Levave, 7 Scott Fuglistaller, 6 Mark Reddish, 5 Daniel Ramsay, 4 Jeremy Thrush, 3 Neemia Tialata (c), 2 Dane Coles, 1 John Schwalger.
Replacements: Ged Robinson, 17 Jacob Ellison, 18 Api Naikatini, 19 TJ Ioane, 20 Ruki Tipuna, 21 Lima Sopoaga, 22 Alapati Leuia.
Waikato: 15 Sosene Anesi, 14 Henry Speight, 13 Save Tokula, 12 Christian Lealiifano, 11 Dwayne Sweeney, 10 Tren Renata, 9 Brendon Leonard; 8 Alex Bradley, 7 Jack Lam, 6 Liam Messam, 5 Toby Lynn, 4 Dominiko Waqaniburotu, 3 Nathan White (c), 2 Aled de Malmanche, 1 Toby Smith.
Replacements: 16 Vern Kamo, 17 Hikairo Forbes, 18 Romana Graham, 19 Matt Vant Leven, 20 Tawera Kerr-Barlow, 21 Sam Christie, 22 Tim Mikkelson.
Date: Saturday, 21 August
Venue:Westpac Stadium, Wellington
Kick-off: 19:35