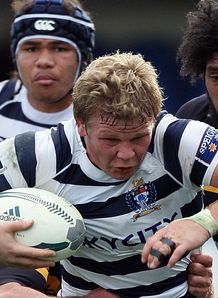 The opening round of the ITM Cup continues on Sunday with four teams determined to get their campaigns off to the best possible start.
North Harbour v Auckland
Sunday's local derby sees North Harbour host Auckland in the 25th anniversary of "battle of the bridge" at North Harbour Stadium.
Harbour, New Zealand rugby's most unpredictable team, will hope for a repeat start to their campaign when they upset Canterbury in the opening round last year.
However, history isn't exactly on their side. North Harbour have won 12 of the 58 traditional clashes with Auckland (excluding two draws), although they were victorious 16-14 last year.
Auckland, once the most feared province in the land, have not made the play-offs since 2007 and a perfect start to a campaign - with the risk of relegation - is vital.
Head Coach Mark Anscombe's line-up comprises an intimidating forward pack with every player having Super Rugby experience, while the back-line boasts an exciting mix of youth and experience.
Toby Morland, Mat Berquist, Ash Dixon and Liaki Moli are all set to make their debuts for Auckland this weekend, while returning flanker Daniel Braid will be keen to make a good early impression for the visitors.
North Harbour will also field four players making their ITM Cup debuts. Centre Brendon Watt, winger Alipate Fatafehi, halfback Grayson Hart and lock Matt Luamanu will all start in a new-look North Harbour team to be captained by prop Michael Reid.
Watt has plenty of experience with Wellington and Taranaki, Tongan international Fatafehi played for Western Province in last year's Currie Cup, Luamanu was part of the triumphant NZ U20 team, while Hart is on loan from Auckland and has played for the Blues.
And Head Coach Craig Dowd is quietly confident his team, co-coached again this season by Jeff Wilson, can get off to a winning start.
"It is important we get to the level required building up to the game but also during the game we need to pour out more than just the usual standard of club rugby," said Dowd.
"Finding that level first up is a key for us but I know the North Harbour players really get up to play against Auckland.
"It has come at the right time for us playing them first up and we are very excited about taking Auckland on.
"We have a squad we have total confidence in and the opportunities are there for the younger players to step in and prove they are good enough."
Prediction: The famous white and blue hooped jerseys are our pick to win this one. Auckland by seven.
North Harbour: 15 Jack McPhee, 14 Ken Pisi, 13 Brnedon Watt, 12 Luke McAlister, 11 Alipate Fatafehi, 10 Michael Harris, 9 Grayson Hart, 8 Richard Mayhew, 7 Scott Uren, 6 Tom Chamberlain, 5 Shane Neville, 4 Matt Luamanu, 3 Ben Afeaki, 2 James Parsons, 1 Michael Reid (c).
Replacements: 16 Mike Mayhew, 17 Taione Vea, 18 William Whetton, 19 Malakai Ravulo, 20 Nalu Tuigamala, 21 Ben Botica, 22 Jack Tarrant.
Auckland: 15 Brent Ward, 14 Atieli Pakalani, 13 Ben Atiga, 12 Jamie Helleur, 11 Chay Raui, 10 Ash Moeke, 9 Toby Morland, 8 Peter Saili, 7 Daniel Braid, 6 Onosai'i Auva'a, 5 Andrew van der Heijden, 4 Kurtis Haiu, 3 Charlie Faumuina, 2 Tom McCartney, 1 Tevita Mailau
Replacements: 16 Ash Dixon, 17 Pauliasi Manu, 18 Liaki Moli, 19 Chris Lowery, 20 Brenton Helleur, 21 Matt Berquist, 22 Dave Thomas.
Date: Sunday 1 August
Venue: North Harbour Stadium, North Shore City
Kick-off: 14:35 local
Wellington v Tasman
Wellington's first game of the ITM Cup sees their southern neighbour cross the Cook Strait to battle it out for first round points at Westpac Stadium.
Over the last few years, Tasman has demonstrated that they deserve their rightful place in the ITM Cup and they will arrive in Wellington looking to further that cause against the 2009 runners-up.
The Lions begin their campaign on Sunday to reach their fifth consecutive NPC/Air NZ Cup/ITM Cup final and their ninth in 12 seasons since reaching their first against Auckland in 1999.
In the build-up to this game, Wellington suffered an unexpected pre-season defeat to Manawatu but made amends by beating Canterbury in the team's final hit-out. Tasman lost twice, to Canterbury and Otago, by about a dozen points each time.
The Lions will be playing for their fifth consecutive win against Tasman, since first meeting New Zealand's newest side for the first time in 2006.
Tighthead prop Neemia Tialata will captain Wellington in a matchday 22 that features five players in line to make their ITM Cup debuts should they take the field.
IRB World U20 Player of the Year Julian Savea makes his ITM Cup debut on the right wing in a squad that features eight current or former Hurricanes players and four players who recently played for the New Zealand Maori in their successful series, including left wing Hosea Gear.
Meanwhile, former All Blacks lock Chris Jack has recovered from recent knee surgery to lead Tasman into battle.
The 22-man squad features no fewer than eleven players making their Makos debut, although hooker Francis Smith, tighthead prop Fai Mika, number eight Tasi Luafutu and scrum-half Steve Alfeld have played at this level for other provinces.
Prediction: In the past four years, Wellington have won 24 of 26 games at Westpac Stadium, including two unbeaten seasons there in 2006 and 2007. This spells bad news for the Makos. Wellington by fourteen.
The teams:
Wellington: 15.Apoua Stewart, 14 Julian Savea, 13 Alipate Leiua, 12 Sean Treeby, 11 Hosea Gear, 10 Fa'atonu Fili, 9 Ruki Tipuna, 8 Faifili Levave, 7 Scott Fuglistaller, 6 Mark Reddish, 5 Daniel Ramsay, 4 Jeremy Thrush, 3 Neemia Tialata (c), 2 Dane Coles, 1 John Schwalger.
Replacements: 16. Ged Robinson, 17. Reg Goodes, 18. Api Naikatini, 19. TJ Ionae, 20. Jared Kahu, 21. Hayden Cripps, 22. Charlie Ngatai.
Tasman: 15 Robbie Malneek, 14 Blair Cook, 13 Kade Poki, 12 Tom Marshall, 11 Afeleki Pelenise, 10 James Marshall, 9 Steve Alfeld, 8 Tasi Luafutu, 7 Jonathan Poff, 6 Joe Wheeler, 5 Chris Jack (c), 4 Jarrod Aberhart, 3 Fai Mika, 2 Francis Smith, 1 Sam Prattley.
Replacements: 16 Vernon Fredericks, 17 Hamish Cochrane, 18 Glenn Gregory, 19 Shane Christie, 20 Kaide Whiting, 21 Daniel Hawkins, 22 James Kamana.
Date: Sunday, 1 August
Venue: Westpac Stadium, Wellington
Kick-off: 16:35 local