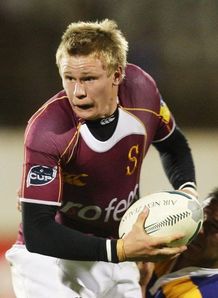 Southland fly-half Robbie Robinson kicked 16 points to help guide his team to a 29-13 win over Taranaki on Friday, keeping their Air New Zealand Cup play-off hopes alive.
Taranaki had performed a minor miracle to trail just 13-16 at half-time after withstanding constant pressure by a Southland side who had it all over them in both the territory and possession stakes.
Southland adopted expansive tactics from the opening whistle but they were not helped by a lack of patience which saw passes pushed when a more measured approach may have been more rewarding.
For all of their positive endeavour Southland scored just one try in the first spell, with lock Joe Tuineau completing a sweeping move which twice featured centre Kendrick Lynn after a wide cut-out pass from Robinson enabled full-back Glen Horton to provide the initial thrust.
Despite surviving on mere scraps of ball, Taranaki managed their only touchdown, too, after a quality line-out take saw centre Jayden Hayward make a half break before wing Shayne Austin loomed on his inside and stepped a defender en route to the tryline.
It took Southland more than 60 minutes to distance themselves from Taranaki, with a try to Lynn lifting them to a 26-13 lead with 17 minutes remaining. Taranaki paid dearly for allowing an up-and-under to land, and it bounced into Lynn's hands before he made the most of his luck.
The scores:
For Southland:
Tries: Tuineau, Lynn
Cons: Robinson 2
Pens: Robinson 4, Dodds
For Taranaki:
Try: Austin
Con: Ripia
Pens: Ripia 2
Southland: 15 Glen Horton, 14 Matt Saunders, 13 Kenny Lynn, 12 Jason Kawau, 11 Tony Koonwaiyou, 10 Robbie Robinson, 9 Jimmy Cowan, 8 David Hall, 7 Tim Boys, 6 John Hardie, 5 Joe Tuineau, 4 Josh Bekhuis, 3 Chris King, 2 Jason Rutledge, 1 Jamie Mackintosh (c).
Replacements: 16 Fai Mika, 17 Dave Gannon, 18 Hua Tamariki, 19 Noa Soqeta/Dion Bates, 20 Scott Cowan, 21 Manu Seminar, 22 James Wilson/Pehi Te Whare.
Taranaki: 15 Jack Cameron, 14 Nathan Hohaia, 13 Paul Perez, 12 Jayden Hayward, 11 Shayne Austin, 10 Willie Ripia, 9 Brett Goodin, 8 Jarrad Hoeata, 7 Ben Souness, 6 Johnny Willis, 5 Jason Eaton, 4 Craig Clarke, 3 Michael Bent, 2 Andrew Hore, 1 Tony Penn (c).
Replacements: 16 Laurence Corlett, 17 Carl Carmichael, 18 Leon Power, 19 Samuela Vunisa, 20 Beydon Phillips, 21 Ed Jenkins, 22 Asalemo Malo.
Referee: Vinny Munro