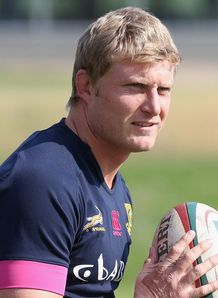 Related links
Teams
Also see
New Ulster second Franco van der Merwe is enjoying some rare Belfast sunshine after linking up with his new club.
The Springbok has made the move north following a frustrating campaign with the Lions in Super Rugby, as the skipper was sidelined through injury.
Now at Ulster on the recommendation of Johann Muller and Ruan Pienaar, van der Merwe admits that he has been signed to do what he does best - being a force in the engine room and set-piece.
For now though the lock and his wife are settling into their new surroundings, and enjoying a rare streak of excellent weather.
"Moving out of South Africa to somewhere totally new is the biggest step of my career," van der Merwe told the club website.
"My wife and I are so excited to come to Ulster. We have heard so many good things from Johann [Muller] and Ruan [Pienaar], everyone is just so positive and they speak so well about the province.
"In terms of rugby, there is no reason for me to come here and to try and reinvent the wheel. I can only do the basics.
"I am here because of what I did in South Africa so I am going to do the same things again.
"I hope that it can stay like this for quite a while but everyone was saying that it is always raining here. I don't know what everyone was complaining about!
"It's really nice to see the sun. I am enjoying the beautiful weather and I am enjoying the beautiful scenery."