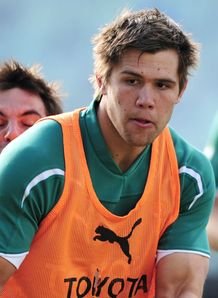 Related links
Teams
Edinburgh have confirmed second-row Izak van der Westhuizen will return to South Africa to join the Eastern Province Kings.
The 28-year-old, who will leave Scotland's capital come the end of the season, was signed by former head coach Michael Bradley ahead of the 2012/13 campaign from Super Rugby side Free State Cheetahs.
His debut season in the capital was hampered by an ankle injury, limiting the big South African to six appearances after his early-December arrival, however he has gone on to make 19 starts in 24 appearances for the club to date.
During his second season, van der Westhuizen and wife Bonita also celebrated the birth of their now six-month old daughter, and he explained the chance to move closer to home played a big part in his decision.
"I've really enjoyed my time at the club, especially in the last couple of months without injury," said van der Westhuizen.
"I'm settled in Edinburgh and really enjoy the city but I'm from a very tight-knit family and the chance to be closer to them was one of the biggest, most important reasons - we'll be one hour away instead of 11.
"Scotland will always have a special place for me and I'll be able to look back on a lot of good times.
"Thanks to everyone for their support during my time here."
"Sakki [Izak van der Westhuizen] has done a splendid job for us this year and will continue to do so until the end of the season," said head coach Alan Solomons.
"An opportunity has presented itself back in his home country that suits him and his young family. I'm sure he will make a valuable contribution at the Kings."