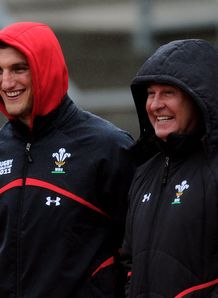 Related links
Teams
Also see
WRU boss Roger Lewis is adamant the RFU would block any attempt by the four Welsh regions to join the Aviva Premiership.
Chief executive Lewis made the comments during a BBC debate, responding to confirmation that the regions would look to England and a possible Anglo-Welsh league if a new European Cup is not initiated.
"The Rugby Football Union will not allow the Welsh regions to join the Aviva Premiership," said Lewis.
"They [the RFU] have told us. So that is not going to happen."
Dragons chief executive - former Wales fly-half Gareth Davies - claimed the regions had a strong agreement in place with the top-flight English sides.
"The understanding we have with the English clubs is quite solid, whilst not underestimating the enormous hurdles that are in the way of that happening," said Davies.
"What other option do we have? Playing in a, with respect, reduced European competition and the Pro12 doesn't have a sponsor next year and the Italians claim they are pulling out."
Meanwhile, there were allegations that English Championship clubs would strongly oppose any Welsh regional involvement with their league system, given the potential competition for promotion.
"We played Ealing and Moseley and they told us that the (English) championships clubs had a meeting last Wednesday in a Birmingham hotel because of their opposition to any Welsh inclusion in their league," said Cross Keys chairman Chris Clarke.